6 Uncommon Safari Vacations
Experience Africa's array of wildlife and cultures
on expeditions with a socially conscious edge
By Alexis Hilts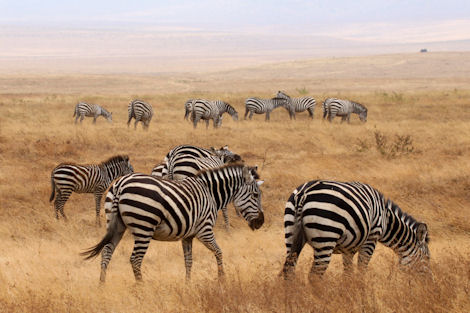 Intrepid Travel
I
have never felt more in awe of my surroundings than on the day I came face to face with a gigantic elephant, standing tall against the African plains. I had spent several peaceful hours watching her herd grazing in the distance, playful calves in tow. But now, within 15 feet of her enormous being, I became acutely aware of my body -- my breath quickening, blood pumping through my veins -- and attuned to my status as a vulnerable entity in the wild unknown. But even with the distinct feeling of being exposed, the only coherent thought that formed in my mind was this: She is beautiful.
This first safari of mine occurred while visiting my parents, who'd taken on two-year work commitments in Gaborone,
Botswana
, in southern Africa. In a Land Rover equipped with a built-in tent, my family and I set out to explore the scenery in
Chobe National Park
, home to one of the largest populations of pachyderms. I had come to Africa with vague notions of wanting to connect with the majesty of a faraway land, but the instant I encountered the graceful animal myself, I knew I would leave with the imprint of an elephant on my still-racing heart and a yearning to return to the continent where I'd met her.
There is something about a safari that cannot be replicated. The savannas of Africa, with a vast anthropological history and incredible creatures, call out to many travelers longing to see the world from another perspective. To accommodate this desire, tour operators lead various styles of safari trips, complete with open-air game drives that give vacationers the chance to see some of, if not all, the coveted "big five" -- lion, leopard, buffalo, elephant and rhino.
Travelers not only can participate in traditional game-viewing opportunities but also do their part to give back. Several tour operators put time and money toward environmental and social projects in the regions they travel to -- from funding health-care services to helping set up schools -- and some companies highlight these causes on their
African safari trips
.
Gap Adventures
One such group,
Gap Adventures
, created Planeterra, a nonprofit organization that seeks worthy undertakings around which it can design tours. "Travelers seem to be so involved with the 'bucket list' idea. You've got to go see the greatest sights on Earth before you die and that, unfortunately, is putting an awful lot of pressure on the most popular bucket-list locations," says Megan Epler Wood, executive director of Planeterra.
For this reason, Gap focuses on trips that can bring tourism to some lesser-known communities, like the 13-day "
Cultural Kenya and Safari
" which includes a homestay in Kuwour village in the Nyanza province. "This kind of activity helps to bring the benefits to a wider array of people who are not living right next to the greatest monuments in the world that everyone wants to see," Epler Wood says.
Working with community members, Planeterra decided the most effective way to help the village was by funding the installation of water tanks at sites that maximize accessibility for nearby residents. Travelers can see the fruits of the organization's efforts during an overnight stopover and get to know local families at potluck-style dinners.
Planeterra's sustainability manager, Liz Manning, has spent time in Kuwour and says that the midtrip homestays are a good change of pace, offering guests a bit of downtime and providing a way for vacationers to get a sense of the pace of life in a rural Kenyan community.
"We knew that we wanted to provide more unique homestay experiences, because too often, on a lot of the safari trips, you have really limited interaction with locals," she says.
Other elements of this African vacation include spotting hippos from the shore of Lake Naivasha, bird-watching in the Kakamega Forest National Reserve, shopping at the market in Kisumu and looking for the big five in Kenya's most famous wildlife conservation area,
Maasai Mara National Reserve
.
Manning mentions that events like the community stay are also appealing to a wider audience, including older travelers. "The more that they travel, the more they're looking for something beyond what they've done before."
"Sustainable travel is here to stay," Epler Wood adds. "It can't be a temporary phenomenon because, like all questions of environmental conservation and sustainability, we will lose these places that we love so much unless we conserve them."
Rates:
From $1,849 per person, based on double occupancy, plus airfare.
Collette Vacations
Nancy Davids, senior product manager at
Collette Vacations
, can think of several reasons
South Africa
is one of her favorite places to travel. For one thing, she says, "The people are some of the most amazing, friendly people that I've met anywhere in the world." Stunning creatures, beautiful coastline, rugged mountains and opportunities to try international cuisines also put South Africa on the top of Davids' list.
With this range of cultural and geographical landscapes, South Africa is often showcased on tours that include a sampling of highlights, from townships and cities to beaches and safari parks. No exception, Collette's 13-day "
Spectacular South Africa: Culture and Nature in Harmony
" journeys from Johannesburg through the awe-inspiring Drakensburg Mountains en route to
Kruger National Park
, a game reserve covering more than 370,000 acres.
In addition to enjoying some of South Africa's most popular sights, this tour also allows vacationers to glimpse another facet of the destination on a visit to the Siyafunda School in Knysna, a town on the Western Cape. With the help of the Collette Foundation -- the company's nonprofit arm -- the Knysna Educational Trust sets up safe and positive learning environments like Siyafunda for underprivileged children in the area. Visitors on this Collette trip have a chance to learn more about the project, spend some time with the students and bring items, such as crayons, Play-Doh or books.
Having recently visited Siyafunda, Davids says that the preschoolers get excited when they meet new travelers. "They love to have to their pictures taken and then, of course, look at it in your digital camera. The kids are really cute -- they come up and say 'shoot me, shoot me, shoot me.' "
As for those who participate in these types of Collette vacations, Davids says, "I think they also feel great to see that we're giving back and really trying to change the lives of the kids in these countries. And I think they obtain a sense of pride in knowing that they're associated with that."
Rates:
From $2,249 per person, based on double occupancy, plus airfare.
Tauck
In East Africa, family-run tour operator
Tauck
provides a similar opportunity for travelers to engage with children. Through its World of Giving program, Tauck organizes volunteers, contributes funds and extends community outreach across the U.S. and abroad. On an expedition called "
Tanzania: A Grand Safari
" guests are encouraged to bring school supplies for their stop at Losirwa School, which Tauck supports through ongoing donations. Funds in the past have purchased items such as desks, books and a water tank.
Taking place on day four of the 11-day itinerary, the school visit is sandwiched amid multiple outdoor excursions in a country that boasts some of the richest concentrations of wildlife on the African continent. A stay in a lodge on the rim of the
Ngorongoro Crater
-- a caldera that is home to more than 25,000 large animals -- and a balloon ride over the Serengeti plains are highly anticipated elements of this adventure.
While the time spent at Losirwa is a relatively small aspect of the trip, Tauck's communications manager, Tom Armstrong, says it is a memorable component of a more traditional safari. "When you add something like visiting a school to the itinerary, it just opens up a whole new realm of experience," he says.
Though the first thing that comes to mind when thinking of a safari is obviously the animal life, Armstrong notes, one of the company's aims is to connect people with the region on a cultural level as well. To this end, travelers in Tanzania will also meet villagers and take a trip to Olduvai Gorge, where Louis and Mary Leakey discovered the fossilized remains of man dating back 1.8 million years. "We want to tell the human story of the destination, as well as the ecological story," Armstrong says.
Rates:
From $5,990 per person, based on double occupancy, plus airfare.
Intrepid Travel
"
Serengeti to Zanzibar
" from
Intrepid Travel
also adds a socially conscious aspect to a safari in
Tanzania
. The itinerary has game drives and cultural encounters, visiting
Serengeti National Park
, the
Ngorongoro Crater
and the mist-shrouded Usambara Mountains. Vacationers end the journey with a relaxing stay on the alluring island of Zanzibar in the Indian Ocean.
Eliza Anderson, Intrepid's global communications director, describes what sets this Australian-based tour operator's excursions apart: "Local interaction is the key point of difference." For instance, the 13-day Tanzanian vacation includes lessons in regional customs, a tour of an Umburu village and an opportunity to sample the traditional food of the Chagga people.
Participants also spend a day in the small town of Marangu, taking time to get to know a cause supported by the company's philanthropic wing, Intrepid Foundation: the Amani Children's Home. Amani, which means "peace" in Swahili, provides food, shelter, education and basic health care to children who previously lived on the streets. It also offers counseling and reunites families when possible.
Intrepid hopes the stop at Amani will impact vacationers. "In many poor countries, travelers are often struck by the level of poverty and lack of access to education, food and sometimes even water," Anderson says. "We hope it is an eye-opening experience that shows travelers that there are effective ways to help, and that positive change is possible."
Rates:
From $4,295 per person, based on double occupancy, plus airfare.
African Travel
Another way to ensure an uncommon vacation in Africa is to consider tacking an extension onto a more classic itinerary. Two four-day trips offered by
African Travel
fit the bill: "
Culture of the Maasai
" and "
Mountain Gorillas in Rwanda
."
These add-ons are usually packaged with other African Travel tours so that guests get both a broad and an in-depth perspective of the region, says the operator's marketing director, Richard Haas-Winkelman.
On the Maasai stint, guests head to Campi ya Kanzi, nestled between Kenya's Chyulu Hills and Mount Kilimanjaro. The well-appointed eco-lodge was born out of a partnership between an Italian couple inspired to make their home here, Luca Belpietro and Antonella Bonomi, and the area's Maasai community. The pair founded the Maasai Wilderness Conservation Trust, the vehicle through which they carry out their efforts to conserve the environment while also providing health services, education, employment and a restitution fund, which compensates ranchers for livestock losses due to wild predators.
"In this respect, you have a win-win," Haas-Winkelman says. "You have the preservation of the wildlife and you have the preservation of the culture." He adds that guests here are encouraged to take part in authentic exchanges, such as searching for medicinal plants with a healer, helping with daily chores like milking cows, or learning the significance of the patterns villagers create in their beadwork. While donations are appreciated, he adds that "there are a wide range of opportunities here besides just taking out the checkbook and writing a check."
For those looking to follow in the footsteps of legendary scientist Dian Fossey, African Travel's Rwandan gorilla excursion gets vacationers up close with families of these glorious primates on treks through their habitat. With seasoned guides, travelers track the animals in the verdant rain forest of the
Parc National Des Volcans
, getting the chance to observe and capture images of the gorillas in their natural environs.
Fossey did much of her research in these highlands, adopting the unusual method of imitating gorilla behavior in hopes of winning their trust. "The gorillas have responded favorably, although admittedly these methods are not always dignified. One feels a fool thumping one's chest rhythmically, or sitting about pretending to munch on a stalk of wild celery as though it were the most delectable morsel in the world," she wrote about her research in an article for National Geographic in 1970.
Hikers here get their own, slightly more conventional, lessons about primate conduct and make a stop at the remains of Fossey's original campsite as part of this package.
Regardless of which tour you choose, "any trip to Africa to some degree touches you," Haas-Winkelman says. "Africa is supposed to be the origin of man, and on a very subconscious level there is some connection with this whole concept of returning home. Africa resonates with everybody."
Rates:
The Maasai trip starts at $3,825 per person, while the gorilla experience in Rwanda starts at $2,745 per person; both prices are based on double occupancy and do not include airfare.
The information in this story was accurate at the time it was published in January/February 2011. Please visit
Vacations To Go
or call (800) 291-3346 for current rates and details.
Send This Article to a Friend
Bookmark this Content
Digg it!
Reddit
Furl
del.icio.us
Spurl
Yahoo!