A Suite Sailing
Sample the luxurious accommodations aboard
Avalon Waterways' two newest riverboats
By Jennifer Davoren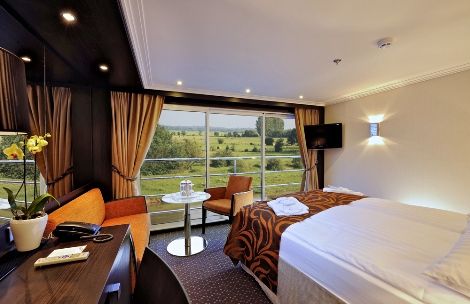 Avalon Waterways
(Scroll down to see a slide show.)
T
he Avalon Visionary is a stealthy cruiser.
On this mid-May morning, the
128-passenger vessel
glides down the Gelderse IJssel, a narrow tributary of the
Rhine River
. At my perch on the foredeck, the soft hum of the ship's engines is overpowered by the music of the Dutch countryside: the honks of passing geese, the creak of shoreside windmills, the rustle of the breeze in spring-budded tree branches. I share this pastoral slice of the Netherlands with horses, sheep and black-spotted cattle, fleets of Saturday cyclists and the occasional fisherman waving from the waterfront, but given the peace and quiet afforded by the Visionary, I might as well have the place to myself.
For all its subtlety, this ship is set to make a big splash on the river cruise scene. The Visionary and the
166-passenger Vista
made their debut this year as the second and third "suite ships" of the
Avalon Waterways
fleet. Expanded accommodations join the cruise line's new booking concept, Avalon Choice, among amenities. And then there are the available destinations, from the Visionary's stops in the Netherlands' historic harbor towns to the Vista's scoutings of the
Danube
and beyond.
The Visionary and the Vista are looking to the future of the river cruise industry, while passengers can simply sit back and enjoy the views along the way.
A Dual Debut
A few speeches, two ceremonial smashes of Champagne bottles and voila, the Visionary and Vista are ready for business. The sister ships were welcomed into the Avalon Waterways family on May 11 during a rare double christening in Enkhuizen, a center for shipping and sailing since the Dutch Golden Age of the 17th century.
The company offers one of the youngest fleets of riverboats in Europe. Avalon debuted its suite ship concept in 2011 with the unveiling of the
Panorama
, the 166-passenger prototype on which the Vista was modeled. Two more ships of this class, the
Expression
and
Artistry II
, will arrive in 2013. Their hallmark: two full decks of Panorama suites, which are well-appointed cabins with, according to Avalon's measurements, 30 percent more living space than the industry standard.
I sampled these suites during the Visionary's inaugural cruise. While I appreciated the space afforded -- 200 square feet, room enough for a full-size bed, seating area, writing desk and ample storage space -- the real lure was the cabin's floor-to-ceiling, 10-by-7-foot bank of sliding windows. When opened, they essentially transformed my cabin into a fully furnished balcony. A sturdy safety railing was all that separated me from the tempting ports of call.
Avalon's designers have made some well-calculated adjustments to the suite floor plans. Beds, for instance, face the wall of windows, taking full advantage of passing views. This positioning also prevents headboards from sharing a wall with, say, your next-door neighbor's bathroom. Add to that a liberal use of sound-proofing insulation and you'll be spared the sleepless nights caused by running water, loud conversations and other close-quarter complaints.
And, speaking of bathrooms, I found mine aboard the Visionary to be an en-suite haven after a long day of shore excursions. A roomy shower, illuminated make-up mirror and marble accents were just a few of the unexpected touches. Fluffy bathrobes and slippers join L'Occitane bath products among the pampering extras.
Even More on Board
The bells sound, the engines rev and my fellow guests and I have raised our glasses to toast the start of our journey. The Visionary has just set sail from its embarkation point, Amsterdam, and an air of celebration fills the ship's Panorama Lounge. Hendrik, our cruise director, is about to offer a few words of welcome, but he's interrupted by a distant ringing and a flurry of staff activity.
"Oh, excuse me a moment, folks! Luggage emergency!" Hendrik quickly swaps his Champagne flute for a cellphone. He also switches from slightly accented English to his native Dutch as he tackles a new assignment: tracking down a suitcase that apparently vanished on its route between London's Heathrow and Amsterdam's Schiphol airports.
The bag's unlucky owner has already resigned herself to doing a lot of shopping in our first port of call, but Hendrik has good news. Not only has he helped find the wayward item, but he's asked the negligent airline to redirect it to the Visionary's next docking point.
This, it seems, is a full-service ship.
Customer care begins with Avalon Choice, a program that allows guests to customize their cruise experience. It officially launches next year, but certain aspects have already been introduced. Sightseeing and other shore excursions can be booked and tailored to suit special interests -- cooking and cuisine, history and culture, even health and fitness -- well in advance of a ship's departure.
Avalon Choice extends to dining options. During my cruise, I rarely ventured past the Visionary's main dining room, where buffet-style breakfasts and lunches were topped off by made-to-order waffle and carving stations and four-course a la carte dinners were complemented by wine pairings. But on those mornings that I chose to sleep in, the Panorama Lounge offered coffee, juice and pastries. Meanwhile, afternoon snack attacks were tackle in the Visionary's aft lounge, with fresh-baked cookies, fruit and a gourmet coffee machine available almost 24/7.
In fine weather, Visionary guests will be treated to al fresco meals at the Sky Deck's bistro, where a top-of-the-line grill offers special menu items. An oversize whirlpool, lawn chess set and a full fleet of lounge chairs round out amenities at the top of the ship. A hair salon, expanded fitness center and library stocked with both classics and best-sellers also await.
An Inaugural Itinerary
The passengers of the Visionary's christening cruise were treated to an abbreviated version of "
Tulips of Northern Holland
," a new Avalon offering planned for early 2013. Traveling round trip from Amsterdam, this itinerary highlights the Dutch capital as well as some little-known destinations in the Netherlands' verdant countryside.
History buffs relished a stop at Arnhem, home of the expanse that inspired the best-selling novel and its accompanying movie, "A Bridge Too Far." In September 1944, a plan to bring a swift end to World War II went awry as Allied forces attempted to take the city bridge and cut off a key German supply route. Today, the Hartenstein Airborne Museum pays tribute to Operation Market Garden and those lost in the ensuing battle.
Dutch heritage is another highlight of this itinerary. Considered Holland's "cheese town" since the 14th century, tiny Alkmaar is known for the hustle and bustle of its market, with costumed interpreters re-creating the country's traditional techniques for the weighing and auctioning of cheeses, including Gouda and Edam. In Enkhuizen, our host for the Avalon christenings, the Zuiderzee Museum traces the history of the city as well as the Netherlands' connection to the sea, from centuries-old fishing methods to clothing, crafts and shipbuilding. To delve deeper into the country's nautical expertise, consider this itinerary's stop at Batavia Yard, where blacksmiths, sailmakers and other artisans work to rebuild the 17th-century masted vessels that made the Netherlands such a formidable presence on the world's oceans.
Then there are the hidden gems, like the Kroller-Muller Museum outside Otterlo. Wrapped by De Hoge Veluwe National Park, this museum seeks to bring the outdoors in, with exhibits paying tribute to the natural world. Here, you'll find the world's largest private collection of Vincent van Gogh's work outside the artist's family, from the original "Cafe Terrace at Night" to a rediscovered painting. Dismissed as a fraud in 2003 but recently vindicated by X-ray research, this still life -- a colorful bouquet of wildflowers in a simple vase -- reflects the understated elegance of its venu
Get Away with Avalon
Avalon Waterways debuts the eight-day "
Tulips of Northern Holland
" in spring 2013, with three departures between mid-April and early May. The Visionary hosts the April 24 sailing, priced from $2,599 per person before airfare.
Spring also will send the Visionary on Avalon's more traditional flower route, "
Tulip Time Cruise
." Destinations include Maastricht, a Dutch college town; Antwerp and Ghent, two historic gems in Belgium; and Keukenhof, 70 acres of eye-popping gardens that attest to Holland's floral artistry. Leaving Amsterdam on April 17, this eight-day vacation starts at $2,449 per passener; more departures are available on other Avalon riverboats.
Additional Visionary itineraries slated for 2012 and 2013 include the weeklong "
Romantic Rhine
" between Amsterdam and Basel, Switzerland, highlighting medieval castles and world-renowned wine country; "
Magnificent Europe
" a 15-day Rhine and Danube sailing with stops in the Netherlands, Germany, Austria, Slovakia and Hungary; and
holiday cruises
that showcase Christmas markets in Frankfurt, Vienna and beyond.
The Visionary's inaugural sister, the Vista, provides vacations that focus on the Danube River, exploring central European destinations like the Hungarian capital, Budapest, and Nuremberg and Passau in Germany.
For more information on the Visionary, Vista and other Avalon Waterways vessels, contact the travel specialists at Vacations To Go, (800) 510-4002, or review
amenities and itineraries online
.
The information in this story was accurate at the time it was published in July/August 2012.
Send This Article to a Friend
Bookmark this Content
Digg it!
Reddit
Furl
del.icio.us
Spurl
Yahoo!