Ski and Save With a New Travel Site
Find everything you need to plan a perfect winter getaway
By Jennifer Davoren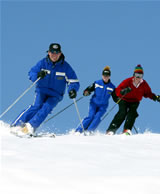 J
ust a few months remain in the 2007-2008 ski season, and the powder that recently blanketed the Rocky Mountains won't stay fresh for long. Skiers and snowboarders looking to make the most of the waning winter should book their travel arrangements soon.
With the help of a new Web site, powder hounds can book their next ski vacation in a speedy, no-fuss manner -- and they can even do it on the cheap. At
www.SkiVacationsToGo.com
, visitors can find most everything they need for a ski vacation, from hotel rooms and air travel to lift tickets and airport transfers. And, as is the case with most vacations booked as a package deal, trips purchased through the site will save customers on travel costs.
A division of
Vacations To Go
, a 24-year-old discount travel agency based in Houston, TX,
www.SkiVacationsToGo.com
can help site visitors locate their perfect accommodations in popular ski resorts. On the left-hand side of the home page, visitors can browse through popular resorts in
California
,
Colorado
,
Nevada
,
New Mexico
,
Utah
,
Wyoming
and the
Canadian Rockies
. Links across the top of the home page divide resorts into
budget
,
moderate
and
luxury
properties, aiding those watching their wallets while also catering to others looking for the most indulgent getaway possible.
Another search option offers a look at
ski-in/ski-out lodging
-- with options ranging from two to six stars -- available at a variety of vacation resorts. Many skiers prefer these accommodations located right on the slopes, which provide easy access to the trails and maximize ski time.
Once a customer has chosen a resort, the site allows the addition of airfare, airport transfers and lift tickets to the package. Booking lift tickets in advance through the site will often yield cheaper prices.
Each ski resort profile on
www.SkiVacationsToGo.com
includes the mountain's vital statistics, from the total number of runs and lifts to the average annual snowfall and base and summit elevations. The site currently offers data for ski resorts throughout the western United States and Canada, from the northern heights of
Lake Louise Mountain Resort
in Alberta, Canada, to the champagne powder of Angel Fire in
Taos, NM
.
Family-friendly vacations are easy to book through
www.SkiVacationsToGo.com
. In sifting through the resort profiles, parents can pick a destination that highlights ski schools, bunny slopes and other activities aimed at children. At the page for
Aspen, CO
, for instance, families can review the resort's four towering mountains and look for one with a high ratio of beginner's trails. A glance at Aspen's Buttermilk Mountain, an outlet for the local ski and snowboard school, reveals more than a dozen gentle slopes.
Another good family option lies northeast of Aspen:
Vail
reigns as the largest ski resort in the United States, with more than 5,200 acres of powdered terrain. It's known as Colorado's "come one, come all" resort, with dining and lodging options ranging from economy to high-style luxury. With four terrain parks, seven bowls, 33 lifts, 193 trails and 5,289 acres of skiable terrain, Vail offers something for skiers of all skill levels.
Travelers in search of a challenge can use the site to book a stay at
Snowbird
, just 30 miles outside Salt Lake City, UT. "The Bird," as it's known, is not for flights of fancy. This is a rough-and-tumble mountain, with steeps and chutes that keep guests aching for more -- or, in many cases, just plain aching. State-of-the-art lifts and trams carry skiers to some of the most remote terrain in Utah, allowing access to gladed acreage, sharp slides and a few vertigo-inducing, triple-black-diamond runs. Visitors also flock to the Snowbird Terrain Park, which includes a growing superpipe area, and Mineral Basin, a backside bowl with a steep, sunny slope down Hidden Peak.
To the north,
Jackson Hole, WY
, offers high-end seclusion in a Wild West setting. The towering twin peaks of the resort, Apres Vous and Rendezvous, offer 2,500 steep, snowy acres in the Grand Tetons. Another 3,000 off-piste acres can be accessed via the resort's backcountry gate system, one of the most extensive experts-only areas in the nation.
This hot spot, just a stone's throw from the rocky beauty of Yellowstone National Park, also boasts the greatest vertical rise in the nation -- 4,139 feet of continuous downhill skiing available only to the most adventurous guests.
Information:
For more information on these and other ski resorts that can be booked through Vacations To Go, visit
www.SkiVacationsToGo.com
or call a ski specialist at (800) 998-6812.
The information in this story was accurate at the time it was published in January/February 2008. Please visit
Vacations To Go
or call (800) 998-6925 for current rates and details.
Send This Article to a Friend
Bookmark this Content
Digg it!
Reddit
Furl
del.icio.us
Spurl
Yahoo!