Hot Getaways and Cool Escapes
Seek the sun or chill out in these 10 destinations made for summertime getaways
By Jennifer Davoren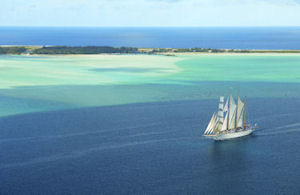 Star Clippers
D
reams of poolside lounge chairs, sandy beaches and sultry nights will lure some vacationers to sun-kissed tropical destinations this summer. Others, however, might seek an escape from stifling humidity and soaring temperatures, opting instead for the bracing air of cooler climes.
Below, we've highlighted 10 tempting travel itineraries to please both types of travelers. Our first five suggestions accommodate those on the hunt for sun -- four provide access to a beach, while the fifth promises towering red-rock mesas and sweeping desert scenery. The next five options play it cool, and they include soaring peaks, icy glaciers and a breezy city by a bay.
Rates for the summer travel season were provided by
Vacations To Go
, which specializes in discounted cruises, tours and resort stays. Sample prices at hotels were based on a seven-night mid-July stay. Keep in mind that rates may be higher during peak holiday times, such as Memorial Day and July Fourth weekends.
HOT GETAWAYSCruising to Mexico
You can find some sizzling deals south of the border, where cruises of the Mexican Riviera feature Pacific ports of call like
Puerto Vallarta
,
Mazatlan
and
Los Cabos
. In addition to surfside fun, these locales offer sportfishing excursions, quaint artisan markets and charming historic districts.
Mexico-bound ships typically sail round-trip from Southern California ports. For example, the
Carnival Splendor
cruises
weeklong itineraries
year-round from Long Beach, CA, stopping at the three destinations above. The 3,006-guest Splendor has four swimming pools, an onboard miniature golf course and a host of children's programs for floating families. Summer prices start at $599 per person for the cruise, based on two people sharing a cabin.
Sanibel, Florida
The Gulf Coast of Florida is lined with vacation resorts, but the tiny island of Sanibel provides a secluded sanctuary not far from Fort Myers, Cape Coral and Naples. Sanibel and its neighbor, Captiva, are famed for their sun-bleached seashells -- visitors are often seen scouring the shoreline, adopting the island's signature "stoop" as they dig through sugar-fine sand.
The Sanibel Inn
is an intimate 94-room property on the island's southern shore. It's famed for Ellington's Jazz Bar and Restaurant, Sanibel's premier seafood and steak house, as well as its access to a PGA-rated golf course. A stroll through the inn's flowering gardens reveals migrating butterflies and hummingbirds. Rates for a weeklong stay in mid-July start at $1,181 for a room for two people, or about $590 per person.
Punta Cana, Dominican Republic
The Caribbean offers the perfect formula for a languid beach vacation: swaying palm trees, crystal-clear waters and laid-back vibes. You'll find it all in the flourishing resort town of
Punta Cana
at the easternmost tip of the Dominican Republic -- but at a fraction of the price you'd pay at more far-flung tropical isles.
The Iberostar Punta Cana
, an all-inclusive property on the north side of town, makes it easy to budget a sun-and-sand escape. The property wraps accommodations and all the food and drink (including alcoholic beverages) you could want into a single price that's paid up front. Guests also have a swimming pool, tennis court and host of water sports at their disposal. Rates for a weeklong stay in mid-July start at $684 per person, based on two people sharing a room.
Cruising the South Pacific
Nothing says romance like the enchanting, exotic isles of
French Polynesia
. Verdant mountains float on crystal-clear waters, creating small, tropical escapes more than 2,000 miles from their nearest neighbors, Australia and New Zealand.
See the region as the early explorers did, on a sailing ship. The four-masted
Star Flyer
offers seven-, 10- and 11-day itineraries in French Polynesia this summer, with stops in Papeete and Bora Bora as well as Moorea, a tiny isle covered in pineapple plantations and surrounded by prime snorkeling spots. The Star Flyer carries just 170 passengers, ensuring an intimate, highly personalized onboard ambience. Summer prices for a
weeklong cruise
start at $1,013 per person, based on two people sharing a cabin.
Scottsdale, Arizona
The Valley of the Sun lives up to its name. In Scottsdale, AZ, just north of Phoenix in the Sonoran Desert, the average high temperature in July hovers above 100 degrees. Afternoons can be scorching, and visitors should plan accordingly. Schedule outdoor pursuits like biking, hiking and golfing for the morning, and explore Scottsdale's art galleries, museums and other air-conditioned venues after midday.
Hotels are plentiful in the valley, but the scenic
Camelback Inn
-- set on 125 acres of sprawling, sepia-toned desert on the southwest side of Scottsdale -- has drawn visitors since 1936. The inn, now a JW Marriott property, recently completed a $50 million renovation that added gardens and restaurants and upgraded amenities in many of its suites. Rates for a weeklong stay in mid-July start at $660 for a room for two people, or $330 per person.
COOL ESCAPESRail Trips in the Rockies
Beat the heat and see stunning mountain scenery with
Rocky Mountaineer Vacations
, a company that specializes in train trips in Canada. The four-day "
Classic Rail Vacation
" showcases the awe-inspiring sights of British Columbia and western Alberta. Passengers ride by day in comfy railcars with picture windows or full-length dome windows, chugging over mountain passes, through tunnels and along lakes and pastures. Nights are spent in hotels along the way.
There are four routes. You might travel from cosmopolitan Vancouver through the Fraser River Valley to Kamloops, then climb up to pristine Banff in the heart of the Rockies. Or, choose an itinerary that takes in the cowboy city of Calgary, the resort town of Whistler or the beauty of Jasper National Park, where mountain goats, bears, wolves and elk dwell. Rates start at $949 per person this summer for the
Vancouver-to-Jasper route
(or the reverse), based on double occupancy. Other "Classic Rail Vacation" itineraries have slightly higher starting rates.
Norway's Fjords
For a summer getaway on the chilly side, consider a journey to the Arctic Circle. Cruises along Norway's western coast lead to hidden waterfalls, awe-inspiring river valleys and villages founded by powerful Viking kings.
The most popular vacations from the
Hurtigruten
cruise line sail the Norwegian fjords; choose the
six-day southbound itinerary
or the
seven-day northbound route
. More than 30 destinations are highlighted, such as Kirkenes, an Arctic outpost near the Russian border; Molde, a village with spectacular views of the snowcapped Romsdal Alps; and the Lofoten Islands, where picturesque homes perch on stilts. Prices in summer start around $1,937 per person for the six-day voyage, based on two people sharing a cabin.
Cruising Alaska
Stand on the deck of a ship and feel the cool air coming off the glaciers of the Last Frontier. Abundant wildlife, stunning scenery, gold rush history and fascinating native culture also are part of the package when you cruise the Inside Passage of Alaska.
It's a budget-friendly way to travel, too. For example, Vacations To Go offers reduced rates of $599 per person, based on two people in a cabin, for a
seven-day sailing
aboard the
Volendam
, part of the
Holland America Line
fleet. It travels round-trip from Vancouver, British Columbia, to visit the Alaskan capital of Juneau, the frontier town of Skagway and the "totem pole capital of the world," Ketchikan. You'll also spend a day cruising Glacier Bay National Park, keeping an eye out for humpbacks and harbor seals.
Telluride, Colorado
Hidden high in the San Juan Mountains,
Telluride, CO
, is best known as a bustling ski town. But its summer attractions are equally enticing, with hiking and biking trails, backcountry camping and fly-fishing waters. Golfing is another favorite pastime here, where long drives disappear against a stunning mountain backdrop.
The Peaks Resort
is well-suited for all seasons. Wrapped by pine-studded hills and a stonework patio with breathtaking views, it offers four on-site restaurants, indoor and outdoor swimming pools and the Golden Door Spa, where guests can be pampered in 32 treatment rooms. Prices for a weeklong stay in mid-July start at $1,096 for a room for two people, or $548 per person.
San Francisco, California
Summers in
San Francisco
are surprisingly cool, thanks to the fog that rolls in from the city's eponymous bay. Visitors can sample the restaurants of Chinatown or Italian-influenced North Beach, ride the ferry to once-notorious Alcatraz Island, or hop a trademark cable car for a ride around town. The vineyards of Napa Valley are an easy day trip away. A tip: If you want to avoid crowds, don't schedule a visit for July 26, when the San Francisco Marathon will bring an estimated 17,000 runners to town.
Chic nautical themes run throughout the
Argonaut Hotel
, a boutique property at the center of iconic Fisherman's Wharf. It overlooks the Maritime National Historic Park and San Francisco Bay and is a short walk from the chocolate temptations of Ghirardelli Square and the barking sea lions of Pier 39. Rates for a weeklong stay in mid-July start at $1,528 for a room for two people, or $764 per person.
The information in this story was accurate at the time it was published in May/June 2009. Please visit
Vacations To Go
or call (800) 998-6925 for current rates and details.
Send This Article to a Friend
Bookmark this Content
Digg it!
Reddit
Furl
del.icio.us
Spurl
Yahoo!