Eco-Friendly Resorts of the Riviera Maya
Blue seas meet green initiatives
at these beachfront retreats in Mexico
By Alexis Hilts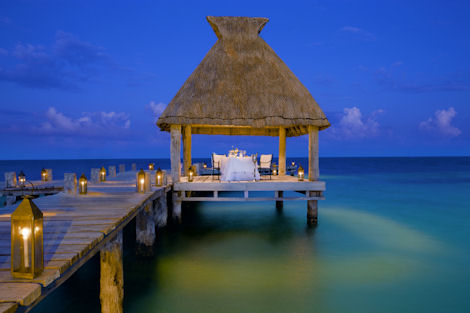 AMRESORTS
O
n the eastern side of Mexico's Yucatan Peninsula lies a roughly 75-mile-long tropical haven. The Riviera Maya, stretching from just south of Cancun in Puerto Morelos to Punta Allen, near Tulum, offers visitors wonders such as the Mesoamerican Reef, the second largest barrier reef in the world, and Chichen Itza, one of several sites of ancient Mayan ruins. With its soft, white-sand beaches caressed by the Caribbean Sea, verdant jungles, alluring history and bustling resort towns, this strip of Mexican coast attracts visitors of all kinds. But, the region's rich culture and abundant wildlife make it a particularly ideal spot for eco-enthusiasts.
Nature lovers can soak up their surroundings in the Riviera Maya's variety of ecological attractions. Some might take a wildlife tour, go bird-watching or kayak in the biosphere reserve at Sian Ka'an, or "where the sky is born," a preserve boasting more than 1 million acres of land. Others might opt for marine life encounters in national parks such as Xel-ha Lagoon and Chankanaab Bay. Or maybe getting the royal treatment in a treetop spa sounds like the ideal nature retreat.
Whatever kind of ecotourist you may be, the Riviera Maya has the setting -- and the environmentally friendly resorts -- to make your perfect getaway. Taking the work out of your search for premier green hotels, we've compiled the following resorts known for their commitment to practicing sustainable tourism. Green travelers -- from serenity-seekers looking for a therapeutic spa vacation to nature- loving sports enthusiasts -- will find sanctuary in these eco-friendly places. To price a stay at any of them, consult the resort department of
Vacations To Go
or call (800) 998-6925.
The all-inclusive
Hacienda Tres Rios
is a prime example of how it's unnecessary to sacrifice creature comforts for an eco-conscious vacation abode. About six miles north of Playa del Carmen, the resort contains 273 luxurious marble-floored suites, most including Jacuzzis for two and spectacular ocean views. Tucked away in Tres Rios Nature Park, canopies of mangrove trees surround three natural rivers and 10 cenotes -- deep freshwater sinkholes -- that are ideal spots for snorkeling or a refreshing dip.
Visitors spend their days on the beach or taking part in scheduled activities, such as bicycling, fruit carving, wine tasting or learning Spanish. Kids are welcome to take part in the children's program at the Hacienda, which hosts treasure hunts, games and beach fun. And to keep your mind and body in shape while on vacation, there's yoga, Pilates, meditation and a traditional Mayan purification and relaxation ritual -- temazcal -- offered at Ya'ax Che spa. Looking for extra perks? Guests have access to a nearby equestrian and polo center, yacht club and private jet rentals.
Green profile: The hotel's Green Team, a group including scientists and environmental experts, conducted studies for two years in order to ensure an eco-responsible design. Gabriel Santoyo, the chief environmental officer at the Hacienda Tres Rios, says this ecological strategy from the hotel's inception is unique. "Sustainable design, sustainable construction and sustainable operation -- that makes us special," he says.
The resort implements a comprehensive green plan, from producing fresh water at its own desalination plant to using hot air recycled from air-conditioning units to heat the hotel's water. It has earned a Green Globe Certification, a recognized standard for meeting certain environmental requirements. Guests can help with reforestation efforts by planting their own mangrove trees.
The hotel works to improve its community by assisting local businesses with sustainable development and supporting area organizations, such as the Golden Years Club for the Elderly, which provides various cultural and recreational activities for Cancun's seniors.
Zoetry Paraiso de la Bonita
Distinctive touches lend elegance to this intimate boutique resort about 20 minutes from Cancun's airport. From daily complimentary champagne and fruit baskets to the hotel's decor -- enhanced with items handpicked from the owner's worldly travels -- the all-inclusive
Zoetry Paraiso de la Bonita
seeks to pamper its guests.
But pampering at the Zoetry goes beyond its embellishments; the resort also emphasizes holistic wellness. Included in the Endless Privileges program are services for self-enrichment, such as healthy organic gourmet fare, an antiaging medical diagnostic and a wellness consultation with a specialist in the Wills System -- an approach to well-being centering around practices such as stress reduction, weight management, techniques for insomnia relief and meditation. The hideaway's 22,000-square-foot spa offers a wide range of treatments and is a certified thalassotherapy (saltwater hydro-therapy) center. Guests also can enjoy a variety of classes, tennis, windsurfing, kayaking, yoga and nearby golf, scuba and snorkeling excursions.
Green profile: The Zoetry Paraiso de la Bonita demonstrates its "socially responsible and environmentally sensitive philosophy" through its recycling program, production of organic fertilizer, beach-cleaning campaigns and protection of the native turtle and blue crab populations.
The resort is a member of the World Heritage Alliance for Sustainable Tourism partnership, which works to support environmental conservation and local economic development for communities in and around UNESCO World Heritage sites. Community-oriented programs, like workshops teaching local children the importance of protecting their environment through making handmade recycled-paper crafts, are a key element of the hotel's green program.
Upcoming sustainable tourism plans include the creation of a green area, with space for nature walks and a small organic farm where guests can learn about the hotel's green growing principles -- and later taste the results in one of the resort's restaurants.
Barcelo Maya Beach Resort
Ideal for couples and families looking for tons of activities, the Barcelo Maya Beach Resort in Puerto Aventuras offers five sister resorts in one complex:
Barcelo Maya Beach
,
Barcelo Maya Caribe Beach
,
Barcelo Maya Colonial Beach
,
Barcelo Maya Tropical Beach
and
Barcelo Maya Palace Deluxe
. Bright colors and works from local artists infuse this group of hotels and its more than 2,700 rooms with vibrant Mexican culture as tourists are treated to the all-inclusive vacation on a grand scale.
Guests have access to the amenities at all five resorts, including several bars, buffets, beachside grills and specialty restaurants. Groups with a wide range of ages or interests fit right in at the complex, which has seemingly endless options. Water sports, tennis, basketball, darts, archery, beach volleyball, billiards, a giant chess set, a kids' water park, spa and a mini-golf course are just some of the diversions available. A disco and a teen club are popular nighttime hangouts, or visitors can opt to attend a show in the on-site theater.
Green profile: All five of the hotels within the Barcelo Maya Beach Resort system are Green Globe-certified and implement eco-friendly practices, including water reuse, energy conservation, recycling and the use of biodegradable materials. Every year the resort plants roughly 15,000 plants to reforest green areas.
The resort reaches out to the community through ecology lectures at nearby schools and a policy that requires 75 percent of its consumable materials (food, brochures, linens, furniture, office supplies, etc.) come from regional suppliers.
Visitors to Barcelo Maya Beach Resort are encouraged to learn about local flora and fauna through various identification signs, and the kids' clubs have areas designated for eco-learning. As part of the resort's turtle protection program, guests can help hand deliver hatchlings back to the sea.
Viva Wyndham Maya and Azteca
Just two miles from shopping in Playa del Carmen,
Viva Wyndham Maya
and nearby sister resort
Viva Wyndham Azteca
offer a relaxed atmosphere and plenty of fun to keep guests occupied. Both hotels incorporate Spanish colonial-inspired accents into comfortable accommodations; with 480 rooms, the Maya is slightly larger than the more intimate Azteca, which has 270 rooms.
The resorts are stress-free with all-inclusive packages that allow guests to take advantage of dining and activities at both. A variety of menu options await -- between the two properties visitors can feast at seven restaurants offering delights such as an international buffet, Mexican cuisine and Asian or Mediterranean a la carte dinners.
Enjoying the great outdoors is easy here with sailing, fishing, golfing, scuba diving, hiking and Jet Ski rides. These family-friendly resorts also have structured activities for kids such as sand-castle building, talent shows, art projects and games, so parents can enjoy a little free time working out at the health club, getting a massage at the Renova Spa or laying out on a beach lounger. And the entertainment doesn't stop when the sun goes down -- possible themes for nightly productions include "Grease," "Aladdin," cabaret or a guest talent show.
Green profile: Highlights of Wyndham Worldwide's green program include uniforms made with recycled plastics, biodegradable laundry bags, recycled key cards, an "EarthSmart" guest linen reuse program and renewable energy purchasing. Both the Viva Wyndham Maya and the Azteca have earned a Green Globe Certification for their adherence to environmental conservation and protection standards.
Leading cleanups at Los Pinos public beach, engaging local elementary school students in activities promoting environmental education and donating staff time to protect wildlife in a local park are just some of the resorts' community efforts.
Lanchas, or covered electric boats, traverse the canals throughout
Fairmont Mayakoba
's 45-acre property located within a master-planned luxury community roughly 42 miles south of Cancun, near Playa del Carmen. Cars are not allowed in the complex of this self-declared "Venice of the Caribbean" -- the boats, gliding along deep lagoons connecting sections of the hotel, along with golf carts and bicycles, are the modes of transportation here.
Guests enjoy the resort's pristine beach or follow nature trails beneath the shade of mangrove trees. Other resort amenities include tennis courts, five swimming pools, four restaurants and Willow Stream Spa, featuring a range of spa treatments, a fitness center and a beauty salon. And for avid golfers, the resort offers an additional perk: It's next door to El Camaleon, an 18-hole golf course that hosts the Mayakoba Classic, a stop on the PGA tour. The hotel has activity programs for children and teens, and babysitting services are also available.
Green profile: Fairmont Hotels & Resorts has written the book on eco-friendly resorts -- literally. In addition to creating a guidebook on sustainable practices for hotels, the luxury chain employs strategies to improve waste management and water and energy conservation, setting a goal to reduce its greenhouse gas emissions from its existing hotels to 20 percent below its 2006 emissions levels by 2013.
The Fairmont Mayakoba leads the company's membership with the World Heritage Alliance. The hotel helped build up a predominantly Mayan-owned cooperative operating tours of Sian Ka'an, serving as a training resource and supporting the local guides by offering the tours to its guests. Other community outreach efforts include purchasing crafts made by locals using sustainable practices to give as gifts or sell at the resort cafe.
Rooms come with recycling bins, and visitors will find information about the hotel's environmental policies, as well as suggestions for having an eco-friendly vacation, in the guest directory.
Ecology manager Lyn Santos hopes all businesses in the Riviera Maya -- and the rest of the world -- will make efforts like the Mayakoba has because, after all, "we only live on one planet."
The information in this story was accurate at the time it was published in November/December 2009. Please visit
Vacations To Go
or call (800) 998-6925 for current rates and details.
Send This Article to a Friend
Bookmark this Content
Digg it!
Reddit
Furl
del.icio.us
Spurl
Yahoo!