Alluring Island Escapes
Leave the mainland — and your worries — behind with a trip
to one of these tempting isles
By Jennifer Davoren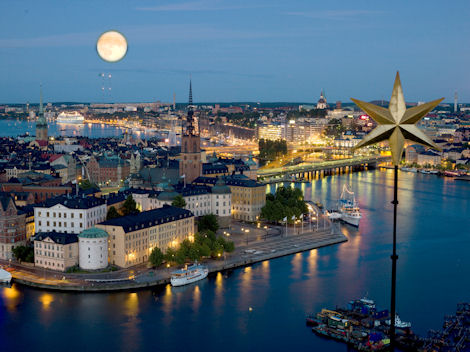 www.imagebank.sweden.se
L
ooking to get away from it all? Seek an island hideaway for your next vacation and adopt the laid-back, easy living attitude cherished by the locals -- the whenever, whatever scheduling concept known as "island time." Only then can harried nine-to-fivers shrug off their day-to-day stress and truly beat the clock ... or forget it completely.
Take
Hawaii
, for instance. It's one of the world's most popular vacation destinations and promises pounding waves, fruity cocktails and sea breezes perfumed by plumeria. The Aloha State's relaxed local culture is best demonstrated through the shaka sign, the thumb-and-pinkie greeting that encourages passers-by to "hang loose."
And the beaches -- the true focus of many island getaways -- are beyond compare. Tourists have their pick of pace (high-traffic party place vs. quiet sunbathing spot) as well as size, surf strength and sand color; on
Oahu
alone, tourists can choose between the fine, white powder of Waikiki and the black, volcanic pebbles of Punalu'u. Stephen P. Leatherman, the environmental scientist best known as "Dr. Beach," often sings the praises of Hawaiian shores on his annual list of the top 10 U.S. beaches. A gem on
Kauai
's north coast, Hanalei Bay, took the No. 1 spot in 2009.
Vacation resorts on the
Royal Coconut Coast
provide easy access to Hanalei Bay and other hot spots on Kauai. The
Outrigger Waipouli Beach Resort
features one- and two-bedroom suites, an on-site spa and a saltwater "lazy river" pool that snakes around the grounds. Travel discounter Vacations To Go offers competitive rates on this and other Hawaiian hotels; visit
Vacations To Go
or call (800) 998-6925 to price a stay at hundreds of properties.
Another U.S. island retreat awaits off the southern tip of the Sunshine State.
Key West
is the centerpiece of most vacations in the Florida Keys -- after all, it has quite a pedigree. Past celebrity residents include literary greats Tennessee Williams and Ernest Hemingway as well as musician Jimmy Buffett and President Harry Truman. Truman's "Little White House" is a popular stop on historic tours in Key West, while Hemingway's former home has been converted to a museum prowled by polydactyl cats, the six- and seven-toed descendants of the writer's favorite pets.
In fun-loving and thoroughly offbeat Key West, the streets are roamed by feral chickens (allowed to wander free by city ordinance), hard-partying tourists and a dedicated band of local artists. Brightly colored Victorian homes fill Old Town, standing side by side with souvenir shops, cigar stores and casual Cuban restaurants.
The 127-room
Southernmost Hotel
seems to embrace Key West's funky spirit. It's easy to relax here, thanks to a swimming pool flanked by two tiki bars and colorful, fish-shaped lounge chairs, but on-site bike and moped rentals give guests a chance to get out and see the sights. The hotel is on Duval Street, Key West's main drag, making it easy to join the nightly party parade known as the "Duval Crawl."
Travelers looking to commune with nature might opt for a destination like
St. John
, the smallest of the U.S. Virgin Islands. Two-thirds of it is protected by a national park, which visitors can explore on foot or by guided Jeep tour. Trunk Bay is the park's biggest draw, where a submerged snorkeling trail is marked by plaques that identify fish and coral species. More than 12,000 acres of underwater wonders are protected in the park and surrounding Virgin Islands Coral Reef National Monument.
A number of cruise lines call at St. John when sailing Caribbean itineraries.
SeaDream Yacht Club
visits the island on cruises from
Puerto Rico
and
St. Thomas
, St. John's U.S.V.I. neighbor. Discounted prices from Vacations To Go start at $1,599 per person -- a savings of 70 percent off the brochure rate for this luxury line.
Azamara Cruises
also stops at St. John on its 10- and 12-night
sojourns from Miami
, with prices from $1,449.
Not far from Seattle is another postcard-perfect setting, on Canada's verdant Vancouver Island. It is crowned by
Victoria
, the capital of British Columbia that's known for its distinctive British flavor. The city is dotted with tea shops, pubs and double-decker tour buses. Butchart Gardens offers 55 acres of fragrant flower arrangements fit for a queen, and the royal treatment continues at attractions like Craigdarroch Castle, a 39-room, 19th-century mansion open for tours.
The grand
Fairmont Empress
hotel is a favorite destination here, even among day-trippers who spend an afternoon enjoying the daily tea service and sweeping views of Victoria's Inner Harbor. Overnight guests have more treats in store, from the pampering services of the Willow Stream Spa to the turn-of-the-century ambience that marks the accommodations.
Prefer a cold beer to high tea? Consider the Whitsunday Islands off the east coast of
Australia
. These white-sand strips of tropical paradise are surrounded by the Coral Sea and colorful grandeur of the Great Barrier Reef. Snorkeling and scuba diving are the top activities here, but boating and long days on the beach -- or at the beachside bar -- also keep visitors close to the water.
A number of escorted tour companies offer vacations in this region, and some of the most affordable are hosted by
Contiki Holidays
, a company that specializes in young adult travel for the 18-to-35 crowd. Contiki's 10-day "
Magical Tropics
" trip spends four full days in the islands, including a day on the aptly named Daydream Island. The tour winds down in Cairns, a seaside city that offers Great Barrier Reef excursions by day and a host of dance clubs and cocktail bars each night. Prices start at $989 per person without airfare.
Answer the call of the wild in Ecuador's
Galapagos Islands
, where naturalist Charles Darwin conducted his groundbreaking research of evolutionary theory. Penguins, sea lions and blue-footed boobies are plentiful here. Sightings of other species, including one of the last Pinta tortoises in the world -- a local celebrity known as Lonesome George, thought to be around 100 years old -- are once-in-a-lifetime experiences.
Celebrity Xpedition
sails 10-, 11- and 13-night excursions to the Galapagos year-round. Departing from Quito, the Ecuadorian capital, the Xpedition calls at ports like
Santa Cruz
, home of Lonesome George;
Fernandina
, an isle with an active volcano; and
Isabela
, where swarms of marine iguanas sun themselves between deep-sea dives. After a long day of wildlife hikes in the archipelago, Xpedition guests return to the ship for a soothing soak in a whirlpool, a snack of locally grown produce or a naturalist's lecture in the Discovery Lounge. Prices for a 10-night cruise start at $3,299 (for the Oct. 1, 2010, departure).
A more cosmopolitan experience awaits in
Stockholm
. Sweden's capital city stretches across 14 islands separated by the Baltic Sea and the spread of Lake Malaren. Though 57 car and pedestrian bridges link the islands, most visitors opt for boat tours when sampling Stockholm's diverse neighborhoods. A popular attraction is the Gamla Stan, or Old Town, which preserves some of Europe's most stunning medieval structures. The Nobel Museum is located here, as is the stunning 600-room Royal Palace.
Stockholm is a big draw for
escorted tours
and
cruise vacations
, but those wanting to explore the city at length can opt for a hotel like the
Birger Jarl
, named for Stockholm's founding father. It's in a quiet neighborhood north of the city center. Sweden's love of clean and contemporary interior design is apparent at this hotel, which offers 16 individually styled "designer suites" among its 235 guest rooms.
More in the mood for ancient architecture? That's a big lure for the
Greek Islands
, where travelers can pair a tour of mainland sights like the Parthenon or the National Archaeological Museum with a Mediterranean Sea sailing. These cruises stop at ports famed for whitewashed homes, cliffside churches and family-owned cafes, all wrapped around some of the most beautiful white-sand beaches in the world.
Sailings of the Greek Islands aboard the
MSC Musica
start in either
Venice
or
Bari, Italy
, and call at high-demand destinations like
Corfu
,
Mykonos
and
Santorini
. These seven-night cruises also include a day in Athens. Vacations To Go offers half-priced departures, beginning at $999 per person for a cruise leaving Bari on April 5, 2010, for example.
Sometimes an island getaway calls for something even more exotic. Try the islands surrounding
Thailand
if you're looking for a far-flung destination; here, dual coastlines offer plenty of choices for beach bums. Look beyond the waves, and it's easy to be drawn in by the local culture. While the cuisine alone is worth a visit, Thailand also offers serene Buddhist temples, rain-forest hikes and elephant preserves.
Gap Adventures' nine-day escorted tour, "
Thailand Island Hopping (East Coast)
" hits three hot spots in the Samui Archipelago, an 80-island chain in the scenic Gulf of Thailand. The first, Ko Samui, is a well-developed resort island, its beaches lined with high-end hotels and restaurants. Neighboring Ko Tao is much more rugged, where extensive coral gardens lure divers and snorkelers. The third isle on the itinerary, Ko Pha Ngan, splits the difference -- daylight hours mean snorkeling in shallow lagoons ringed by rocky cliffs, while beachside bonfires and other tourist-friendly parties begin at nightfall. Prices for this trip start at $699 per person without airfare, and departures are offered through Oct. 30, 2010.
Madagascar
off the eastern coast of Africa is growing in popularity among escorted tour companies offering wildlife encounters; visitors come face-to-face with lemurs, lizards and other animal stars of the popular "Madagascar" movie series. Between hikes down misty jungle trails, visitors can explore the aromatic spice markets and bustling trading posts that have marked the Madagascar coastline since the 17th century.
Gap Adventures
offers "
Madagascar Experience
" a 10-day tour of nature preserves that includes Ranomafana National Park, home to 12 wide-eyed lemur species; Andasibe-Mantadia National Park, where the endangered sifaka lemurs are found; and Isalo National Park, renowned for its bird-watching hikes. Also included are an exploration of the Merina tombs, the final resting place of Madagascar's 19th-century rulers, and Antsirabe, a quaint colonial town circled by volcanic lakes. Prices for this tour begin at $1,249 per person without airfare; departures are available through Dec. 19, 2010.
The information in this story was accurate at the time it was published in November/December 2009.
Send This Article to a Friend
Bookmark this Content
Digg it!
Reddit
Furl
del.icio.us
Spurl
Yahoo!