A Haven in the Hill Country
Near San Antonio, The Westin La Cantera Resort
offers pampering and playtime for everyone in the family
By Alexis Hilts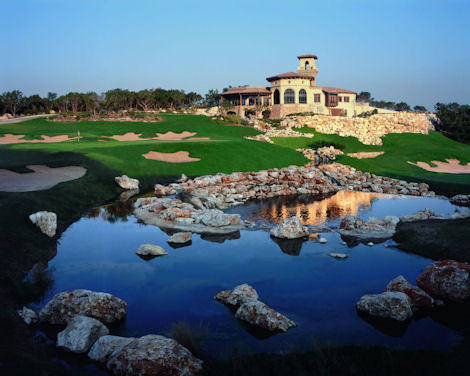 The Westin La Cantera Resort
(Scroll down to see a slide show.)
B
y the time we pulled up in front of
The Westin La Cantera Resort
outside San Antonio, it was already dark. The night sky made it difficult to get an immediate sense of our weekend retreat, but after a four-hour drive from Houston, I leaped out of the car. Reaching my arms above my head in an attempt to stretch away that cramped road-trip feeling, I turned from the hotel's facade and surveyed the scene until my eyes fell on an unexpected sight: the glittering expanse of the metropolis, far below La Cantera's hilltop perch.
"You can see the whole city from here," the bellhop said, noticing my stare. "That's just what I was thinking," I replied, anxious to see what other wonders I might find here.
Weary from months without a vacation, my fiance and I decided to take his two youngest boys out of town for a short break. A couple of days at a resort tucked away in the Texas Hill Country seemed to be just what our spirits required.
The key to a successful family vacation is balance. Ideally, you want the right mixture of fun, kid-oriented activities and time spent together as a group, interspersed with moments of relaxation for the adults. Roughly 15 miles from downtown
San Antonio
, La Cantera provides all the right elements: The sprawling resort complex is a destination within a destination, complete with its own Starbucks.
Tennis courts, a series of pools, a spa and fitness center, grand ballroom, 39,000 square feet of meeting space and five restaurants and two bars -- including a poolside cafe and bar with cigar lounge -- are just some of the basics. Add to that two championship golf courses, the Resort Course and the Palmer Course (each with their own clubhouse restaurant), and a nature trail, and you have a hotel equipped to accommodate everyone from families to business conventioneers. Not to mention, it's just down the street from Six Flags Fiesta Texas, a bonus that might entice even the most reluctant youngsters.
La Cantera recently completed a $12 million renovation, refurbishing all 508 rooms with flat-screen TVs, leather headboards and new furniture and updating meeting areas to include fresh carpets, light fixtures and decor. The main resort, built with red tile roofs and white stucco walls to resemble the 19th-century King Ranch of South Texas, comprises most of the hotel's accommodations. For those looking to stay a little farther away from the action, the Casita Village offers 38 rooms nestled among the trees, where guests have access to a private pool and courtyard.
The four of us needed room to spread out, so we chose two bedrooms connected by a living and dining area. Earth tones and sturdy furniture crafted from dark woods and leather added a Lone Star feel to our expansive weekend abode, and three balconies ensured every space was a room with a view.
Eager to investigate the finer details, I made my way into the kids' bathroom to find that the bathtub had been stamped with multicolored letters spelling out the boys' names, along with planes, lizards and other kid-friendly designs. The jovial two trounced in a few steps behind me, and immediately their faces lit up. Impressing two boys -- ages 9 and 12 -- is not as easy as one might think, so this minor detail scored major points.
Still reveling in the success of the bathtub decorations, I snapped back into the present at the sounds of excited shouts from another room: "They're like ninjas!" I heard the boys exclaim. While we were busy marveling at our luxurious pad, a staff member snuck in and left a treat for us: milk, cookies dipped in chocolate and a selection of fruits, cheeses and crackers. I had spent the last several hours fueled by trail mix and beef jerky, and this gesture hit the mark. After noshing on our indulgent nighttime snack, I climbed underneath a fluffy down blanket and felt the last tensions of the week slip away.
The next morning, everyone was still asleep as I rolled out of bed and headed straight toward the Castle Rock Health Club and Spa. Most of this day would be filled with "together time" and a venture to the city; the morning, however, was mine.
After the receptionist offered me a cup of chilled, fruit-infused water, my spa therapist, Christine, settled me into a plush massage chair and began working her magic on my feet. I had scheduled three back-to-back treatments -- a spa pedicure, a manicure and a botanical skin-resurfacing facial -- to ensure that I'd return to my travel companions refreshed and energized for the rest of the day. The laid-back and friendly staff put me at ease, but the hand and foot massages, sweet almond-scented Aveda products and personal teapot filled with mango-flavored green tea helped, too.
Christine and I chatted as she painted mauve polish on my newly groomed nails. She described the range of clients she typically sees -- wives relaxing while husbands tee off, bridal parties, men who've been introduced to the power of pampering, locals and vacationers alike.
Rejuvenated after the royal treatment, I met up with a ravenous trio ready for a trip into town. Navigable on foot or by river taxi, San Antonio's center draws visitors with its distinctive mix of Texas history and multicultural charms. Throughout its past, this has been the land of the Coahuiltecan people, a Spanish settlement, a battle site in the fight for both Mexican and Texan independence and a refuge for German and French pioneers. The area boasts a collection of historic architecture, including five missions established in the 18th century, the most famous of which is the Alamo.
Originally home to missionaries and converts, and occupied at turns by Spanish and Mexican military units, the Alamo earned its legendary status for its role in the Texas Revolution. In 1836, a small band of volunteers fought to save the structure from Gen. Santa Anna's Mexican army. Despite backup that brought the group to a count of nearly 200, the defenders were overcome. The famed battle still stands for many as an example of bravery in the face of almost certain defeat. Tip: If at all possible, schedule your trip to the Alamo for a weekday. It's difficult to maneuver the small fortress among weekend crowds, and Saturdays are particularly busy.
Beyond monuments of the past, this city of 1.37 million residents celebrates its diversity with lively music and an eclectic culinary scene. Travelers looking for a sampling of cultures should consider an April visit, when Fiesta San Antonio takes over the streets. An 11-day celebration featuring more than 100 events sponsored by local nonprofits, this annual festival is a citywide fundraiser and gala. What began in 1891 as a tribute to the soldiers of the Alamo and the Battle of San Jacinto has grown into a full-fledged party of parades with vibrant floats, art exhibits, games, a large oyster bake (where more than 100,000 of the bivalves are served), a soccer tournament, musical performances and a carnival. This year's extravaganza takes place April 7-17.
Though we hadn't yet decided what we wanted to eat, there was no question as to where we'd head: the River Walk. Meandering through downtown, the San Antonio River adds enchantment to the cityscape, with stone pathways and bridges and outdoor cafes along the water. Reminiscent of a European riverfront, but much more compact, the River Walk is a place for people-watching, dining and sipping cocktails, and it's a lush retreat from the roadways above.
With a Tex-Mex lunch of fish tacos and cheese enchiladas in our bellies, and after experiencing the bustle of Texas' No. 1 tourist attraction, the four of us agreed that the rest of the afternoon should be spent lounging around La Cantera. Back at the resort, there was no lack of entertainment options for children. We saw a few little ones trot by clutching an octopus made out of balloons, part of their daytime fun at the supervised children's club. Others prepped for a volleyball game at the activity pool. The Rock'n T Lounge lured many kids to its gaming chairs and video game consoles. But on this bright, sunny day, the boys headed straight for the waterslide.
Meanwhile, my fiance and I soaked up some sun, watching the kids make what seemed like hundreds of trips down the curvy slide before they moved on to another resort adventure, Discovery Junction. Set up with three inflated attractions -- a waterslide tower, slip-and-slide and bounce house -- and a basketball hoop, the play area is an added amusement and offers some relief for parents, with La Cantera staff on hand.
At this vacation spot known for great golf, younger travelers have the opportunity to pick up a few skills, too. The Academy at La Cantera provides customized golf lessons for players ages 8 to 15. A 15-acre practice area, complete with three putting greens and video technology with 3-D motion analysis, facilitates game improvement for the older crowd, too.
We got back to our comfy digs just in time to set the boys up with room service and movies and get cleaned up for dinner and some one-on-one time at Francesca's at Sunset, the resort's upscale eatery. The restaurant, named for the maiden in a Texas tale of lost love, is designed for romantic evenings, with floor-to-ceiling windows that frame expansive sunset views.
In addition to Hill Country panoramas, the intimate culinary venue showcases South Texas flavors and fresh, local produce in uncommon seasonal dishes. Chef Ernie Estrada's artful creations for that fall evening included quail croquette with butternut squash salsa, guajillo chile-rubbed filet of beef and Colorado lamb with prosciutto, sweet potato and baby spinach. Stuffed with delicious food and intoxicated by the evening's amorous ambience, we walked the scenic route back to our suite, past stone ponds filled with bright orange koi and rustic fire pits surrounded by chairs.
Upon returning to our room, we found the kids asleep, a movie still playing in the background. I quickly followed suit, snuggling up on the couch to wind down from the heavy meal. And as I drifted off, it crossed my mind that our sleepy sprawl was a cozy finish to a near-perfect day.
Information:
For more information or to book a stay at
The Westin La Cantera Resort
in San Antonio, visit
Vacations To Go
or call the resort specialists at (800) 998-6925.
The information in this story was accurate at the time it was published in January/February 2011.
Send This Article to a Friend
Bookmark this Content
Digg it!
Reddit
Furl
del.icio.us
Spurl
Yahoo!