A Chic Retreat in Los Cabos, Mexico
Check into a heavenly hideaway at the southern tip
of Mexico's Baja Peninsula
By Elizabeth Armstrong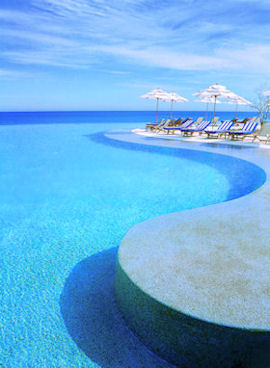 Marquis Los Cabos
(Scroll down to see a slide show.)
A
soft palette of watercolor hues greets early risers at
Marquis Los Cabos
. Sunlight filters through rosy skies and speckles a pale-gray Sea of Cortez. Pelicans skim the water's surface in search of breakfast, and a few lone buzzards circle overhead. Coconut palms are mirrored in the resort's glassy pools, and crisp beige-and-white padded loungers -- all in neat rows -- await the day's guests.
No matter how much I despise my alarm clock at home, I love waking up early to scenes like this while on vacation. Serenity reigns at six-year-old Marquis Los Cabos, which sits at the southern tip of the Baja Peninsula in western Mexico.
Marquis Los Cabos makes a big impression from the start: Guests drive up to an expansive open-air lobby, where views of the sea are elegantly framed by an arched ceiling. A 36-foot waterfall flows through the space and plunges into a swimming pool below. Pale marble floors, maize and cream exteriors and serpentine infinity pools that melt into the sea add to the soothing surroundings.
The resort has 237 suites, including 28 casitas. The latter are luxurious, 1,675-square-foot retreats with small private pools, wet bar, living and dining areas and separate bedroom. All accommodations feature ocean views, Frette linens, Bulgari toiletries and high-speed Internet connections. Each morning, a complimentary breakfast is discreetly tucked into a small alcove near your door, where it can be retrieved from the inside.
Sculptures by Latin American artists dot the property. There are lithe, graceful winged creatures in the lobby, for example, while jovial fruit vendors cast in bronze flank an outdoor staircase. Each suite also has an original oil painting.
I loved sitting down to my first meal of the day on the terrace of Vista Ballenas, where I became addicted to the poached eggs nestled in puff pastry and topped with caviar and poblano pepper-infused cream. You also can try more traditional Mexican breakfast dishes here, like
chilaquiles
-- sliced and fried corn tortillas served with pulled chicken and doused in red or green sauce.
I was usually sitting poolside, in the shade of an umbrella, by the time lunch rolled around. The genial staff of Dos Mares will deliver fish tacos or crispy taquitos with freshly made guacamole straight to your lounge chair. This is no slapdash snack service -- they carefully set a small, low table with a linen place mat and napkin, good silverware and china boats of
pico de gallo
and salsa.
I stuck to the pools while at Marquis Los Cabos, because swimming at the beach that's just steps from the resort is not advised -- the undertow is strong and dangerous. Those seeking gentler surf in Los Cabos can head to Santa Maria, Medano and Chileno beaches.
One morning, our group of nine visitors boarded the resort's 70-foot Turkish schooner, which is named Tu Enamorado, Spanish for "your lover." Four-hour jaunts on this well-appointed yacht include opportunities for snorkeling, fishing and kayaking. Below deck are six comfy cabins, and, for a hefty fee, the entire boat can be yours for the night.
We cruised past El Arco, the distinctive rock arch that's become an emblem of Los Cabos, and anchored at a prime spot for snorkeling. I spied sea urchins clinging to underwater cliffs and schools of brightly colored fish. From January through March you may see migrating whales. We spotted a humpback that slapped the water with its fluke, or tail fins. Later, a baby gray whale swam alongside the boat, discernible as a bright blue mass just under the surface.
The resort's staff can arrange deep-sea fishing excursions and scuba trips, as well as horseback tours, bike rides and hikes in the Baja mountains. Golfers who stay at Marquis Los Cabos can choose from two top-notch courses in the vicinity: the Cabo Real course designed by Robert Trent Jones II and the Cabo del Sol oceanfront course by Jack Nicklaus.
I preferred to spend my spare time at the 15,000-square-foot spa, which has 10 treatment rooms, six open-air hot tubs with sea views and a peaceful lanai. The treatments incorporate cactus oils, agave extracts, seaweed and sea salt; I signed up for a 50-minute lavender-scented massage. After my session, the spa therapist settled me into a lounge chair in the spa's quiet area, tucked a cushy towel around me, and poured a cup of hot orange tea. I felt utterly pampered.
No matter how you spend your day in Los Cabos, be sure to end it with a dinner of authentic regional cuisine. We sampled two restaurants that were located off the resort, six miles away in San Jose del Cabo, a town that has retained much of its colonial charm.
Don Emiliano is owned by Margarita C. de Salinas, widely recognized as one of Mexico's top chefs. A warm, elegant woman with a cheeky sense of humor, she's just as comfortable chatting up guests as she is in the kitchen. She's the mother of four grown sons who help her in the family business. "I want her to be part of
my
family," said a diner at our table.
Chef de Salinas designed a special tasting menu for us. It featured ceviche in lime-herb vinaigrette, a shot of black bean soup partnered with a grilled fish tamale, and tender rib eye napped with a sauce that contained five varieties of chili peppers -- lush and fragrant, but not overly spicy.
The next night, we called at Mi Cocina, located in the walled courtyard of Casa Natalia, a 16-room boutique hotel about a block from the town's art district. Owned by the husband-and-wife team of Nathalie and Loic Tenoux, Casa Natalia is a member of Small Luxury Hotels of the World.
Nathalie -- despite having risen at 2 a.m. to catch a red-eye flight from New York City to Cabo San Lucas -- greeted us with a smile as we started our meal, and she was there two hours later to say goodbye as we departed.
At Mi Cocina, amid a warm glow cast by flaming braziers, we dined on duck confit salad and seafood risotto. A two-page bar menu lists an extensive array of tempting martinis -- choose from coconut, watermelon, tangerine and jalapeno varieties.
For sheer romance, though, it's hard to top Canto del Mar at the Marquis Los Cabos. It's an intimate, 20-seat restaurant, where candlelight flickers against crystal wineglasses and copper chargers. Chef Thierry Dufour, who arrived at the resort by way of a two-star Michelin restaurant in France, creates nightly prix-fixe tasting menus. Standouts of my meal here were silky duck foie gras sandwiched between crunchy macaroons, and delicate turbot accompanied by a smattering of
huitlacoche
-- a fungus that grows on corn and imparts an earthy, mushroomlike flavor.
Like everyone I encountered at the resort, the servers at Canto del Mar were exceedingly kind and helpful. The hotel donates 5 percent of its annual revenue toward its staffers' education and health care, and it has helped an average of 20 workers a year earn primary schooling and bachelor degrees. I was pleased to hear that the employees of Marquis Los Cabos -- who made my stay so memorable -- were themselves being remembered.
Information:
Through Dec. 19, the Marquis Los Cabos offers a last-minute package to guests who book less than 14 days in advance; prices start at $235 per night, for a discount of 30 percent. To book a stay, visit
Vacations To Go
or call the resort specialists at (800) 998-6925.
The information in this story was accurate at the time it was published in September/October 2009.
Send This Article to a Friend
Bookmark this Content
Digg it!
Reddit
Furl
del.icio.us
Spurl
Yahoo!