Trips for All Seasons
No need to wait for summer — celebrate spring, winter
and fall, too, with these 12 enticing vacations
By Jennifer Davoren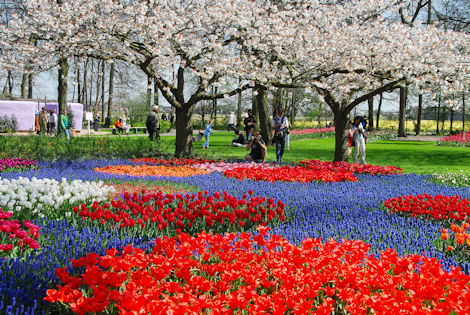 Keukenhof Gardens
I
t's a new year, fellow travelers, and four seasons of fun await. The possibilities are endless: You could spend a raucous spring break in the Caribbean, enjoy a peaceful autumn getaway in New England or get a weeklong winter workout at a Utah ski resort. And summer, a traditional time for family-friendly vacations, is just a few months away -- it's never too early to start planning that perfect cruise to your favorite island.
Below, you can read about 12 trips that make the most of the four seasons. Some highlight a special annual event, from Christmas to carnival; others simply transport you to your ideal seasonal escape, where you can stretch out on a sunny beach, hike your way through a national park or sip mulled cider beside the Danube River.
These and other itineraries can be planned with the help of Vacations To Go, a Houston-based travel agency specializing in discounted
cruises
,
resorts
and
escorted tours
. It provided the rates for each trip listed below; airfare is additional.
This is a season of botanical beauty, when budding trees and flowering gardens reawaken after a long, snowy sleep. In
Holland
, tulip cultivation is considered a fine art and fluted blossoms grow in every imaginable color. More than 3 billion tulips are raised in the Netherlands each year, but 2 billion are exported to the U.S. and Europe each spring. A tulip tour in late March and early April gives tourists a chance to explore this unique industry just before harvest.
Uniworld River Cruises
offers an 11-day tour, "
Tulips and Windmills
"
that visits an awe-inspiring spot for green-thumbed guests: the Keukenhof gardens, a 70-acre site planted with more than 7 million flower bulbs. Other stops include the Rijksmuseum, home to works by Rembrandt and other masters, and Kinderdijk, a village renowned for its 19 historic windmills. The route also ventures into Belgium, where the riverboat calls at sparkling Antwerp, the diamond capital of the world. Prices begin at $1,849, and departures are offered from March
24 to April 23.
Fragrant gardens and historic attractions also await in
Charleston, SC, and Savannah, GA
. Each spring, these cities are filled with flowering dogwood trees and azalea bushes that paint neighborhoods in pink-and-white candy colors. The South is a sweet spot for springtime getaways, offering tours of Civil War sites, horse-drawn carriage rides down cobblestoned streets and easy access to uncrowded beaches.
The twin cities of Southern gentility and old-fashioned hospitality are highlighted during a seven-day vacation from
Monograms
, "
Charleston and Savannah
." This is an independent tour that allows guests to skip bus rides and group meals in favor of private rental cars and quiet dinners by candlelight. Daily activities are left up to the traveler. However, Monograms hosts are available to help those in need of sightseeing suggestions, driving directions and other on-call services. Prices for the hotel package begin at $559 per person, and departures are available through March 31, 2011.
The approach of spring break might have you dreaming of a Caribbean escape. The
Dominican Republic
is a popular option for budget-conscious travelers; the country is home to an array of all-inclusive resorts, which wrap rooms, meals, drinks and most activities into a packaged price that's paid up front. For example, the total cost of a five-night stay in early April at the all-inclusive
Barcelo Punta Cana
is just $445 per person when booked through the resorts division of
Vacations To Go
.
Carnival is especially colorful in the Dominican Republic, which spends the entire month of February (and, on occasion, the first week of March, depending on the city and the residents' energy levels) staging parades and parties and crafting eye-catching costumes. Those who can't turn out for the celebration will still find shores blessed by calm waves and temperatures in the high 70s. Other springtime perks in the Dominican Republic include whale-watching, snorkeling and kiteboarding, a sport that puts an adventurous twist on windsurfing.
When it's time to work on your tan, consider a cruise to
Bermuda
. This Atlantic island cluster about 600 miles east of South Carolina offers an easy escape for East Coast residents. Here, centuries of British colonial influence is tempered by a heritage that harks back to the island's early African, Caribbean and Native American residents. It's no wonder that businessmen pair blazers and shorts for a day at the office.
Unlike the Caribbean, which offers sultry temperatures year-round, Bermuda is a seasonal destination. Cruise ships visit from April through October, but you'll enjoy the warmest rays during summer months. Itineraries overnight in one or two ports in Bermuda, so passengers have time to explore at a leisurely pace.
For example, a couple of
Norwegian Cruise Line
ships spend three days and two nights at
Kings Wharf
during weeklong round trips. The
Norwegian Dawn
departs from New York City, and the
Norwegian Spirit
leaves from Boston. Cabin prices start at $669 per person, based on double occupancy, for the
June 4 trip
aboard the Spirit.
Summer also is a time for getting back to nature. Take a hike through the
canyon lands of the southwestern U.S.
and you're in for some stunning sights: towers of red rock and sandstone carved by water and wind and wrapped by some awe-inspiring wilderness preserves. Utah offers Arches, Bryce and Zion national parks, while major attractions in Arizona include America's favorite gorge, the Grand Canyon.
Plenty of escorted tour companies wrap multiple canyons into a single southwestern vacation.
Vacations To Go
visitors will find trips like "
Best of the Canyonlands
" a seven-day jaunt with
Trafalgar Tours
, which includes Arches, Mesa Verde and Grand Canyon national parks, Monument Valley Navajo Tribal Park and a full day of leisure among the neon-bright streets of Las Vegas. Prices start at $1,100 per person, with departures May 20 through Oct. 14.
Summer travelers looking for an educational escape might consider a tour of
historic hot spots in the northeastern U.S.
These trips explore Colonial America as well as Revolutionary and Civil war-era sites, from former presidents' home and national parks to battlefields boasting full-scale historic re-enactments. And this type of escorted tour goes the extra mile in engaging younger travelers -- tykes tired of hushed, stodgy museums are quickly won over by personalized sightseeing adventures and costumed interpreters.
An escorted package from
Brendan Vacations
, "
Historic Highlights
" begins with a motor coach tour of landmarks in Washington, DC, and a visit to George Washington's former home at Mount Vernon. In Virginia, a stop at Colonial Williamsburg introduces participants to life in the British colonies, and they'll travel through time yet again during a visit to Jamestown, founded in 1607 as England's first American settlement. Abraham Lincoln's legacy also is explored on this itinerary, which stops in Gettysburg, PA, and the tiny town of Harpers Ferry, WV. Prices start at $1,475 per person; departures are available from May 8 to Oct. 16.
This season is celebrated for its brilliant colors, and there's no better place to view autumn's hues than
New England
. The creep begins in September, when the region's leafy greenery gives way to red, orange, yellow and bronze tints. A nice way to take it all in while on vacation is to let someone else do the driving.
Several companies plan escorted fall foliage tours that travel through Massachusetts, New Hampshire, Maine and Vermont. Itineraries include visits to working farms, artists' studios and storybook towns characterized by Colonial homes, village greens and steepled churches.
For example, an eight-day itinerary with
Insight Vacations
, "
New England's Spectacular Fall Foliage
" schedules stops at a maple sugarworks and cider mill in Vermont, a tour of the Norman Rockwell Museum in the Berkshires of Massachusetts, and a tramway ride up New Hampshire's Cannon Mountain for some sky-high leaf peeping. Prices for this trip begin at $1,975, with departures from Sept. 19 to Oct. 17. Other fall foliage itineraries, including those offered by Globus and Trafalgar, stretch into eastern Canada for an exploration of the Maritime Provinces.
A favorite fall event in the Southwest is the
Albuquerque International Balloon Fiesta
, an annual fete for hot-air balloon pilots and fans in central New Mexico. For one week each October, the skies above Albuquerque are filled with rainbow hues and a few odd shapes -- balloons that resemble cows, fire trucks and enormous soda cans are just a few of the nearly 600 crafts on display. While races and flying competitions are a big part of the Fiesta, the daily "balloon glow" -- a sunset ascension of hundreds of balloons, each illuminated by the burners or gas fires within -- draws the biggest crowd. Local rock bands, Native American tribal dancers and other entertainers also turn out, joining kid-friendly education programs and pilot meet-and-greets on the daily entertainment schedule. Otherwise, visitors are content to stroll Albuquerque's 78-acre launching field and see the wonder of hot-air ballooning up close.
The five-day "
Albuquerque Balloon Fiesta
" from
Globus
combines the event with an excursion to Santa Fe, where a walking tour of the city explores the Palace of the Governors, San Miguel Mission and the local arts scene. One departure is offered, on Sept. 30, with prices starting at $1,159.
A lively autumn escape awaits in Germany, where
Oktoberfest
promotes the nation's food, drink, music and dance. Munich, the historic capital of Bavaria, is bursting with beer halls. One of the most popular, the state-owned Hofbrauhaus am Platzl, has poured suds and passed out hot pretzels since 1897. It erects one of the largest tents in town for al fresco Oktoberfest celebrations, which take place Sept. 18 through Oct. 3.
A seven-day budget camping vacation from
Contiki Holidays
, "Oktoberfest Munich," travels from London to Germany to take in the Brewer's Parade, the ceremonial tapping of the festival's first keg and the Bavarian Parade, a celebration of the region's costumes and customs. Participants also can make a side trip to King Ludwig's Neuschwanstein Castle, said to be the model for Disneyland's iconic fairy-tale castle.
Contiki targets travelers ages 18 to 35. The accommodations for the trip are rustic: two-person tents and shared facilities in Contiki's "tent village" in the heart of Oktoberfest territory. Prices begin at $535 per person. Just one departure is offered, on
Sept. 16
, but a five-day trip without the Neuschwanstein option departs
Sept. 23 and 28
, with rates from $419 per person.Those who prefer the comforts of a well-outfitted hotel room can check out Monogram's eight-day "
Munich and Berlin
" vacation package. Departures are available through Sept. 28, and rates start at $1,662 per person.
When temperatures drop and flurries fly, seek out "the greatest snow on Earth." That's the motto of Ski Utah, the state's winter tourism board, and it's a compliment often bestowed on hilly Park City, UT. Three ski resorts serve this spot: The Canyons, Utah's largest park at 3,700 acres; Deer Valley, where a 9,570-foot peak creates some of the region's most challenging terrain; and Park City Mountain Resort, a snowboarder's dream with three terrain parks and a superpipe. These resorts average about 350 inches of snow per year, so visitors are never far from the next powder day.
Full-service hotels abound in
Park City
, but local lodgings also include an assortment of condominium rentals. This is an attractive option for skiers looking to pinch pennies and cook their own meals during their trip, as most accommodations come with kitchenettes.
At the
Silver King Hotel
, condos have fully equipped kitchens and wood- burning fireplaces, and some have private hot tubs for an apres-ski soak. Another perk: A complimentary shuttle service ferries guests to all three Park City ski resorts. A six-night stay at the Silver King would run about $890 per person in early February.
Prefer something that exudes holiday cheer? Opt for a
river cruise through Germany and Austria
in December and experience the countries'
time-honored tradition of outdoor Christmas markets. These trips offer a cozy take on winter in Central Europe -- at this time of year, the insistent chill is countered by steaming mugs of spiced wine and the warm glow of decorative lights.
On a Christmas market cruise of the
Danube
or
Rhine
rivers, you'll visit picturesque, cobblestoned cities that transform their market squares into winter wonderlands. Vendors peddle blown-glass ornaments, hand-carved nutcrackers and a mouthwatering array of sausages, potato pancakes, baked goods and roasted nuts. Spirited shore excursions are paired with themed onboard entertainment from Christmas carolers and folk singers. Most of the small ships used for river cruises carry no more than 200 guests, which helps foster an intimate, convivial atmosphere. Uniworld River Cruises schedules nine-day holiday market cruises on the
Danube
and the
Rhine
in late November and December; rates start at $1,949 per person.
The holiday season doesn't end on Dec. 26. Travelers looking for a special (and sunny) way to ring in the new year might consider a trip to the Tournament of Roses Parade in Pasadena, CA. An extension of the NCAA's Rose Bowl, this flower-strewn festival celebrates college football as well as the dawning new year with floats, marching bands, equestrian performances and more. The event known as "America's New Year Celebration" draws more than 1 million spectators each January.
The "
Tournament of Roses
" trip from Globus gives participants reserved grandstand seating and post-parade viewings of award-winning floats. The trip departs Dec. 30 and starts at $1,319 per person.
The information in this story was accurate at the time it was published in January/February 2010.
Send This Article to a Friend
Bookmark this Content
Digg it!
Reddit
Furl
del.icio.us
Spurl
Yahoo!