Tours for All Tastes
From train trips to wine country sojourns,
these value-packed vacations cater to specific interests
By Elizabeth Armstrong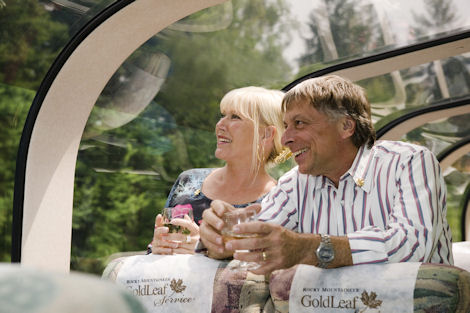 Rocky Mountaineer Vacations
S
avvy, budget-minded travelers have long known that escorted tours can't be beat for convenience and value. These packages wrap hotel accommodations, guided sightseeing, some meals and ground transportation via motor coach into one price that is paid up front. They're most popular among those who want to visit multiple cities in Europe during a single vacation.
But not all escorted trips are of the "if it's Tuesday, this must be Belgium" variety. There are scores of itineraries that appeal to specific interests, whether you want to sample the chardonnays of Napa on a wine country vacation, aim your camera lens at lions during an African safari, or view pristine Canadian wilderness from the window of a slow-moving train. There are family-focused vacations, too, where kids can tag along with parents and grandparents, as well as women-only vacations that make perfect girlfriend getaways.
These trips still offer the same value as more traditional escorted tours, and often at a savings of up to 40 percent off traveling the same itinerary on your own. Here's a look at specialty tours in destinations near and far.
Wine aficionados can chase the grape on tours that visit vineyard-clad regions in Italy, France, Portugal, Chile, Argentina and northern California. Participants stop at wine estates and cellars to meet the winemakers and sample a few vintages.
For example,
Globus
offers a 12-day trip through France's Bordeaux wine country, while
Uniworld River Cruises
and
AMA Waterways
sail through the
Douro Valley
, which yields Portugal's port wine. Several tour operators have wine country getaways in California's Napa and Sonoma valleys, each itinerary also spending a day or two in San Francisco.
Looking for something more on the wild side?
Safaris
show off the jaw-dropping natural beauty and wildlife of eastern and southern Africa. Expert guides who know the territory well accompany small groups of travelers who ride in open-air vehicles, although on some occasions you may explore by canoe, on foot or even atop an elephant. Most people on safari hope to check off the "big five" -- lions, leopards, elephants, rhinos and buffaloes. In northeast
Tanzania
and a small part of southwest
Kenya
, you may catch herds of zebras, wildebeest and gazelles in the middle of the "
Great Migration
" the annual movement of some 2 million beasts driven by seasonal rain and drought.
Mountain gorillas are the stars of wildlife-watching trips in
Uganda
. Participants trek deep into the
Bwindi Impenetrable Forest
with trackers who know how to locate "family groups" of gorillas, and they observe the endangered primates for about an hour at a time.
In
South Africa
, game-viewing in
Kruger National Park
-- one of the world's oldest conservation areas -- often is paired with visits to the country's seaside resort communities and wine-producing towns.
River cruises
take the all-inclusive concept of touring to the water. Your rate covers your cabin and all meals on board the ship, as well as daily complimentary sightseeing excursions with local guides in each destination. River cruises provide a hassle-free way to travel -- you only have to unpack once -- and are one of the most scenic ways to visit the centuries-old cities and towns that developed along the world's most famous waterways.
Popular itineraries travel the
Rhine
,
Danube
and Main rivers in Europe, the
Nile
in Egypt and the
Yangtze
in China. Cruises along the
Saone
and
Rhone
amble through the Burgundy and Provence regions of France, and in Russia, river cruise vacations that follow the
Volga
usually include a few days in Moscow and St. Petersburg.
Guests travel aboard small riverboats that usually measure just three or four decks high. Large windows in the open-seating restaurants and lounges reveal the passing scenery, and sundecks offer 360-degree views. You'll find Jacuzzis, pools and beauty salons on newer ships.
In Europe and on the Nile, most vessels carry less than 200 passengers; on the Yangtze, they typically accommodate up to 400 occupants. Ships usually dock right in the heart of town, so you can disembark and immediately start exploring.
Or, experience the golden age of rail travel on a train tour. Take in the views from an observation car, savor meals in the elegant dining car, and turn in at night to your cozy, private sleeping compartment. Luxury tour company
Abercrombie & Kent
offers this type of trip aboard the
Royal Scotsman train
in the United Kingdom, and
General Tours
offers it aboard the
Tangula
in Tibet and China. Meanwhile,
Collette Vacations
features overnight journeys aboard the Ghan as part of an epic
28-day adventure
in Australia.
Most train-based itineraries, however, have passengers riding the rails by day and spending nights in hotels.
Rocky Mountaineer Vacations
specializes in this sort of excursion. Its two trains, the Rocky Mountaineer and the Whistler Mountaineer, wind through the unspoiled wilderness of western Canada, past craggy mountain peaks, plummeting waterfalls and glacier-fed lakes. Trains travel at an average speed of 30 mph but slow down in the most scenic stretches for photo ops. Destinations in British Columbia and Alberta include Vancouver, Whistler, Banff, Jasper, Kamloops and Calgary, depending on the route.
Two tour operators offer faith-based itineraries that visit important, often inspirational religious sites. On specially designed tours from
Globus
, you can learn about the European Reformation, the role of Jordan and Egypt in the Bible, and the life of the apostle Paul.
Trafalgar Tours
' spiritual getaways explore Israel, Italy, Portugal, Spain and France. Both companies offer itineraries in Poland that focus on the life of Pope John Paul II.
The most popular faith-based event next year is likely to be the Passion Play at Oberammergau, a village tucked in the Bavarian Alps of Germany. The play, an elaborate production that depicts the last five days of Jesus Christ, is produced only every 10 years and will run next year from May through September. So far, 11 major tour operators have released 2010 itineraries that include tickets to the event; you can view them all
online
.
Most escorted tours aren't designed as family vacations, and in some cases, young children may not be permitted to join at all. But a handful of tour companies do have itineraries geared to multigenerational getaways.
Tauck World Discovery
, for example, caters to kids, parents and grandparents with its line of
Tauck Bridges
trips. They're scheduled during summer and winter school breaks and feature activities that engage and entertain curious young minds. Participants receive a private evening tour of the Vatican Museums in Rome, meet a family that lives on the Penas Blancas River in Costa Rica, spend the night at a working ranch in Wyoming, and learn how to surf at Hawaii's Waikiki Beach.
Tauck advises that while kids ages 3 and older are welcome to join any of its family-oriented trips, most scheduled activities are better suited for youngsters ages 8 and older.
The folks at
Adventures by Disney
also have dreamed up fun-filled itineraries that appeal to all ages. Choices span the globe, from the U.S. and Canada to South Africa, Peru, Australia and several countries in Europe. Tour guides strive to plan activities that can be enjoyed together as a family, or separately, so parents and grandparents can enjoy some "grown-up" time to themselves.
No men are allowed on the trips of
Gutsy Women Travel
. Founded in 2001, this outfit offers small-group getaways limited just 20 to 25 women per departure. Itineraries might incorporate spa visits, cooking classes, hiking excursions, wine tastings and theater outings. Whether exploring ancient hilltop villages in Provence or learning about the food and culture of Mykonos, women are encouraged to relax and renew mind, body and spirit.
Information:
To learn more about these and other escorted vacations offered in destinations around the world, call the tour specialists at
Vacations To Go
, (800) 680-2858. Or visit its Web site, which lists more than 4,200 itineraries from three dozen tour operators.
The information in this story was accurate at the time it was published in July/August 2009.
Send This Article to a Friend
Bookmark this Content
Digg it!
Reddit
Furl
del.icio.us
Spurl
Yahoo!