Sensational City Scenes
When selecting your next vacation destination,
consider a city that suits your own personal style
By Jennifer Davoren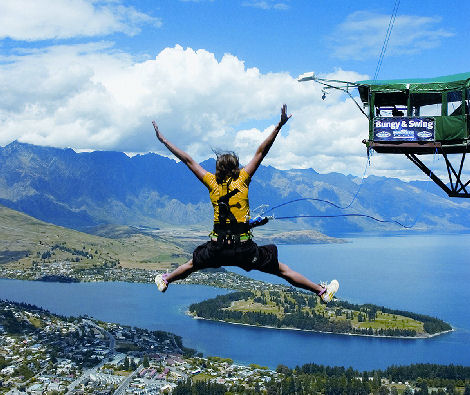 AJ Hackett Bungy New Zealand/Tourism New Zealand
Queenstown: City of Adventure
White-water rafting, paragliding, jet boating and New Zealand's favorite pastime, bungee jumping, are just a few of the extreme sports celebrated in this
adrenaline-pumping paradise
. Less daring visitors to the city, at the foot of the Remarkables mountain range and on the banks of Lake Wakatipu, can plan to spend their time hiking the hills or paddling a kayak.
London: City of Athletics
Host of the 2012 Summer Olympics, the
English capital
is putting the final touches on a number of stadiums and sports courts, including a sand volleyball facility less than a mile from Buckingham Palace. The festivities begin this July, so plan ahead for tickets to in-demand events like the opening and closing ceremonies and the 28-team soccer tournament.
Shanghai: City of Innovation
This region has been inhabited for nearly 1,000 years, but
Shanghai
most recently is known for the futuristic Pudong district and its skyscrapers, including the 101-story Shanghai World Financial Center and the 1,500-foot Oriental Pearl Tower. The city is an economic and technological anchor for China; see how far it's come in the last millennia with the interactive Shanghai History Museum, found in the Pearl Tower's basement.
Barcelona: City of Architecture
Antoni Gaudi's work is arresting, to say the least. The Spanish architect's designs are some of the most photographed in the world, from the dragon-scale roof of Casa Batllo to his unfinished masterpiece cathedral, La Sagrada Familia.
Barcelona
also boasts the Teatre-Museu Dali, with the surrealist's work on display both inside and out, as well as 13th- and 14th-century ruins, including the remains of the Roman Empire's city of Barcino.
Paris: City of Neighborhoods
Stray from the pack (which is likely crowded around the Eiffel Tower or standing in line at the Louvre Museum) to see a new side of this
iconic destination
. Explore Roman ruins in the fifth arrondissement, also known as the Latin Quarter; belly up to a bar favored by Ernest Hemingway or F. Scott Fitzgerald in Montparnasse, on the Left Bank; or simply follow your nose to your new favorite patisserie for a sweet diversion of madeleines and macaroons.
Venice: City of Romance
Paris has hosted its fair share of lovers, but
Venice
is our preferred spot for
amore
. Pairs split piles of pasta and bottles of valpolicella at waterfront cafes. They link hands as they visit sites connected to Casanova, Italy's consummate lady's man. And, each evening, couples cuddle up on gondola rides for two, opting for a serenade or simply allowing the city's charming canals to do the wooing.
Edinburgh: City of Festivals
Scotland's capital
comes alive each summer with two big bashes: the Royal Edinburgh Military Tattoo, a splashy showcase for drill teams and marching bands, and Edinburgh Festival Fringe, a monthlong tribute to edgy art. But visitors find citywide fetes nearly year-round, including one dedicated to children's theater (May's Imaginate Festival) and another honoring Edinburgh's UNESCO City of Literature designation (Edinburgh International Book Festival, Aug. 11-27).
Hong Kong: City of Shoppers
In this
hub of international commerce
, high-end boutiques for designer labels compete with energetic street markets full of knock-off gems. If you want to shop like a local, head for Herbal Medicine (or Ko Shing) Street, the center of Hong Kong's health trade, or join the tourist throngs at Causeway Bay, home to Sogo, a supersize department store.
Monte Carlo: City of Chance
Monaco's glittering getaway
on the Cote d'Azur is a popular spot for high rollers. Sidle up to a blackjack table featured in a James Bond film at the Casino de Monte-Carlo, built in 1863 to boost the principality's finances. Or drop by the city this May to place your bets on the Formula One Monaco Grand Prix, a hair-raising race that takes 78 laps on city streets.
New York: City of Insomniacs
Make the most of your vacation time in this
24-hour destination
, home to some of the most celebrated shopping, dining and entertainment venues in the world. A typical day-to-night itinerary involves morning coffee from a street vendor, an afternoon tour of the Guggenheim, an evening Broadway show and Manhattan barhopping into the wee hours. It's easy to turn a weekend recess into the action-packed trip of a lifetime in the city that never sleeps.
The information in this story was accurate at the time it was published in January/February 2012. Please visit
Vacations To Go
or call (800) 680-2858 for current rates and details.
Send This Article to a Friend
Bookmark this Content
Digg it!
Reddit
Furl
del.icio.us
Spurl
Yahoo!