Seasonal Spectacles
From parades to pipers, flag throwers to fireworks,
mark your calendars for these standout celebrations
By Kimberly Garza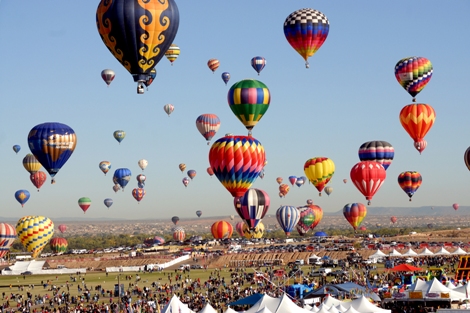 Raymond Watt/Albuquerque International Balloon Fiesta
Caribbean Series in Santo Domingo, Dominican Republic
Feb. 2-7
Baseball fever heats up during the annual Caribbean Series. Now in its 53rd year, this six-day showdown brings together some of the best professional teams from Mexico, Venezuela, Puerto Rico and baseball-loving host country, the Dominican Republic. More than 500 players in the U.S. major leagues hail from the DR, and this year's games in Santo Domingo's Quisqueya Stadium provide scouts and fans alike a chance to see top athletes on the field. To find a hotel room, call (800) 680-2858 or head to
www.DominicanRepublicVacations.com
.
Carnival in Rio de Janeiro
Feb. 17-21
Excess is the name of the game at Carnival, the celebration of sin and splendor that attracts nearly 500,000 foreigners to Rio each year. Festivities begin with the crowning of King Momo (the Fat King) on Friday and peak with the weekend's parades, where hundreds of the city's renowned samba schools compete with intricate routines and dazzling costumes. For resort stays in the Brazilian hot spot, call (800) 680-2858 or visit
www.ResortVacationsToGo.com/Rio
.
St. Patrick's Festival in Dublin
March 16-19
Though Ireland's patron saint has only one feast day, Dubliners stretch the fun over four days. Amid activities like street performances and walking tours, make time to watch the massive parade wind its way through town on March 17, across the O'Connell Bridge to finish up near St. Patrick's Cathedral. Find escorted tours that start or end in the Irish capital by calling (800) 680-2858 or visiting
www.ToursOfIreland.com
.
Gion Matsuri in Kyoto, Japan
July 1-31
This festival dates back more than 1,100 years, when Kyoto residents attempted to appease the gods and end a plague epidemic with a massive procession of 66 pikes, one for each province in Japan. These days, the main draw is the Yamaboko Junko on July 17, a cavalcade of elaborate floats that stand nearly 80 feet tall and weigh up to 12 tons. Monograms, a company that specializes in independent tours, offers a package that visits both Kyoto and Tokyo. Learn more by calling (800) 680-2858 or going to
www.TourVacationsToGo.com/Monograms
.
Calgary Stampede in Alberta, Canada
July 6-15
Get a deep-fried mouthful of Calgary's cowboy history at the city's biggest event, a 10-day rodeo and exhibition that regularly attracts more than a million visitors. Besides the fair food, carnival rides, concerts and animal corrals, you'll find a daily rodeo showcasing some of the world's best calf ropers, barrel racers, bull riders and more. A few tour operators design itineraries that include tickets to the Stampede, which celebrates its centennial this year. Call (800) 680-2858 to learn more, or browse trips at
www.TourVacationsToGo.com/Calgary
.
Royal Edinburgh Military Tattoo in Scotland
Aug. 3-25
Step to the tune of 1,000 drummers, pipers, singers and more at the Scottish capital's tribute to military pageantry. Each evening, the esplanade of Edinburgh Castle hosts a 90-minute production of music, dance and fireworks before the Lone Piper closes the night, playing a haunting melody from atop the castle ramparts. Many travel companies incorporate the Tattoo into their Scotland-bound August itineraries. Call (800) 680-2858 or visit
www.ToursOfScotland.com
.
Oktoberfest in Munich
Sept. 22-Oct. 7
That's right -- the majority of Munich's legendary Oktoberfest takes place in September. Kick off opening weekend with flag throwers, Bavarian dancers and the horse-drawn drays of local breweries at the Grand Entry procession and the Costume and Riflemen's Parade. Then sample special brews at any or all of the 14 beer tents. Secure your hotel for this popular event by calling (800) 680-2858, or browse lodging choices at
www.ResortVacationsToGo.com/Munich
.
Albuquerque International Balloon Fiesta in New Mexico
Oct. 6-14
For nine days in October, the Albuquerque sun shares the sky with more than 500 hot-air balloons at this yearly festival, the largest of its kind. Early risers can watch the weekend "mass ascensions," when the balloons launch at dawn; night owls can see the tethered orbs lighted up like lanterns in the evening balloon glow. See the extravaganza up close on a balloon-themed getaway; call (800) 680-2858 or visit
www.TourVacationsToGo.com/Balloon2012
.
Christmas Markets in Austria and Germany
Late November-Dec. 25
Savor the winter chill with a mug of hot mulled wine while browsing some of the grandest Christmas markets in Europe. The Christkindlmarkt in Vienna's Rathausplatz, at the city hall, features vendor booths among elaborately decorated holiday trees. In Germany you'll find a winter bazaar in almost every city, from Nuremberg's nearly 180 wooden stalls to a Bavarian choir serenading shoppers in Munich. River cruises on the Danube and Rhine are a terrific way to take in several markets in one trip. Call (800) 510-4002 or visit
www.EuropeanRiverCruises.com
to book one of these festive escapes.
Junkanoo in Nassau, Bahamas
Dec. 26 and Jan. 1
The Junkanoo festival traces its roots to 18th-century Bahamas, when slaves were given brief respites to celebrate the holidays with music and dance. Legend says that it's named after John Canoe, an African tribal leader who was forced into slavery. From 2 a.m. to 8 a.m. on Boxing Day and New Year's Day, early morning revelers make their way to Nassau's Bay Street to see the parade of dance troupes decked out in cardboard and crepe paper costumes and musicians playing cowbells and goatskin drums. Call (800) 680-2858 or consult
www.BahamasResorts.com
to price beachfront retreats here.
The information in this story was accurate at the time it was published in January/February 2012.
Send This Article to a Friend
Bookmark this Content
Digg it!
Reddit
Furl
del.icio.us
Spurl
Yahoo!