Photogenic U.S. Parks
Sculpted desert canyons, windswept shores and shooting geysers
are among the photoworthy scenes that await shutterbugs
By Kimberly Garza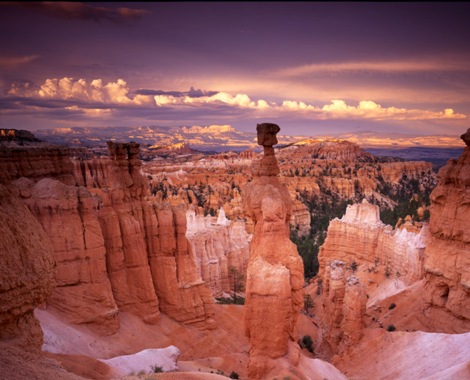 National Park Service
(Scroll down to see a slide show.)
Bryce Canyon National Park, Utah
Twisting spires called hoodoos, formed when ice and rainwater wear away limestone, crowd the amphitheater of Bryce Canyon. Sunrise and sunset are the best times to photograph the formations, when the light plays up the subtle hues of the rock. "
Canyon Escape
" an independent tour from Monograms, gives travelers two nights and a full day in this park.
Cape Cod National Seashore, Massachusetts
This picturesque 40-mile preserve has it all, from scrub oak forests to salt marshes to sand dunes. Scan the distant waves from atop the Highland Light, head to Eastham's Salt Pond Visitor Center to see artwork and educational displays or simply amble at your own pace along tidal flats and freshwater ecosystems. "
Cape Cod and the Islands
" from Globus spends two nights on the Cape.
Blue Ridge Parkway, North Carolina and Virginia
Home to mountains, waterfalls, fields and gorges, this 469-mile road explodes with color in the spring, summer and autumn months. View a lush array of wildflowers like buttercups and oxeye daisies during their peak seasons from April through August. You can tour by foot along more than 100 hiking trails or drive the wide, paved motorway. "
Historic Trails and Blue Ridge Mountains
" from Cosmos follows a portion of this panoramic route.
Badlands National Park, South Dakota
In this barren yet beautiful landscape, eroded buttes and canyons reveal layers of purple, gray, red, orange and tan rock. Bighorn sheep, prairie dogs and white-tailed deer scamper across the grasslands while keen-eyed vultures and hawks glide overhead. The 244,000-acre park in southwestern South Dakota also houses one of the world's richest fossil beds, its treasures studied by scientists since the 1840s. "
South Dakota: The Black Hills and Badlands
" with Collette Vacations explores this rugged region.
Yellowstone National Park, Wyoming
America's oldest national park sprawls across 2.2 million acres and three states (mostly in Wyoming and spilling into Idaho and Montana). It has varied vistas of forests, hot springs and calderas. Find a perfect photo op on your own or head to the can't-miss Old Faithful geyser, which erupts about 17 times a day. "
Dude Ranchin', Yellowstone and Glacier Roundup
" is a family-themed trip from Trafalgar Tours that encourages kids to take on the role of junior ranger while in the park; it also visits the Grizzly and Wolf Discovery Center in West Yellowstone.
Carlsbad Caverns National Park, New Mexico
Bring a jacket and wear sturdy shoes to brave the cool damp of more than 117 known caverns here. Delicate, spindly stalactites and stalagmites grace underground fairylands like the Hall of the White Giant or Spider Cave. From May through October, you'll likely be sharing the chambers with 400,000 Mexican free-tailed bats. "
New Mexico: Land of Enchantment
" from Tauck dips into this subterranean world.
Grand Canyon National Park, Arizona
Each year some 5 million visitors are drawn to the Grand Canyon, viewing the 18-mile-wide and mile-deep chasm from overlooks on the North or South rim, or from down within the inner gorge. Ride a surefooted mule to Phantom Ranch or join a hike in search of local creatures like mule deer and wild turkeys. "
Grand Canyon Family Vacation
" with Adventures by Disney includes a barbecue dinner at the South Rim and a private tour with a naturalist.
Crater Lake National Park, Oregon
At 1,943 feet, sapphire-blue Crater Lake is the deepest in the U.S. and boasts some of the clearest waters on Earth. Formed by the collapse of a volcano, it's fed by rain and snow runoff. Two islands, Wizard and Phantom Ship, puncture the surface. Visitors can fish for trout and salmon or hike along the encircling 2,000-foot-high cliffs through old-growth forests and wildflower fields. "
San Francisco to Seattle
" a camping trip with budget company Intrepid Travel, spends a night at this enchanting spot.
Redwood National and State Parks, California
Expect to break out the camera for 37 miles of stunning coastline and two major rivers -- as well as the namesake trees -- at these parks in northern California. Pose for pictures among the ancient redwoods, some of which stretch more than 300 feet tall, or capture a rugged view of the Pacific at Crescent Beach Overlook. "
Redwoods, Wine Country and Yosemite
" with Monograms includes a day among the arboreal giants.
Hawaii Volcanoes National Park, Hawaii
This park on the Big Island features two active volcanoes, Kilauea and Mauna Loa. The 11-mile Crater Rim Drive around Kilauea will take you from the summit through rain forest and desert to steam vents and scenic overlooks. Check with rangers at the visitors center for updates on where to see lava flows. "
Hawaiian Explorer
" with Brendan Vacations helps guests get prime volcanic views, then takes them on a walk through a fern forest to an ancient lava tube.
The information in this story was accurate at the time it was published in January/February 2012. Please visit
Vacations To Go
or call (800) 680-2858 for current rates and details.
Send This Article to a Friend
Bookmark this Content
Digg it!
Reddit
Furl
del.icio.us
Spurl
Yahoo!