November: Reflection and Appreciation
It's almost the end of the year, a time for looking back,
celebrating our own traditions and marking a few new ones
By the Vacations Staff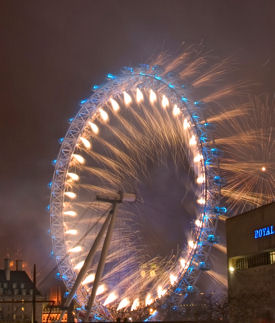 VisitLondonImages/BritainOnView
(Scroll down to see a slide show.)
Join the London street parties
"Remember, remember, the fifth of November, the gunpowder treason and plot." Great Britain recalls that fateful day in 1605. A gang of pro-Catholic conspirators -- including Guy Fawkes, the central figure of the so-called Gunpowder Plot -- was captured before the rebels could assassinate the Protestant king of England, James I, with an explosion at the Houses of Parliament. More than 400 years later, Guy Fawkes Night is remembered every Nov. 5 as a "joyful day of deliverance" with bonfires, fireworks and street parties. The event is especially big in the London suburb of Blackheath, which attracts more than 100,000 annual visitors with its fiery displays. Independent tour packages offer the best of both worlds: group discounts on lodging and airfare, plus plenty of free time to explore your chosen destination at leisure. Popular
London getaways
of this kind range from four days to more than a week spent in the city, and each includes the help of a local host to find the best holiday celebrations.
India in lights
India
is aglow with brilliance during Diwali, the "festival of lights," which holds as much significance to Hindus as Christmas does to Christians. This sprawling Southeast Asia country exudes a festive air as families don new clothes, pray for prosperity and light clay lamps filled with coconut or mustard seed oil to symbolize the triumph of light over darkness, and of good over evil. The colorful displays during this five-day celebration create memorable images as families and friends feast and exchange gifts of sweets. Several companies offer escorted tours during the national holiday, which kicks off on Nov. 3 this year. Brendan Vacations' "
Images of India
" and Tauck's "
A Portrait of India
" offer sweeping perspectives of royal palaces and sacred temples. On "
India's Golden Triangle with Southern India
" from Monograms, explore the vibrant home of Bollywood and continue to the serene waterways of Cochin and the majestic landscape of Delhi, Jaipur and Agra, with its marble monument to love: the Taj Mahal.
Santa Fe shopping
Cross-cultural celebration and the creative arts combine in
north-central New Mexico
, home to the annual Santa Fe Indian Market. This retail showcase for native works, from traditional weaving and pottery to innovative silversmithing, beadwork and cuisine, doubles as an introduction to nearly 100 tribes -- some with deep roots in the Southwest, as well as those extending to the eastern coast of the U.S. and Canada. Though the main event takes place over a week each August, with 1,100 artists and 100,000 collectors crowding the capital's historic downtown plaza, the Southwestern Association for Indian Arts hosts a smaller, more intimate version of the market over the extended Thanksgiving weekend. In addition to demonstrations and the chance to jump-start your holiday shopping, you'll find fashion shows, special film screenings and auctions and raffles benefiting local nonprofit organizations. The Santa Fe Convention Center serves as the market's winter venue.
Thanksgiving on the Mississippi
Spend the quintessential American holiday rolling along the quintessential American river --
the mighty Mississippi
-- on a Thanksgiving cruise from
American Queen Steamboat Co
. On this eight-day trip to and from New Orleans, guests enjoy a slower, laid-back slice of life often forgotten amid the hustle of the modern day. Board the 436-passenger
American Queen
, the country's only authentic overnight paddle-wheel steamboat, with stops at historic Natchez, MS, home to stunning antebellum mansions, and bustling Louisiana capital Baton Rouge. Get into the holiday spirit during live performances by the classically trained Annie Moses Band and, of course, sit down to a Thanksgiving spread: Renowned Southern chef Regina Charboneau serves up the classics with Cajun flair, like juicy deep-fried turkey, crawfish-andouille cornbread dressing and bananas Foster upside-down cake. After a feast like that, the American Queen's front-porch rocking chairs will be another reason to give thanks; stretch out and let the Mississippi carry you away.
Day of remembrance in Mexico
Remembering loved ones is an elaborate affair in Mexico during the first days of November. For Day of the Dead, or Dia de los Muertos, people adorn tombs with flowers, candles and colorful handicrafts, and they leave presents for the deceased, who many believe return during the night to spend time with friends and family. Calaveras, or little skulls made of sugar, are a popular offering, as are brightly hued folk art and the favorite foods of those who have passed on. This holiday with pre-Hispanic origins brings with it lively gatherings across the country, including in the Yucatan Peninsula's Riviera Maya, a favored vacation destination along the Caribbean Sea. Xcaret, a 200-acre eco-park in Playa del Carmen, hosts the Festival of Life and Death Traditions with workshops, storytellers, souvenirs, parades and performances on Oct. 30-31 and Nov. 1-2 this year. Plan your beach getaway in
an amenity-laden resort on Mexico's coast
to coincide with this cultural celebration.
Japan's celebration of kids
This month, parents make the pilgrimage to Shinto shrines with their children in tow for Shichi-Go-San, traditionally observed on Nov. 15. There, they'll offer thanks and prayers for the health and happy futures of their offspring. Boys ages 3 and 5 and girls ages 3 and 7 participate -- the name of this holiday translates to "seven-five-three," all considered to be lucky numbers. The kids dress in their best kimonos, and for most of the youngest tykes, this marks the first time they'll visit the sacred sites in their customary finery. The occasion isn't without a few treats: The little ones are given sticks of red-and-white candy called chitose-ame, thought to bring good fortune. Shichi-Go-San is not a national holiday, so most families pay their respects on the nearest weekend.
Escorted tours
explore many aspects of the country's culture and traditions. Sita World Tours' eight-day "
Affordable Japan
" visits the Asakusa Kannon Temple and the Nakamise shopping street in Tokyo, Nijo Castle in Kyoto and Nara Park, where more than 1,000 tame deer roam. You'll also benefit from traveling with guides who know the customs and the language.
-- Elizabeth Armstrong, Jennifer Davoren, Kimberly Garza, Alexis Loyd and Van Sheridan
The information in this story was accurate at the time it was published in January/February 2013. Please visit
Vacations To Go
or call (800) 680-2858 for current rates and details.
Send This Article to a Friend
Bookmark this Content
Digg it!
Reddit
Furl
del.icio.us
Spurl
Yahoo!