Moscow Magic
The Russian capital's first all-suite hotel is a comfortable base for exploring the city's treasures
By Elizabeth Armstrong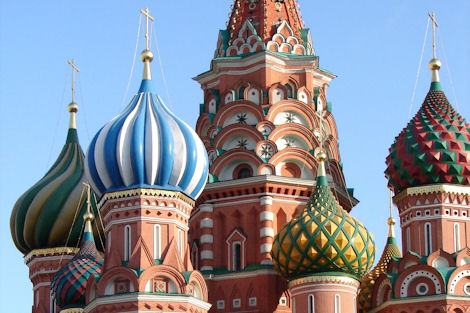 Elizabeth Armstrong
(Scroll down to see a slide show.)
O
ne of the last things I expected to find in
Moscow
was a bar named after a Mexican tequila. But there I was at Bar Tezon in the Russian capital, mulling over an extensive list of specialty cocktails based on the agave firewater. Overhead, dozens of glowing, inverted Tezon bottles poked from the ceiling, cleverly doubling as lighting fixtures.
The watering hole is part of the MaMaison Pokrovka Suite Hotel, which opened in August 2007 and is the latest addition to Moscow's luxury lodging scene. Set back from the street, just behind a small pocket park, Pokrovka is the city's first all-suite hotel and provides visitors with a stylish five-star retreat.
The lobby is all about seductive curves, from the cushy round banquettes splashed with jewel-tone silk shantung pillows to the sleek, voluptuous swells of "Pianofant." The latter is a writing desk that thinks it's a grand piano, created by artist and furniture designer Guillaume Piechaud.
The 84 suites are chic and contemporary, with wood floors and dramatic accent colors. They have king-size beds, high-speed and wireless Internet, and movies and music on demand. You also can upgrade to a suite with a kitchenette that's better outfitted than most home kitchens I've seen.
If you really want to live large at Pokrovka, check into the jaw-dropping Chairman's Suite. You'll get two bedrooms, two baths, two dressing rooms, a dining room, a study and a huge living room with a grand piano and, for a touch of whimsy, a giant horse sculpture that also is a floor lamp.
A July weekend rate starts at about $340 per night for a roomy junior suite. This is a good value in Moscow, where hotels are among the world's most expensive. You'd pay more at other upscale and centrally located lodgings, to the tune of $420 at the Hotel Baltschug Kempinksi and $640 at the Ararat Park Hyatt, for example.
Guests can indulge in a treatment at the Pokrovka's Spa by Algotherm, which also has an indoor pool and fitness room. The hotel offers complimentary bottled water, coffee, tea and local phone calls. Travelers to Russia must acquire a tourist visa, which in turn requires a "letter of invitation." The Pokrovka will provide this letter to booked guests for free (many hotels charge for the service).
Chef Said Fadli, who hails from Morocco, helms the kitchen at Pokrovka's restaurant, Numbers, fusing French, Mediterranean and Russian flavors. The night I dined there, the menu offered chestnut and porcini soup with grated truffle -- perfect for a chilly Russian night -- as well as a harissa-spiked couscous with merguez sausage and pan-fried flounder with artichoke relish.
The hotel enjoys a convenient location in the northern half of downtown Moscow, on Pokrovka Street, which was inhabited as early as the 14th century. By the 1600s, Pokrovka Street served as the "czar's road," connecting the Kremlin to country estates. Cafes, restaurants and shops neighbor the hotel, and the Kremlin, Red Square and Bolshoi Theatre are within a 20-minute walk.
I was part of a small group of journalists in
Moscow
for a whirlwind, four-day visit. Rain showers marked our first day of sightseeing. While in the Arbatskaya district west of the Kremlin, we took shelter in the Cathedral of Christ the Redeemer, slipping in during a service. The air was heady with incense, and the priest's singsong chant carried throughout the sanctuary. No musical instruments are used in the Russian Orthodox religion, only voices.
With its ornate white facade and gilded cupolas, the enormous cathedral looks as if it's been around for generations. But it was built in the 1990s and is a replica of an important church that stood here until 1931, when Joseph Stalin blew it up. (His plan to erect a "Palace of Soviets" in its place, complete with a 300-foot statue of Vladimir Lenin, was never realized).
The new cathedral sits on the banks of the Moskva River, and there's a footbridge behind the structure that offers excellent views of the Kremlin. We headed there one morning to see the Diamond Fund, an outstanding collection of gems and jewelry at the Kremlin Armory.
The magnificent pieces are displayed in two small, dark rooms guarded by a grim-faced docent who will shush you if he thinks you're talking or laughing too loudly. But it's hard to contain one's wide-eyed giddiness in the presence of all this glittering loot.
One glass case holds 30,000 carats worth of rough diamonds from three Russian deposits. Huge, chunky nuggets of gold and platinum rest in another area. Contemporary, artful pieces from the late 20th century twinkle with sapphires, emeralds, aquamarines, amethysts, rubies and, of course, more diamonds.
One section is devoted to baubles that were worn by members of Russia's imperial court on special occasions. These items were kept at the Winter Palace from the early 18th century until the outbreak of World War I, when they were transferred to the Armory. Part of the collection was auctioned off in the 1930s, but what remains will take your breath away.
They include a crown of nearly 5,000 diamonds made for the coronation of Catherine the Great in 1762. Her former lover, Prince Grigory Orlov, once tried to win back the empress' favor by presenting her with a 200-carat diamond. He failed, but she kept the rock and mounted it in her scepter, at which you also can gawk.
Red Square is a must-see stop for every tourist in
Moscow
. If you stand in the middle of the immense, stone-paved square and face the candy-colored onion domes of St. Basil's Cathedral, you'll have Lenin in his highly polished granite mausoleum to your right. To your left is the Victorian facade of the GUM shopping center, taking up most of the eastern side of the square. This mall was built in the 1890s, and at the time of the 1917 Russian Revolution it had 1,200 shops under its elegant vaulted glass ceilings. After the revolution, GUM was nationalized, and it was referred to as the State Department Store during the Communist era.
In today's post-Soviet era, the now privatized GUM is a monument to conspicuous consumption. Window-shoppers strolling the beautiful, light-filled interior will find Louis Vuitton, Christian Dior and Cartier, as well as Levi's, Nike and Reebok. The little ice cream carts positioned throughout the mall are a quaint touch, selling cones for about $2 each.
Moscow's rich go to GUM to shop, and they go to Novodevichy Cemetery to be buried. This is Moscow's most eminent cemetery -- playwright Anton Chekhov and writer Nikolai Gogol are here, as well as Boris Yeltsin, Raisa Gorbachev and Nikita Khrushchev, whose monument bears a somewhat creepy, decapitated representation of his bald head.
Novodevichy is a woodsy and peaceful place, with graves nestled amid the trees. Evocative, touching sculptures mark the resting places of Russian notables. A demure ballerina watches over dancer Galina Ulanova. A statue of the popular film actor Yuri Nikulin sits aside his grave, hat at a jaunty angle, cigarette dangling from his fingers and a dog resting nearby.
Those who want to learn all there is to know about Russia's favorite drink should head to the Vodka Museum. Exhibits trace the history and production of the spirit that has become such an important part of the national identity and culture. Cases display some 600 bottles donated by a private collector, and for 120 rubles (about $4), you can taste up to four types of vodka. A cozy little tavern next door serves Russian comfort food -- borscht, blinis with sour cream and caviar, and hot tea.
The museum is housed in a complex called the Izmailovo Kremlin. It has the look of an old Russian village, with wooden buildings topped by colorful tiled roofs. There are shops and a few other museums here, and the site hosts outdoor festivals and performances. Nearby is a bustling flea market that's a favorite stop for tourists on the hunt for Soviet memorabilia, samovar sets and the nesting dolls known as matryoshkas.
Kvartira 44, which translates to "Apartment 44," was barely seven months old when we visited the restaurant for lunch on a Monday in late September. Yet the second-floor dining room has the warm, homey appeal of a long-established household. A piano sits in one corner, and shelves heavy with books edge the walls.
Our host, Nikolai Borisov, welcomed us with a soul-satisfying feast, laying out platters of freshly cooked blinis, smoked salmon, pickled herring, meats, cheeses and spreads, and sandwiches filled with slices of apple, blue cheese and walnuts.
"Moscow has few restaurants serving nice but quite simple food," said Borisov. He owns Kvartira 44 with his siblings, who named the establishment after the apartment where they grew up -- a place that had contained a staggering 20,000 or so books. The restaurant's logo depicts a man reading while bent over a bowl of soup, glass of wine at hand.
While Apartment 44 has a down-to-earth bohemian vibe, Turandot looks like it's waiting for the Romanovs to return to the throne at any minute. The 65,000-square-foot restaurant resembles an 18th-century palace; diners walk through the marble courtyard into a baroque fantasyland of frescoes, gold cupids, candlelike sconces and chandeliers dripping with crystal prisms. Waiters are outfitted in frock coats and knee breeches, and the chamber musicians wear powdered wigs. Turandot opened three years ago and took six and a half years and $50 million to complete.
Turandot's lavish weekend brunch buffet is a knockout, with table after table holding a mind-boggling array of Asian-inspired temptations, such as crepes filled with Peking duck, shrimp in a hot-sweet wasabi glaze, and all sorts of dim sum and sushi (Muscovites love sushi).
I counted two dozen varieties of desserts. The confections are created by head pastry chef Emmanuel Ryon, who won the Coupe du Monde de la Patisserie, the world pastry cup, several years ago. Pineapple wedges flecked with bits of edible gold leaf topped tiny glasses of creme brulee and coconut praline, and delicate white-chocolate butterflies perched on pieces of dark-chocolate cake. The bountiful brunch costs 3,200 rubles, about $115, and includes a selection of wines.
Whether you want to dine like a czar or sample the traditional fare that has nourished Russians for centuries, you'll easily find both in Moscow. You'll see reminders of the past, from the imperial carriages displayed at the Kremlin's museums to the Soviet-era military hats sold by vendors outside Red Square. And in shiny new lodgings like the MaMaison Pokrovka Suite Hotel, you'll find a stylish and cosmopolitan Moscow, yet with all the comforts of home.
Information:
Most
river cruises
and
escorted tours
in Russia start or end in Moscow; to learn more about these trips, call (800) 680-2858 or visit
Vacations To Go
.
The information in this story was accurate at the time it was published in January/February 2009. Please visit
Vacations To Go
or call (800) 680-2858 for current rates and details.
Send This Article to a Friend
Bookmark this Content
Digg it!
Reddit
Furl
del.icio.us
Spurl
Yahoo!