Made in Italy
Here are the top places to shop, from the discount designer stores
of Milan to the crafts studios of Venice and Naples
By Dai Huynh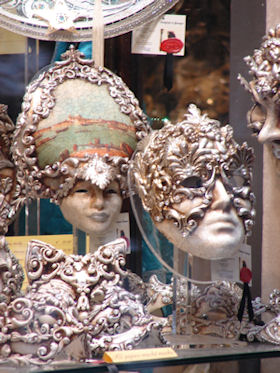 Elizabeth Armstrong
"P
assionate" is the word that comes to mind when Italy seeps into my thoughts. These days, it's often.
I recall strolling on Rome's cobblestoned streets on mornings when the roads were still quiet. Italy's largest and most populous city is slow to rise. From a side street, men in tailored suits rustle in and out of cafes. In an hour, the city will buzz with voices, perky with cappuccinos and
caffe lattes
. Italians take their coffee seriously. The same can be said about shopping and, of course, food.
Every few years, I would travel to Italy to sightsee and shop. The French are known as fashion's ambassadors, but Italians are revered as craftsmen capable of fabricating handsome suits, stylish leather goods, fine ceramics, beautiful glass beads, religious articles and precious cameo brooches, just to name a few artisanal finds.
Shopping in Italy is still fun, despite the euro. You can still find bargains and unique mementos if you know where to look. Always buy locally: You'll not only bring home something special, but it's usually less expensive to buy from the source.
From Rome to Sicily, consider the following Italian originals for your shopping bag.
Rome
is a shopping bazaar where you can find almost everything, from Venetian lace and Deruta ceramics to Sicilian wines and Sardinian olive oil. Many high-end designer stores like Prada and Fendi are located around the student-swamped Spanish Steps. But you wouldn't catch personal shopper Natalia Bianchi there.
"I don't like to take my clients to the Steps unless they insist on it," she says in perfect English. "You can find Gucci and other famous designers anywhere. But if you want something different, not the labels you find in the United States, go west."
In the direction of Piazza Navona lies Via del Governo Vecchio, a winding, cobblestoned street lined with boutiques carrying fashion from all over Italy. "This is where the middle-class Italians shop. Not everyone can afford Gucci or Prada," Bianchi says. "Here, they have nice stuff from small family factories in Tuscany and Umbria. Prices are not cheap, but fair, very fair. You can find a cashmere sweater for $70 or a cotton-silk blend for $50. In the U.S., it would cost 40 percent more."
Shoppers will run across copies inspired by trendsetters like ready-to-wear icon Brunello Cucinelli. They will also find beautiful originals by unknowns and up-and-coming designers. "This is what makes shopping on Governo Vecchio fun," Bianchi says.
The ancient Romans believed that a lingering sweet scent was a sign that a god had paid you a visit. There are several shops near the center of town that bottle perfumes.
Pro Fumum Durante's artisans reproduce scents from the Renaissance era. It has four locations, including one on Via Ripetta. Another well-known perfumery is the charming Ai Monasteri on Corso Rinascimento at Piazza Navona. Here, I discovered beautiful handcrafted fragrant oils, essences and toiletries from monasteries around Italy. Handmade candies, cakes and fruit marmalades also line the polished wooden shelves.
For the best Rome souvenirs, visit Vatican City. This is the place to load up on crosses, rosaries and other religious items. Clusters of shops can be found around the Vatican. After several days, I discovered one of the better souvenir shops run by nuns. If you face St. Peter's, it's to the right of the basilica.
For rosaries made of rosewood and perfumed with rose oil, visit the basilica's rooftop shop. You can get them blessed, too, at noon on Sundays when Pope Benedict XVI blesses everyone and everything packed into the basilica's Piazza di San Pietro.
Susan Lee Holland discovered the magic of
Venice
three decades ago.
Drawn to the glimmer of colors behind the glass windows, she saw the deepest reds, the most saturated greens and luminous yellows. Soon, Holland and her husband, Phillip Alexander, started importing Murano glassware and beads. U.S. jewelers credit the couple for helping to make loose Venetian beads available in the United States.
"Venetian beads are the king of beads. Everybody -- the Chinese, the Czechs -- tries to emulate them," says Holland, who sells her Alexander-Lee glass bead designs online.
Murano glassware and Venetian glass bead shops are all over Venice.
Where to start is the question, especially with fakes from China and India infiltrating the market. "When in doubt, ask the shop owner," Holland advises. "And if he says that the beads are made just outside of Venice, ask him if he means China and India. Both countries have gotten good at imitating Venetian, but you can still tell a difference in the quality. Imitation glass beads have larger holes, and sometimes they're coated with white releasing powder. Real Venetian beads won't have that coating."
Price is another sign. If you pay 3 or 4 euros ($4.50 to $6) for a bottle stopper, it's likely Chinese. Holland says expect to pay $8 or $10 for the real deal. The glass decanter is another example. A Murano glass decanter rarely goes for less than $100.
While in Venice, look for Venetian lace, woven on one of the many islands that make up the city. Machine-made laces will go for a fraction of what handmade laces cost. While a machine-made table runner costs about $25, a handmade version will run several hundred dollars.
Venice embodies carnival, and nowhere else will you find such exquisite handmade papier-mache carnival masks, marionettes and porcelain dolls. You can view this artistry at Antonia Sautter's Max Art Shop and Il Sole e La Luna on Frezzeria San Marco.
Milan
isn't about what's in season, but what's to come. This center of Italian fashion is a hub for luxury goods, particularly along Via della Spiga and Via Montenapoleone. Via Borgospesso and Via Sant'Andrea complete the golden quartet that makes up the high-fashion emporia. Here, $400 rubber lace-up shoes aren't uncommon. The area showcases the who's who of Italian fashion: Ferragamo, Dolce e Gabbana, Fendi, Trussardi, Versace and Armani.
Milan residents are known for being well-dressed, laying the foundation for some great castoffs. The largest street market takes place Tuesdays and Saturdays, when stalls set up racks of barely worn designer clothes. It's hard to say what you'll find on Viale Papiniano in the Ticinese/Navigli district, but the fun is in the discovery -- an Armani jacket, a vintage Versace dress or a bejewelled masterpiece from an unknown.
Rummaging through the stalls isn't your thing? There are designer discount stores along Corso Buenos Aires, including Calzaturifico di Parabiago, Darsena and Il Drug Store.
A friend of mine studying in Milan loved to buy leather in nearby
Bologna
. I quizzed her on this because Bologna's nickname is
la grassa
, or the fat. It's famous for food, not leather.
She explained that prices tended to be higher in Milan because that city attracted more tourists. Also, Bruno Magli and Furla operate factories in Bologna's Emilia Romagna region. The Bruno Magli factory outlet on Via Larga, for example, has last season's belts, leather jackets and men's and women's shoes at up to 70 percent off.
Furla is famous for its butter-soft leather. Several stores are located in Bologna, offering more choices and colors, and better prices compared to the United States.
Nella Tessuti is famous for her silk and wool fabrics. Many of the latest haute couture designs from world-famous designers are made with her fabrics. Although her factory is located just outside Bologna, you can view her collection of silk scarves and clothing designs at her boutique, Solo Seta, in the city center at Piazza Galileo.
Another good item to bring back from Bologna is chocolates, specifically balsamic vinegar-filled chocolates -- Enoteca Gilberto on Via Drapperie and Drogheria della Pioggia on Via Galliera are famous for their versions.
Parmigiano-Reggiano cheese is produced in the rolling hills of northern Italy, comprised of Reggio Emilia, Parma, Mantua and parts of Bologna. Granted, you can get this prized cheese anywhere in the United States, but for some reason, the wedges I bring back from Italy always taste more supple and nuttier than ones in U.S. stores. Yes, you can bring back cheese; just ask the shop owner to vacuum-pack it.
Florence
is a regal and handsome stone city, hand-chiseled by generations of stonecutters. The city appears somber until the sun casts soft, muted yellows and oranges onto its surfaces. Against blue skies, Florence seems magical.
A network of 13 museums and galleries attracts battalions of tourists.
They come for Michelangelo's statue of David, Botticelli's painting of the birth of Venus, Caravaggio's rendition of Medusa and other great masterpieces. But they also come to shop.
Florence is famous for its leather, and you can still come across tiny family-owned shops where artisans mold leather into cigar cases, purses and shoes. They're located throughout the city, in narrow alleyways and main thoroughfares. To get started, pay a visit to Scuola del Cuoio, the venerable leather school in Piazza Santa Croce, where you can watch young apprentices hone their trade.
Like Rome, Florence is also a good place to hunt for antiques, particularly things you would never find in the States, such as religious objects pulled from a church or architectural accents salvaged from an old building. Many of the antique shops and art galleries are located on the left bank of the Arno River along Via Maggio and Borgo San Jacopo.
Texan Carolyn Adair produces Amici olive oil in Tuscany. She loves to drop into a hypermarket in the Florence area to stock up. "I'll bring back several bottles of vin santo, Italy's dessert wine. In Tuscany, I'll pay $3 for a big bottle. In the U.S., it's $20 for a small bottle. I'll also buy dried mushrooms and pine nuts to take home. And I never leave without my panna per cucinare cream, which doesn't have to be refrigerated. It makes the best fettuccini Alfredo, and you can't get it in the States."
Meanwhile, I bring home unfiltered, cold-pressed extra-virgin olive oil. The Italians believe filtered oil is stripped of character. But that isn't the only reason I buy in Italy. A bottle of Tuscany oil that costs $30 here in the U.S. will sell for less than $15 in Florence.
The city of
Naples
is a great source for antiques and paper crafts. But it's most famous for its presepe, a tradition that dates back to the 13th century. Near Via San Gregorio Armeno, you'll find presepe workshops where artisans painstakingly sculpt terra-cotta figures in the image of historical or otherwise famous figures. They range anywhere from half-inch miniatures to life-size renditions. Christmas Nativity scenes are popular, but artisans also depict historical events.
On the outskirts of town is Torre del Greco, famous for cameos made from seashells and coral. Because the carving process is done by hand, the work is laborious. Cameos are made of two kinds of shells:
cassis rufa
and
cassis madagascariensis
. The latter is difficult to work with and more expensive. They're known as sardonic cameos, and the carving of a single piece can take from two hours to several weeks, and prices will reflect this. To watch this time-treasured process, pay a visit to the CASCO factory on Via Enrico de Nicola, Ascione on Via Romano or Basilio Liverino on Via Montedoro.
From Naples, venture south to
Sorrento
, a beachside resort town scented with lemon trees. Aside from
limoncello
liqueur, Sorrento is known for intarsia -- inlaid wood. Several workshops line Via Degli Aranci. Two to visit are Donato e Maresca and Stinga Intars, where you can observe artists cutting and layering paper-thin sheets of wood to make anything from furniture and jewelry to Christmas ornaments and music boxes.
Italy is shaped like a fashionista boot, and
Sicily
lies at its tip. The largest island in the Mediterranean Sea, Sicily is a favorite destination for Laura Morelli, author of shopping guide "Made in Italy" (Universe Publishing, $24.95). She compares Sicily to an onion, and when the layers are peeled back, you find traces of Phoenicians, Greeks, Romans, Arabs, Normans and, of course, Sicilians.
Along with world-famous sweets, you can take home coral jewelry. Its color is distinctive -- a rich hue that's somewhere between red, orange and pink, Morelli says.
Sicilian wines and sea salts make great gifts for friends back home.
Morelli also shops for ceramics here. Unlike the elegant Renaissance-inspired ceramics from central Italy, you'll find bold patterns, bright colors and splashy decorations. Sicily's most famous ceramic town is Santo Stefano di Camastra. But if you're in the capital, Palermo, you can still pick up exceptional and well-priced ceramics, such as a small pot for $20, says Morelli, whose favorite shop is Tre Erre Ceramiche.
Visit Italy for Less
For a value-priced way to see the sights of Italy, consider an escorted tour. These trips bundle lodging, some meals, activities and guided sightseeing into one price that you pay up front. You can save as much as 40 percent off the cost of purchasing each component separately on your own, which means you'll have a bit more money to spend on a few treasured souvenirs.
To learn about the broad array of Italy tours offered by many travel companies, call (800) 680-2858, or visit
Vacations To Go
.
The information in this story was accurate at the time it was published in November/December 2009.
Send This Article to a Friend
Bookmark this Content
Digg it!
Reddit
Furl
del.icio.us
Spurl
Yahoo!