Vancouver to the Caribbean
September 18-October 14
By Alexis Loyd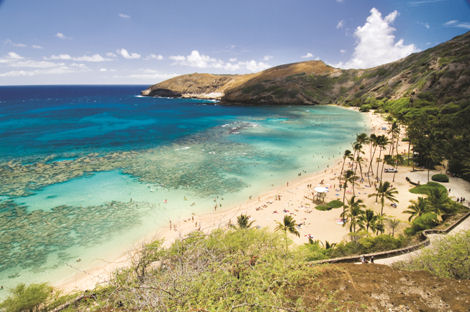 Radu Ursu/Carnival Cruise Lines
SEPT. 18-OCT. 4
16 nights aboard Carnival Cruise Lines' Carnival Miracle
Vancouver to Long Beach, via Hawaii
Leave Alaska's glaciers and Canada's cool climes for the tropics. Join
Carnival Cruise Lines
on a repositioning trip from
Vancouver, British Columbia
, to
Long Beach, CA
, and you also will be treated to a six-day, island-hopping stopover in Hawaii. In addition to the Aloha State's capital city,
Honolulu
, passengers will call on the region's capital of coffee,
Kona
; fiery
Hilo
, the gateway to Hawaii Volcanoes National Park; and
Nawiliwili
, welcoming point for the verdant "garden isle" of Kauai. An overnight stay in
Kahului, Maui
, means extra time for hiking to hidden waterfalls or a sail-and-snorkel tour of the western side of the island, two shore excursions hosted by Carnival. For a slice of Hawaiian paradise, Maui also has 30 miles of beaches at your disposal, so choose from sugar white, volcanic black or earthy red sands.
This Carnival cruise itinerary
bookends your island holiday with nine days at sea -- five days between boarding the boat in Vancouver and your first port call on Maui, and an additional four days between your last stop in Hawaii and your disembarkation in California -- so you have plenty of time to explore the 2,667-passenger
Carnival Miracle
.
A 2012 bow-to-stern refurbishment revamped public areas while adding flat-screen televisions in every stateroom. It also introduced Serenity, a new adults-only area with a private pool, cocktail bar and ample lounge space. The ship's design was somewhat inspired by history's great literature, with an interior garden promenade honoring "The Great Gatsby," a library and Internet cafe paying tribute to Edgar Allan Poe's "The Raven," a two-story dance club called Dr. Frankenstein's Lab and a steakhouse supper club named for Nick and Nora Charles, the husband-and-wife detective team created by Dashiell Hammett.
But the Miracle caters to the modern traveler, too, with an arcade, deck-top waterslide and supervised club for the youngsters and, for mom and dad, an onboard casino, full-service spa and, should the romance of the islands prove inspiring, a wedding chapel that also arranges vow renewals.
Stay at the Huntley Santa Monica Beach
Stick close to the water with a Santa Monica stay. Snag a room at the
Huntley Santa Monica Beach
, which has quick access to attractions of this laid-back section of west
Los Angeles
, including stretches of golden sand and the neighborhood's namesake pier. Opt for funnel cake, ring toss and the world's only solar-powered Ferris wheel at Pacific Park, or rent a bike and pedal along the coast. The 204-room Huntley serves as a haven with snazzy decorative touches: a wall of hundreds of white ceramic fish adorns the lobby, while carved daybeds, plush wool rugs and leather furnishings add an element of chic. Don't miss dining at the panoramic Penthouse restaurant with its sweeping ocean vistas, retractable skylights and fireplace lounge.
***Fly to Las Vegas***
A Las Vegas break
For your overnight, look for digs that cater to your
Sin City
whim. Traveling with Lady Luck? Head toward the 45-foot-tall, 100,000-pound bronze lion. This grand feline guards the Strip's recently renovated 5,044-room
MGM Grand Hotel and Casino
, which boasts more than 170,000 square feet of gaming space. If your luck should run out, dance your cares away at five-level Hakkasan; the property's club made its debut in 2013.
To partake of Vegas' famous theatrics, check in at
Mandalay Bay Resort and Casino
, with an entertainment lineup that consists of acts such as Cirque de Soleil's "Michael Jackson ONE" and concerts throughout the year from a range of artists like Maroon 5 and Lady Antebellum.
Planet Hollywood Resort and Casino
is hosting pop giant Britney Spears for her two-year Vegas residency. Foodies and shoppers alike will be drawn to
The Venetian
; find gourmet fare from Mario Batali, Emeril Lagasse and Wolfgang Puck and stores galore at the Grand Canal Shoppes.
OCT. 7-14
"Highlights of the Canyonlands" with Cosmos
Round trip from Las Vegas
Cooler temperatures and dwindling crowds make fall the ideal season for exploring the great landscapes of the American Southwest on this
eight-day excursion
. The glitz of Las Vegas fades away as travelers make the journey across the Arizona desert to the mile-deep Grand Canyon. An overnight in a Grand Canyon National Park lodge allows ample time for wandering the rim; keep the camera handy to capture the illuminated gorge during sunset and sunrise. Head to Lipan Point on Desert View Drive to glimpse the flowing Colorado River or take Bright Angel Trail for a chance to spot the endangered California condor.
Next stop: Monument Valley, where sandstone spires tower over what once was home to the ancient Native American people known as Ancestral Puebloans. View the red, towering formations from a four-wheeler, make a stop at man-made Lake Powell and then it's on to Utah's Bryce Canyon National Park. This roughly 56-square-mile preserve encompasses more than a dozen amphitheaters of otherworldly limestone structures -- domes, arches, walls, narrows, hoodoos, bridges and the Grand Staircase -- in shades from cream and pale yellow to fiery red and deep brown. Check the park's visitors center for astronomy program times, usually held Tuesday and Saturday evenings. Multimedia presentations and access to telescopes aid stargazing; on moonless nights, up to 7,500 stars are visible.
Before returning to Las Vegas, this
Cosmos
tour visits Zion National Park, once refuge to Anasazi and Paiute peoples, and then in the 19th century, Mormon pioneers. At the Zion Human History Museum, a herbarium and collection of thousands of artifacts tell the story of the region's cultural and natural history. Choose an easy hike such as Lower Emerald Pool Trail, leading to waterfalls, or Archaeology Trail, which reveals prehistoric buildings.
***Fly to the Caribbean***
The information in this story was accurate at the time it was published in January/February 2014. Please visit
Vacations To Go
or call (800) 338-4962 for current rates and details.
Send This Article to a Friend
Bookmark this Content
Digg it!
Reddit
Furl
del.icio.us
Spurl
Yahoo!