7 Ways to Save on Your Next Cruise
A 'last-minute' markdown can slash hundreds of dollars
off the original fare
By Elizabeth Armstrong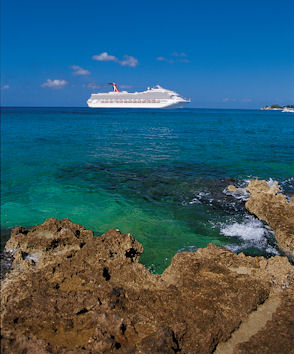 Carnival Cruise Lines
T
he all-inclusive nature of cruising makes it one of the best vacation deals available. Your fare includes a comfy cabin, all the food and snacks you desire, day-to-night activities and entertainment, and the doting attention of an impeccably trained crew.
But savvy travelers know they don't have to pay the prices shown in the cruise line's brochure. Here are seven ways to cut the costs of a cruise vacation. Our first four suggestions tell you how to find the lowest available rates, while the last three offer ways to save once you're on board the ship.
1. Wait for "last-minute" discounts.
Last-minute discounts provide the best savings in the cruise industry, up to 75 percent off the brochure rates. And "last minute" isn't as short notice as you might think. "Last-minute cruises are sailings that depart within 90 days," says Cheryl Cunningham, director of groups and special projects at
Vacations To Go
, a company that has specialized in substantially marked-down cruises since 1984.
Vacations To Go lists hundreds of late-breaking cruise deals on the "
90-Day Ticker
" found at its Web site. The 90-Day Ticker is categorized by cruising region, and each listing shows the length of the sailing, departure port, cruise line and ship, ship's rating, the brochure's original starting price and Vacations To Go's reduced fare. Simply click on the "FastDeal" number at the left of the screen for more details. First-time visitors to the site must register to access the ticker, which is constantly updated with the industry's best deals. Registration is free.
At press time, for example, a Feb. 21 seven-night
Caribbean cruise
aboard the
Carnival Valor
from Miami to the
Costa Maya
and
Cozumel
in Mexico, the
Belize coast
and the
Cayman Islands
was going for just $479 per person for an inside cabin. The original price was $1,769. Ocean-view accommodations started at $549 per person on the ticker, while a balcony cabin was $749.
Norwegian Cruise Line's
Pride of America
sails weeklong cruises of
Hawaii
year-round, departing from Honolulu. Book a stateroom with a private veranda and you won't miss a minute of the scenery. The Vacations To Go ticker offered inside cabins on
March 13
for $1,059 per person -- a $860 savings over the original rate.
Vacations To Go secures last-minute discounts for cruises in destinations around the world, including
Australia
and
New Zealand
, the
Bahamas
,
French Polynesia
, the
Mediterranean
,
Mexico
, the
Panama Canal
and
South America
.
2. Take advantage of past-passenger discounts.
Cruise lines often
reward repeat guests
with extra savings and other onboard perks. Returning passengers of Holland America Line can book up to four cabins at the past-guest rate. Even better, if you've cruised with Princess Cruises, Holland America, Carnival Cruise Lines, Costa Cruises, Cunard Line or Yachts of Seabourn, you're eligible to receive the past-guest rates offered on select sailings by Carnival, Costa and Seabourn.
Finally, if you've vacationed aboard the luxury ships of Crystal Cruises, Regent Seven Seas Cruises, Seabourn, SeaDream Yacht Club or Windstar Cruises, you can receive past-passenger rates for Tahiti voyages offered by Paul Gauguin Cruises.
Loyal passengers get other perks as well, like complimentary cabin upgrades and shipboard credits that can be redeemed at the spa, bars, shops and shore excursion desk.
3. Ask if your profession can save you money.
Are you a
teacher
,
police officer
,
firefighter
,
emergency medical technician
or
member of the military
? You may be eligible for further discounts. Some cruise lines offer "appreciation rates" to members of these professions, and they're listed by Vacations To Go.
Costa, Cruise West, Holland America and MSC Cruises honor EMTs and teachers with special discounts on certain departures. These same lines, plus three more -- Azamara Cruises, Celebrity Cruises and Royal Caribbean International -- also give special discounts to firefighters and police officers.
Eleven cruise companies provide military discounts on select sailings; the requirements for eligibility vary. Depending on the line, the savings can apply to active, reserve or retired members of the U.S. military. Veterans and spouses of actively deployed or deceased military personnel may also qualify. In all cases, you must provide proper documentation at the time of booking in order to get the special rate.
For example, appreciation rates knocked an additional $50 per person off Vacations To Go's already low price for a May 23 Holland America cruise in Alaska, resulting in a price of $499. The weeklong trip takes place aboard the
Ryndam
, which sails through the Inside Passage from
Vancouver
, British Columbia, to
Anchorage, AK
.
4. Go for the senior discount.
Seven lines reduce prices for travelers
ages 55 and older
: Azamara, Carnival, Celebrity, Cruise West, MSC, Norwegian and Royal Caribbean. The discount applies to select sailings and extends to all passengers in the cabin -- only one occupant must meet the age requirement. Proof of age is required.
On the
July 17 sailing
in the Baltic aboard the
MSC Poesia
, the per-person rate for an inside cabin is slashed from $2,600 to $1,149 per person for the 55-plus set. It travels round trip from
Kiel, Germany
, and visits
Copenhagen
,
Stockholm
and
St. Petersburg
, as well as the Estonian capital,
Tallinn
.
5. Curb costs with a beverage package.
With the exception of some six-star luxury lines, bottled water, fountain drinks and wine are not included in your cruise fare. But you can keep expenditures down by investing in a prix-fixe soda card or onboard wine program.
Soda-guzzling guests aboard Royal Caribbean, for example, can take advantage of a package that allows unlimited fountain drinks for an average cost of $4 to $6 a day, depending on the length of the cruise. It can be used in all lounges, bars and dining venues, including specialty restaurants. Just flash your onboard ID card -- it will have a sticker indicating your participation in the program.
If you enjoy something more spirited with dinner, consider a wine package that gives you several bottles for one set price. The upside is that you'll save a little bit over the regular per-bottle price displayed on the wine list. Celebrity, for example, says its wine packages offer a savings of 5 to 10 percent. The downside is that your selections are restricted to the limited number of wines offered in the package.
6. Scan the daily cruise program for onboard specials.
With cruises going for rock-bottom prices these days, cruise lines are doing everything they can to lure you and your money into their onboard boutiques and spas. Often, it pays to wait before making a purchase or scheduling an appointment for a massage.
Look for sales and specials in the daily bulletin that's delivered to your cabin each evening. For example, on the sixth day of a recent weeklong Caribbean cruise, the "Princess Patter" on the
Emerald Princess
advertised a bargain-hunter's delight: a three-hour "outlet sale" in the Michelangelo Dining Room. Tables were cluttered with clothes, souvenirs and jewelry all marked down by as much as 75 percent.
Meanwhile, the Lotus Spa offered "port day specials" to those who were willing to cut short their time ashore that day. A 50-minute treatment incorporating aromatherapy, reflexology and a back massage went for $89 instead of $119, for example.
7. Choose shore excursions carefully.
Many cruisers save their shore excursion funds for in-depth or unique experiences that they might not be able to easily arrange on their own. For example, if you want to bypass lines to the Sistine Chapel in Vatican City, join the crew of a crab fishing boat in the Alaskan town of
Ketchikan
or visit the home of a Russian family in
Vladivostok
, you can do that on a shore excursion. They can be booked in advance or aboard the ship. These organized outings are led by guides who can help you gain a deeper understanding of a destination's history, culture and people, and there's also a measure of safety inherent in traveling with a group.
On the other hand, if you just want to hit the beach or shop in town, you're probably better off on your own. In many ports, taxis line up to await arriving cruise ships. Be sure confirm or negotiate rates before entering any cab.
For example, on a cruise that stopped in
Grand Turk
last fall, a 2.5-hour shore excursion to historic Cockburn Town went for $64 a person. But a well-organized cab stand at the port terminal posted rates of just $5 per person each way for a taxi ride to Cockburn, with a genial driver who pointed out the sights. He dropped passengers off at the small but interesting Turks and Caicos National Museum, a good starting point for a do-it-yourself walking tour of the town's 18th- and 19th-century architecture.
Information:
Vacations To Go specializes in short-notice discounts on cruises in destinations worldwide. To begin the search for your cruise getaway, visit
Vacations To Go
or call the company at (800) 338-4962. Click the "
90-Day Ticker
" for last-minute bargains.
The information in this story was accurate at the time it was published in January/February 2010. Please visit
Vacations To Go
or call (800) 338-4962 for current rates and details.
Send This Article to a Friend
Bookmark this Content
Digg it!
Reddit
Furl
del.icio.us
Spurl
Yahoo!