Wonders of the Nile
A river cruise along Egypt's lifeline reveals a wealth of history,
culture and ancient treasures
By Alan Fox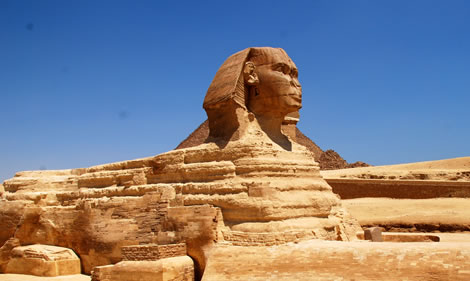 (Scroll down to see a slide show.)
W
e began our initial descent into the Egyptian capital of Cairo just after 8 a.m., as the pilot announced that the temperature on the ground was already 90 degrees and climbing. Our overnight flight from the South African city of Johannesburg had taken us from one end of the African continent to the other, and from winter to summer -- in the Sahara Desert. The view from the plane was of sand, for as far as the eye could see.
My wife, son and I had been traveling for nearly 24 hours since leaving
Savute Elephant Camp
in Botswana, the last stop of an
11-day safari
, but our excitement at finally reaching the Land of the Pharaohs was impossible to contain. Ahead of us, that great, ancient city was coming to life as it had every day for more than a thousand years.
Cairo has one of the world's busiest airports, and as we walked into the terminal from the tarmac, we found a sea of people swarming a handful of immigration desks. Most visitors, including Americans, must have a visa and obtain it upon arrival, but before we could look for the end of the line, a representative from
African Travel
, the tour company we chose for this trip, stepped forward.
"My name is Mohammed, like half the men in Egypt," he joked, "but you can call me Mido."
In a matter of minutes, Mido whisked us through immigration, introduced us to our guide for the entire week, an Egyptologist named Hany, collected our bags and walked us through customs. Mido seemed to know everyone of importance in the airport.
Outside, our private shuttle was waiting along with our driver and an armed, plainclothes policeman dressed in suit and tie. Hany explained that Egypt goes to tremendous lengths to ensure the safety of tourists. In addition to a high-profile police presence at tourist attractions and hotels, the government frequently assigns officers to accompany groups of tourists, at no charge.
Cairo is a sprawling city of 17 million people, but after 10 minutes I wondered how so many had survived the traffic. At first I thought that drivers changed lanes with reckless abandon, but then I realized "lanes" don't really exist out there. It's more of a free-for-all. Our driver was quite careful, but more than once I braced for a sideswipe that never came.
Not surprisingly, most of the buildings in Cairo are old, and in some areas they seem to be collapsing from the top down. Along the elevated freeway, we saw countless four- to six-story buildings crowned with nothing more than a section of wall and some protruding rebar.
Hany told us that taxes are higher on finished buildings than on unfinished ones, so top floors are frequently left incomplete -- permanently. It's curious that a tax loophole that resulted in such an eyesore would continue to exist for decades.
Then again, I'm not sure that explains all the structures we saw, as many of the top floors seemed to be covered with debris, as if entire sections had come tumbling down. All were still occupied, as evidenced by the laundry hanging out of windows in lower floors.
Another visual curiosity: Cairo has not been wired for cable TV, so satellite dishes sprout like mushrooms from the top of almost every structure, even those most in need of repair.
Most of the streets we passed were teeming with people, and the majority of men were dressed casually in slacks and shirts. There were a significant number dressed in the traditional ankle-length robe, or galabeya, and a much smaller number in business suits. Almost all the women we saw wore colorful scarves over their heads, long-sleeved blouses and ankle-length skirts or slacks. Some wore black burqas, loose-fitting, head-to-toe garments with a narrow slit -- sometimes veiled -- for the eyes.
After our long journey, our first day in Egypt was intentionally unscheduled, which I highly recommend. African Travel had booked us at the high-rise Conrad International Hotel, a beautiful five-star property on the Nile, with pool, full health club and spa and two excellent restaurants. I stood on my balcony for a very long time staring out at the world's most famous river. There was a bank in the hotel, and a barber shop, much to my son's chagrin.
We went to bed early and were up before dawn for a trip back to the airport and a flight to Luxor, a couple of hundred miles south of Cairo. There we boarded our riverboat, the
Sonesta Sun Goddess
, the home base for our
Nile River cruise
.
The Sun Goddess is one of five Sonesta ships on the Nile, all of which offer three- to seven-day voyages between Luxor and Aswan. It's not new, but it is well-maintained and well-run and appeared to be among the best of the many ships we saw.
The boat has four decks, including the observation deck on top with pool and bar, a dining room, lounge, Internet room, conference room and a couple of shops. All 62 cabins and suites have windows.
We found the service and the food on the Sonesta Sun Goddess to be good, with breakfast and lunch served buffet-style and dinner ordered a la carte. There's a dessert table on the ship that would tempt anyone off their diet. On board, we were entertained by a belly dancer and traditional Nubian dancers, and we came appropriately attired to the galabeya party.
The Sun Goddess was only about half full, as summer is not the ideal time to visit Egypt. Unless you are restricted by school schedules, like we are, Egypt is probably best seen from October to April. In July we found daily high temperatures between 115 and 120 degrees. We carried water with us always, and Hany arranged for most of our walking explorations to happen in the early morning, late afternoon and after sunset.
Even under the observation deck's awning, with a cool drink and the breeze kicked up from the ship's movement, it was hot every day until sunset. Still, odd traveler that I am, I wouldn't want to visit the Sahara Desert in the middle of a freakish cool spell. I wanted the real thing, and got it.
We spent two days and one night on the boat in Luxor, a place with archaeological sites that rival any on Earth. We visited Luxor Temple and Karnak Temple, massive structures built more than 3,000 years ago, and crossed the Nile to the Necropolis, which includes the Valley of the Kings and the Valley of the Queens.
For a period of nearly 500 years, from the 16th to 11th century B.C., Egyptian pharaohs were buried in the Valley of the Kings, in elaborate tombs dug out of solid rock. Some of their wives and children were buried in the nearby Valley of the Queens.
Pharaohs began working on their tombs as soon as they were crowned, as elaborate tributes to themselves and to the gods who would welcome them to the afterlife. The walls of these multiroom tombs were engraved with hieroglyphs and brightly painted.
When their bodies had been mummified, the rulers were sealed in their tombs along with treasure and various possessions that would be needed in the next world. Many of these tombs are amazingly well preserved, and nine are lighted and open to the public, including the most famous of them all, the tomb of Tutankhamun.
It is a smallish tomb, most likely because he died at a young age, before it was completed. Somehow tomb robbers lost track of it after some minor artifacts had been removed, and it was buried and forgotten for centuries. When it was finally unearthed in 1922, the tomb of Tutankhamun contained a wealth of artifacts including a solid gold funeral mask that is often used to symbolize the greatest treasures of Egyptian antiquity.
By this stage of the trip, we had come to truly appreciate the knowledge and storytelling ability of Hany, our private Egyptologist, whose enthusiasm for the subject was infectious. In flawless English he read and interpreted the hieroglyphs in temples and tombs, and he peeled back layer upon layer of history in a way that kept things interesting.
We learned that ancient Egyptian laws were based on a common-sense view of right and wrong and the pursuit of truth, order, balance and justice. Egypt produced the world's first architects, mathematicians, scientists and doctors, and the first massive buildings made of stone. Egyptians were the first to use columns of stone to support temples and the first to pave roads. They treated the human body to prepare it for the afterlife. They produced the world's first wine and beer.
"After 5,000 years, there is nothing new under the sun," Hany said, and after listening to his arguments, I could not disagree.
Scenes From the Nile
Our ship was losing speed, drifting lazily toward a lock in the Nile that would have to be cleared before continuing upstream. Suddenly, there was activity on both sides of the wide river as men dressed in long galabeyas ran to rowboats and paddled furiously out into the channel directly ahead of us.
I walked to the front of the observation deck for a better view of the eight to 10 wooden boats that had scrambled into the water to intercept us. Each carried two to four men, and they were closing fast on the middle of the channel. They were perhaps 100 yards away, and our riverboat was by that time almost dead in the water.
I looked for a crew member to notify, but there were only tourists on the observation deck, each as concerned as I was about what was transpiring. I leaned over the front rail to look down on the bow of the
Sonesta Sun Goddess
, just outside the bridge, and saw for the first time a uniformed security officer carrying a machine gun, standing far forward and clearly visible from the water.
"Whoever they are, surely they won't try to board the boat with him here," I thought to myself.
Then we were in the middle of the chaos, boats to port and starboard sides with men standing and waving and yelling -- in various languages. I ran to a side rail and leaned over to look down, drawing the attention of at least three of our visitors. Each had something in his hand, and as soon as they saw me they took aim and heaved their packages at my head.
"Whoosh, whoosh, whoosh" -- the parcels sailed by and plopped softly on the deck behind me. A fellow passenger picked one up to examine the contents, and to our amazement it was filled with... scarves! These weren't pirates, or worse. They were boat-to-boat salesmen, taking "pushy" to a new level.
For the next 30 minutes, any passenger who came close enough to the rail to show so much as an eyelash to the boats four decks below was immediately targeted by bags filled with clothes -- galabeyas, headdresses, scarves and more. A few passengers opened the bags and began negotiations with the senders, who seemed capable of speaking almost any language. Some of us dutifully attempted to toss the unopened bags back down to the proper boat. If anything could have made the experience more surreal than it already was, it was these Egyptian entrepreneurs haggling in Spanish with our Argentinian fellow passengers.
On our voyage south from Luxor, we passed dozens of riverboats and saw the low-rise buildings of the city give way to unpopulated, palm-tree-lined banks. There were barren mountains just beyond the narrow greenbelt, a clear sign of how little of the country is fertile and how much is not. Within a mile on either side of the Nile, there is the inhospitable desert, where nomadic Bedouin tribes manage to eke out an existence based on livestock and the perpetual search for water.
From time to time, we passed small villages, and we could see that the Nile is still the center of everyday life. Women covered from head to toe washed clothes in the river in the stifling heat, while children waded in for a swim. Long irrigation canals carried water to crops and fields where water buffaloes grazed. We docked in Edfu and Kom Ombo to tour well-preserved temples with Hany, our private Egyptologist.
We visited Aswan's main tourist attraction, the High Dam. Completed in 1970 after 10 years of construction, the High Dam doubled Egypt's supply of electricity, put an end to annual flooding downstream (the original dam was in danger of failing during the floods), and greatly increased the water available for irrigation.
As the waters of the world's longest river rose behind the dam, a 310-mile-long artificial lake was created that stretches well into the country of Sudan. An estimated 90,000 inhabitants of southern Egypt and northern Sudan, from the region of Nubia, were forced to leave as their villages were flooded.
The Nubian culture is one of the oldest on Earth, dating back thousands of years. The dam was a huge step forward for the rest of the country, but the Nubians paid the price, and many now hold menial jobs here in Aswan.
While in Aswan, we also visited one of the most beautiful of all the temples, Philae Temple, which had to be dismantled and painstakingly reconstructed on a nearby island to escape the rising water behind the dam. We cruised through the harbor at sunset on a felucca, a traditional wooden sailing boat, and we wandered through the local bazaar after dark, where virtually every shopkeeper we passed rushed into the street to try to convince us to enter.
Some shops featured mounds of exotic spices, others were filled with African art or hookahs, freestanding water pipes made of glass, metal and tubes that are used to smoke fragrant tobacco or herbal fruit. As the air cooled, the bazaar filled with people and the Muslim call to prayer echoed down the alleys. The hawkers were aggressive, but the sights and sounds and smells were worth it.
A Commanding Presence
I see dead people. About a dozen of them, wrapped in crumbling, faded rags and laid out faceup, under glass. Their shriveled bodies are labeled, but I don't recognize most of their names.
There is one gentleman in the room, however, that even in death seems to rise above the rest. He is Ramses II, widely regarded as the greatest pharaoh of them all.
I'm in Cairo again, in the Royal Mummy Room in the Egyptian Museum, a room that makes me feel, more than any other I have ever entered, that the distant past is perhaps not so very far away. It is barely conceivable that I am staring at the earthly remains of Ramses II, the ruler whose likeness adorns more Egyptian monuments and temple walls than any other.
He built the twin temples at Abu Simbel and the mortuary temple Ramesseum, and he expanded the temples in Luxor and Karnak. He battled the Hittites and conquered the Shardana, pirates of the Mediterranean, and was responsible for the world's first international peace treaty, a copy of which is on display at the United Nations.
Some, but not most, believe that Ramses II was pharaoh during the exodus of the Hebrews from Egypt. In the movie "The Ten Commandments," it was Ramses II who was portrayed so unfavorably by Yul Brynner.
He was husband to at least eight wives -- the most famous was Nefertari -- and fathered 100 children. He reigned for 67 years, longer than any other pharaoh, and lived into his 90s.
And all of this happened more than 1,200 years before the birth of Christianity. And -- I'm not making this up -- Ramses II still looks like the kind of person that gets things done today: decisive, engaged, multitasking.
The Egyptian Museum is stacked to the rafters with statues and artifacts from temples, tombs and crypts, and mummies of people, birds and animals, including enormous Nile crocodiles. I'm glad we took our Nile cruise before visiting, as so much of what is here came from places we have seen.
There are 120,000 objects on exhibit and an untold number more still boxed and stored in hallways, nooks and crannies. An all-new Grand Egyptian Museum is currently under construction, and some artifacts, including the most-prized Tutan-khamun exhibit, will move there upon completion.
Since arriving in Cairo, we have visited the
Great Pyramids
and Sphinx of Giza, which seem impossibly huge even by today's construction standards. The largest of the pyramids, the Great Pyramid of Cheops, was finished around 2690 B.C. and is one of the Seven Wonders of the Ancient World. It stretches 448 feet into the sky, with a base that covers an area of 13 acres. As with each pyramid, this one was built to house and preserve the mummified body of a single pharaoh for eternity.
Unfortunately, tomb robbers didn't have much trouble finding these pyramids and others built around the country, and many were looted within years of completion, eventually leading the pharaohs to build underground tombs in what came to be called the Valley of the Kings.
We've also visited the Khan El Khalili, one of the oldest bazaars in the world. The narrow alleys house hundreds of shops selling almost anything imaginable, and one of the many restaurants, El Fishawy, has reportedly been open continuously, day and night, for more than 200 years.
We dropped by the City of the Dead, a walled 4-mile-long cemetery filled with tombs, crypts and coffins, and more than 1 million living residents. The burgeoning poor population and nationwide housing crisis have resulted in an influx of people who sleep in tombs, dry laundry on strings hung between headstones and use grave markers as desks.
In Old Cairo, we toured an ancient Christian church, a mosque and a synagogue that are all within easy walking distance of each other. Before the advent of Islam in the seventh century, Christianity was the most widely practiced religion in Egypt. Today the country is about 80 to 90 percent Islamic and 5 to 10 percent Christian, with a tiny Jewish community and numerous other religions represented. From what we saw, the various religions coexist peacefully under Egypt's moderate government.
Tomorrow we'll return to the New World, which will undoubtedly seem even newer than when we left. We will bid a fond farewell to Hany, our friend and Egyptologist extraordinaire, who guided and enlightened our group as we toured the land that he loves so dearly. More than a little of his appreciation for antiquity and the Golden Age of the Pharaohs rubbed off on us.
I will remember the sands of the Sahara, the hot sun on my face, and the life-giving Nile. And I'll remember my visit to the Royal Mummy Room and this mute fellow before me who was called Ramses II. When much of the world was in darkness and chaos, he ruled in prosperity and erected magnificent structures that are still celebrated 31 centuries later.
Time and Hollywood have not been kind to him since, but for that brief moment when his eyes were open, he saw his empire shine brighter than all the rest.
Information:
For rates and details of African Travel's 10-day "Royal Egyptian" Nile cruise tour, visit
Vacations To Go
or call (800) 510-4002.
The information in this story was accurate at the time it was published in January/February 2008. Please visit
Vacations To Go
or call (800) 510-4002 for current rates and details.
Send This Article to a Friend
Bookmark this Content
Digg it!
Reddit
Furl
del.icio.us
Spurl
Yahoo!