Christmas Along the Danube
Get into the holiday spirit on a river cruise aboard
the Viking Europe
By Elizabeth Armstrong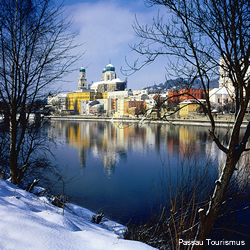 (Scroll down to see a slide show.)
B
y 4 p.m. on a mid-December day, it was already dark in
Passau, Germany
, but the square in front of St. Stephen's Cathedral was filled with a warm and festive atmosphere. Golden glows emanated from stalls decorated with twinkling lights, tinsel and evergreen garlands. Each was stocked with wares for sale -- carved wooden ornaments at one, candles at another, and glass baubles at the next.
At food booths, half-meter lengths of sausage sizzled and crackled on grills, waiting to be served on long, skinny rolls with mustard and sauerkraut. Others sold freshly made crepes, gingerbread and cornets of warm, candied nuts. People bundled in coats, hats and mittens strolled through the square, carrying mugs of hot spiced wine to ward off the chill.
This was Passau's Christkindlesmarkt, or Christmas market. Outdoor Christmas markets are a long-standing tradition in Germany and Austria, set up in front of cathedrals and city halls and generally taking place from the last week of November to Christmas Eve. They are merry affairs and the perfect antidote for even the most severe case of the bah humbugs.
I explored several Christmas markets in cities and towns along the
Danube River
during an eight-day sailing with
Viking River Cruises
. The itinerary, called "
Danube Explorer
" started in the Austrian capital of
Vienna
and ended in
Nuremberg, Germany
. My floating hotel for the week was the 150-passenger
Viking Europe
.
Built in 2001, the Viking Europe has three passenger decks sporting elegant, unfussy Scandinavian decor. All cabins have river views, a private bath with shower, television, safe and hair dryer.
Before and after dinner, passengers often gathered in the window-lined observation lounge, which is anchored by a bar at one end. There's a small library and, atop the ship, a sundeck offering 360-degree views.
The ship's restaurant served three meals a day and employed an open-seating approach, so guests could dine with whomever they wanted. Early morning continental breakfasts and buffet lunches also were offered daily in the lounge. Dinners were multicourse events, with hearty choices that included roasted venison, Danube perch, goulash and steak with bearnaise sauce. Wine recommendations frequently showcased German and Austrian vintages.
Onboard entertainment was delightfully low key. One afternoon in Vienna, the ship's chef showed us how to make apple strudel. Glassblower Karl Ittig of Wertheim, Germany, came aboard to demonstrate his craft, and a Bavarian folk group gave a rousing performance one evening after dinner. Occasionally our cruise manager, Marcela Virasztoova, would provide commentary on the passing sights, such as when we sailed through Austria's Wachau Valley, where the riverbanks are lined with terraced vineyards and picturesque villages.
My first Christmas market experience of the trip was at Vienna's Schonbrunn Palace, a royal residence that dates to the 17th century. Holiday songs poured from speakers, and a massive, sparkling Christmas tree dominated the scene. At the circle of booths that lined the forecourt of the butter-yellow palace, vendors sold nutcrackers, glass ornaments, leather goods and ceramics, and food purveyors offered apple fritters, poppy seed noodles and soft pretzels.
As I wandered from booth to booth, I warmed up with a mug of hot mulled wine called gluhwein. Gluhwein stands are prevalent fixtures at all markets. Each purchase includes a deposit for the ceramic mug in which the drink is served. Return the mug to any gluhwein stand and get your money back, or forfeit the deposit and keep the mug as a souvenir.
Schonbrunn was the smallest Christmas market I visited that week, and I found it to be the coziest and most intimate. It also seemed to have the greatest amount of high-quality merchandise. At some markets, the goods occasionally veer toward the tacky, and it's best to walk up and down the rows of stalls and browse all the offerings before making any purchases.
Seek out the items for which a market is known. Nuremberg's Christmas market, for example, is famous for its prune men, comical little figures constructed of prunes and walnuts, and for the gold foil angels with pleated skirts. In Salzburg, Austria, shoppers look for the delicate angels crafted from whisper-thin wood shavings, as well as fragrant posies and wreaths made of dried spices. Regensburg, Germany, is home to the small Lucrezia Market, where vendors sell well-crafted artisanal items, such as the green glazed ceramic dish with a walnut lid that I picked up.
But it wasn't all about holiday shopping on this cruise. We also got our fill of castles and cathedrals, and culture and history. At each port, we embarked on a sightseeing excursion with a local guide. These were included in the cruise fare and a great way to get oriented in each destination.
On a motor coach tour in
Vienna
, we took in the city's beautiful gilt-adorned facades, the opera house, the apartment once inhabited by composer Johann Strauss (perched over a McDonald's) and the Hotel Sacher, origin of the Sacher torte, a dense chocolate cake with apricot filling.
Later, there was time to sightsee on our own. I wandered amid the covered alleys and cobblestone courtyards of the Hofburg Palace, which until 1918 was the city residence of Austria's ruling Habsburg dynasty. Now it contains a collection of museums, cafes and restaurants, as well as the famed Spanish Riding School, home of the high-stepping Lipizzan horses.
In
Melk, Austria
, we toured the splendid 18th-century baroque abbey, perched atop a hill. Our guide led us through the immense library, lined floor to ceiling with some 16,000 books, and pointed out the marvelous ceiling frescoes. Thirty-three Benedictine monks live at the abbey today, and about 900 children attend school there. From the abbey's broad terrace, we took in expansive views of Melk, the Danube and the Wachau Valley.
When the Viking Europe docked at
Linz, Austria
, some passengers stayed to explore that city, while others chose an optional tour to Salzburg for an additional fee. I joined the Salzburg-bound group. We stopped at the formal gardens of Mirabell Palace, where purple and yellow pansies peeked out from beneath a light blanket of snow. Scenes from the movie "The Sound of Music" were filmed here. There was a quick photo op at Wolfgang Amadeus Mozart's birthplace, a mustard-colored building marked "Mozarts Geburtshaus" in large gold letters. Lunch was at Stiftskeller St. Peter, which dates to 803 and is Austria's oldest restaurant. Our meal ended with servings of Salzburger nockerl -- tall, fluffy peaks of meringue baked in an oven until golden.
Anyone with a sweet tooth should seek out a Furst shop while in Salzburg. Since the late 19th century, it has been the original maker of the confection known as the Mozartkugel -- a marzipan center dipped in chocolate and wrapped in silver and blue paper. There's a location near Salzburg's main Christmas market -- look for the pink facade at Brodgasse 13.
Passau
was our first port of call in Germany. It has been called the "Bavarian Venice" because it lies at the confluence of three rivers -- the Danube, the Inn and the Ilz -- and because it was rebuilt by Italian architects after devastating fires in the late 17th century. Narrow, cobbled lanes weave through the charming old town center.
Our guide in Passau took us to the Baroque St. Stephen's Cathedral, home to the world's largest cathedral pipe organ. It consists of five separate organs with nearly 18,000 pipes and 233 stops, all of which can be played from the main keyboard. Later, we stopped at Cafe Simon, where the owner and his son explained the three types of gingerbread that are most commonly made in Germany. During a pocket of free time, I toured the glass museum at the Hotel Wilder Mann. On display are thousands of exquisitely crafted examples of Bohemian glassware.
Our next port of call was
Regensburg
, an economic and cultural hub in eastern Bavaria. It originally was a Celtic settlement and later a Roman garrison that guarded the northern frontier of the Roman empire. Some evidence of Roman occupation remains -- the best example is the Porta Praetoria, a rocky archway that we visited on our sightseeing tour. For terrific views of Regensburg, head to the 12th-century stone bridge that spans the Danube.
Our cruise ended in
Nuremberg
, a beautiful medieval fortified city. Thick walls punctuated by 80 towers encircle the historic old town. Nuremberg gained notoriety as the site of Nazi party rallies, and later it was the location of the Nuremberg war crimes trials in 1945 and 1946.
Nuremberg is home to Germany's largest and most famous Christmas market, which draws more than 2 million visitors each season. It is also one of Germany's oldest markets, first mentioned in writing in 1628. Nowadays, about 180 stalls -- topped with red-and-white-striped awnings and festooned with fir garlands -- fill the cathedral square. Just off the main market are a children's market with amusement park rides and an international market with representation from Nuremberg's sister cities, including Atlanta, Glasgow, Krakow, Prague and Venice.
Among Nuremberg's gifts to the world is Elisenlebkuchen -- soft, moist gingerbread cookies redolent with ground cloves, nutmeg, cinnamon and almonds. Some come topped with a sugary layer of white icing or studded with whole almonds. I craved the ones that were napped with a thin coating of dark chocolate. Look for bags of Elisenlebkuchen at grocery stores at the periphery of the market.
Nuremberg's market also is famous for its bratwurst, with three of the finger-sized links sandwiched in crusty, square-shaped rolls. Thin, crispy potato pancakes also make a tasty snack, served alongside a dollop of applesauce on a large wafer cracker that acts as an edible "plate."
At noon, make your way to the front of the cathedral facing the market. Look up and enjoy the show of mechanical figurines that parade out of the glockenspiel. You can also hop aboard an old refurbished stagecoach drawn by two horses for a ride around the historic district.
Be sure to stop at the ornate steeple-shaped fountain at the edge of the square. There, a small golden ring hangs from the wrought-iron gate that encloses the fountain. Make a wish as you turn the ring full circle, and they say it will come true.
As for me, I wished that the joyous spirit of the Christmas markets would stay with me for many holidays to come.
Information:
Eight-day "Danube Explorer" itineraries between Vienna and Nuremberg start at $1,748 to $1,999 per person, based on double occupancy. Airfare is extra. To learn more about these and other European river cruises with Viking, visit
Vacations To Go
, or call (800) 510-4002.
The information in this story was accurate at the time it was published in Special Issue 2008. Please visit
Vacations To Go
or call (800) 510-4002 for current rates and details.
Send This Article to a Friend
Bookmark this Content
Digg it!
Reddit
Furl
del.icio.us
Spurl
Yahoo!