Weekend Jaunts
Short on ideas and vacation time? Try these 10 suggestions
for quick-and-easy escapes
By Jennifer Davoren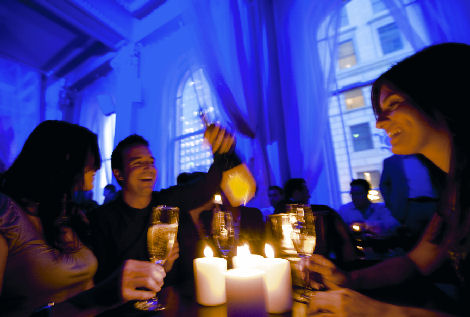 Canada Tourism Commission
Merrymaking in Montreal
Not a month goes by without a major event in this part of French Canada, but travelers should make time for summer fetes like June's Mondial de la Biere, with five days of beer tastings; July's Just for Laughs, the world's biggest comedy festival; or any number of August's offerings, from an international film exhibition to tennis tournaments, classic boat regattas, a fashion expo and a stock car race. Call (800) 998-6925 or head to
www.ResortVacationsToGo.com/Montreal
for hotel information.
The Twin Lures of Los Cabos
Cabo San Lucas is bursting with bars, nightclubs and other spring break fare. Neighboring San Jose del Cabo, meanwhile, was founded in 1730 as a Jesuit mission, and its historic landmarks stand alongside championship golf courses. Perched on the southern tip of Mexico's
Baja California peninsula
, they're both ideal for seafaring weekend adventures, with sailing, snorkeling and sportfishing among the most popular activities. Call (800) 998-6925 or compare resorts at
www.LosCabosAllInclusives.com
.
Three-Night Sailings to the Bahamas
A number of cruise ships depart Miami and Port Canaveral, FL, for brief trips to these nearby isles. The
Carnival Imagination
spends one night docked in
Nassau
, the Bahamian capital, for extended sightseeing, shopping and sunbathing. Meanwhile, the
Majesty of the Seas
and
Monarch of the Seas
from Royal Caribbean International call at Nassau and
CocoCay
, the company's private island. Find discounted rates by calling (800) 338-4962 or visiting
www.CruiseBahamas.com
.
West Coast Repositioning Cruises
Skim California's shore and points beyond with these three-night itineraries, most of which spend two days at sea while shuttling ships to seasonal home ports. Options in 2012 include a
May 8 journey
from San Diego to Vancouver, Canada, aboard the five-star
Westerdam
from Holland America Line, and
four September outings
with Holland America and Princess Cruises that begin in Vancouver and end in Los Angeles or San Francisco. Call (800) 338-4962 to learn more, or peruse options at
www.RepositioningCruise.com
.
An All-Inclusive Stay in Montego Bay
This type of property -- which covers alcoholic and nonalcoholic drinks, meals, accommodations and activities for a single price paid in advance -- is especially popular in Jamaica, where tourists need no more than a stretch of sunny beach to add to an already amenity-filled vacation spot. There are more than a dozen all-inclusives in this
Caribbean resort town
, which is a four-hour flight from most East Coast airports. Call (800) 998-6925 or visit
www.JamaicaResort.com
to compare rates.
A More Traditional Hotel in Bermuda
Unlike an all-inclusive resort, where all your vacation needs are met on-site, a classic hotel will encourage you to get out and explore, to book historic walking tours and wander through craft markets. And this island cluster, a British territory less than 600 miles east of the Carolinas, is worth poring over, from its pink-sand beaches to its unique cuisine, a mix of African, Caribbean and Native American influences. Call (800) 998-6925 for suggestions or visit
www.ResortVacationsToGo.com/Bermuda
.
New Orleans Jazz and Heritage Festival
Cajun and Creole cuisine, crafts, culture and, of course, the Crescent City's iconic music style will be celebrated April 27-May 6. Escorted tour operator
Globus
offers a four-day "New Orleans Jazz Festival" trip that includes a one-day pass to the event. With seven departures to choose from, guests can sync their visit with a particular performance date and still have free time to explore this unique corner of Louisiana. To book, call (800) 998-6925 or visit
www.Tour VacationsToGo.com/Jazz
.
The Historic Spirit of San Juan
Puerto Rico's biggest perk? Its commonwealth status allows open travel between its sunny shores and the mainland U.S., with no passports required. A close second is its
charming capital
, with old and new attractions. The casino resorts and tawny sands of Condado Beach are within a few minutes' drive of the conquistador-era relics and cobblestoned alleys of Old San Juan, where you'll find niche properties like
Hotel El Convento
, a 17th-century convent turned luxury inn. Call (800) 998-6925 or visit
www.PuertoRicoVacations.com
for lodging.
The Razzle-Dazzle of Las Vegas
Here, guests hotel hop for an abbreviated world tour, from the pyramids of Egypt (the neon-and-glass equivalent at the
Luxor Las Vegas
) to Italy's gondola-cruised canals (the version found inside the
Venetian
, anyway). Add miles of buffets, celebrity chef-driven restaurants, Broadway-style shows, 24-hour gaming and the "What happens in Vegas, stays in Vegas" spirit and it's easy to squeeze an action-packed, globe-trotting itinerary into a single city stay. Call (800) 998-6925 or tap into
www.ResortVacationsToGo.com/LasVegas
to compare rates on the Strip.
Little Palm Island Resort and Spa
This property in the Florida Keys brings new meaning to the word "escape." It's accessible only by boat or seaplane. There are no telephones, televisions or children under 16. Thatched bungalows are spread across 5.5 acres, enhanced by sugar-sand beaches and gourmet cuisine that draws from the resort's private garden. Bring your swimsuit and your significant other -- you won't need much else to enjoy your weekend here. Call (800) 998-6925 or visit
www.Resort VacationsToGo.com/LittlePalm
to learn more.
The information in this story was accurate at the time it was published in January/February 2012.
Send This Article to a Friend
Bookmark this Content
Digg it!
Reddit
Furl
del.icio.us
Spurl
Yahoo!