Find Yourself in the Yucatan
From the history buff to the beach bum, Mexico's Yucatan Peninsula caters to all travelers
By Jennifer Davoren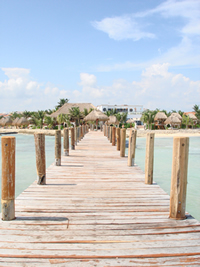 T
he
Yucatan Peninsula
, the tropical tip of Mexico, features the best in resort vacations, with pristine beaches, clear surf and a range of accommodations. But which locale to choose?
Following are six engaging towns in the Yucatan. Each offers its own unique draw, from the budget appeal of
Cancun
and the prime snorkeling of
Cozumel
to the intriguing historic and cultural sites of
Merida
and
Tulum
. For each, we've recommended lodging that best reflects the destination, with choices ranging from boutique properties to large, amenity-filled resorts.
Most boast all-inclusive vacation packages, where accommodations, meals, alcoholic and nonalcoholic beverages, sports and live entertainment are included in one price that's paid up front. All promise a unique escape, tailored to create a relaxing and personalized experience.
For more information on these and other resorts in the Yucatan Peninsula, visit
Vacations To Go
, or call (800) 998-6925.
Travelers looking for a taste of the Old World flock to the Yucatan capital,
Merida
, about 20 miles from the Gulf of Mexico. Structures dating to the early 16th century fill Merida's city center, anchored by the oldest standing cathedral in the country. Throughout the year, a sprawling public square hosts a number of cultural festivals that celebrate traditional dance and music. Meanwhile, local artisans sell wood furniture, handwoven hammocks and other crafts in stalls along the plaza.
Not far from Merida, another layer of history and culture waits. Two popular archaeological sites are worth a drive -- Chichen Itza is about 75 miles east of the city, and Uxmal, about 50 miles to the south. The remains of Ake, anchored by what's left of a Mayan palace, lie 20 miles east.
Merida is a regional culinary center, where Mexican, French and Spanish flavors influence many popular dishes. Sample the cochinita pibil, or citrus-infused pork, as well as a variety of desserts flavored with tropical fruits and coconut cream.
Try:
Once a private home, the
Hacienda Temozon
now enjoys life as a 5.5-star boutique hotel, located about 35 miles from Merida's airport. This sprawling property dates to the 16th century, and some of the Old World touches -- lush tropical gardens, traditional cuisine, a stately central manor housing all 28 rooms -- transport guests through time. A Mayan-influenced spa offers a range of treatments, and the resort offers transportation and tours to Mayan sites of interest less than 30 minutes away.
A longtime favorite of the spring break crowd,
Cancun
, on the easternmost tip of the Yucatan, is suited for travelers on a tight budget. Reasonably priced resorts abound, from smaller three-star operations to sprawling all-inclusive properties on the city's main beaches. A welcoming tourist district has more than 500 restaurants, open-air bars and dance clubs -- a majority are easy on the wallet, and all are central to Cancun's reputation as a party town.
Cancun's natural beauty is hard to beat, too. Its position on the peninsula means 14 miles of prime Caribbean waterfront, with turquoise waves lapping at sunny, white-sand shores. Windsurfers often are spotted in these waters, and a number of vacation resorts offer lessons and equipment rentals. Less strenuous activities, from horseback rides through the surf to seaside cocktails at sunset, are even more popular. Now the No. 1 resort destination in Mexico, Cancun's tourist offerings are growing by the day.
Try:
Riu Hotels & Resorts
, an early adopter of the all-inclusive formula, offers three properties in the region:
Riu Cancun
,
Riu Caribe
and
Riu Palace Las Americas
. Riu Cancun -- a three-star property and the least expensive of the three -- offers nightly entertainment, themed restaurants and beachfront accommodations in the heart of the hotel zone. Riu Caribe and Riu Palace Las Americas, both smaller four-star properties, benefit from the same all-inclusive amenities and a wider variety of dining choices.
An added bonus for older guests: Riu Caribe and Riu Palace Las Americas keep the peace by banning spring breakers.
Forty minutes south of Cancun's high-energy hotel zone, visitors find an entirely different atmosphere. In low-key
Playa del Carmen
, the sound of pounding surf is preferred over the throbbing beats of a club scene. Here, a relaxing, adult-friendly playground awaits.
Kayaking and snorkeling rentals are common sights along Playa's public beaches, as a quiet coral reef system sits just offshore. Outfitters on a large central dock escort visitors on deep-sea fishing and scuba trips. Spa resorts, a growing niche in the region, pamper guests in need of a seaside massage or other indulgent treatments.
When the need for excitement hits, however, Playa del Carmen can accommodate. An unusual combination of theme park and nature preserve, Xcaret offers snorkeling tours of underwater caves, scuba diving along a protected coral reef and the chance to swim with trained dolphins. It's just a few miles south of Playa. Further inland, Tres Rios Ecological Park offers peaceful hikes through the jungle and the chance to tour Mayan ruins.
Try:
The rustic architecture and thatched palapa roofs of
El Dorado Maroma
mirror Playa del Carmen's laid-back attitude. While every room faces the clear, calming waters of the Caribbean, a dozen swim-up suites -- connected by a "lazy river" system -- allow guests to step off their private patio and into a soothing current. Room service is available 24 hours a day, giving guests an excuse to sleep in or stay up late. Guests must be age 16 or older to stay at El Dorado Maroma, which is an all-inclusive resort.
Divers will feel at home on this island just 15 miles off the eastern coast of the Yucatan Peninsula.
Cozumel
is the gateway to the Great Mayan Reef, a coral chain extending more than 600 miles into the Caribbean and home to more than 500 species of fish and sea turtles. It's also one of the most accessible underwater attractions in the world -- though scuba and snorkeling enthusiasts will see the most during their stay, the reef also can be toured by glass-bottom boat and submarine.
Ecotourism is a big draw here. Cozumel has its share of bars, nightclubs and resorts, but these modern developments give way to dark, tangled jungle toward the center of the island. Nature preserves like Chan-kanaab National Park and the Punta Sur Ecological Reserve protect endemic species while offering hiking, biking and zip-line tours of the "hidden" Cozumel.
Though Cozumel enjoys its status as an offshore retreat, separated from the hustle and bustle of mainland Mexico by a few miles of ocean, the island is easily accessible. When visitors want a change of scenery, many hop a ferry to locales like Playa del Carmen.
Try:
The five-star
Fiesta Americana Cozumel Dive Resort
boasts a private pier, certification courses and daily boat trips along the southern reef zone. Though scuba rentals require an additional fee, snorkeling equipment is included in the resort's all-inclusive vacation package. The Fiesta Kids Club offers supervised activities to keep the little ones occupied during their parents' dive times.
Puerto Aventuras
, a recreational haven 20 minutes south of Playa del Carmen, is said to be the former playground of Mayan royalty. Kings once vacationed here, so the legend goes, and reserved Puerto Aventuras' pristine beaches for their personal use. Today, travelers of all types will find a place here, but those who have a love of the great outdoors will benefit the most.
Perched on the white sands of Fatima Bay, Puerto Aventuras offers warm water and mild surf for swimmers and snorkelers. Families are welcome at a majority of resorts, and children will have plenty of room to run near the sea. Boating is a popular hobby here, too -- a local marina services an international fleets of yachts (many make the trip from Key West, about 400 miles north), and fishing fans will find charter vessels at their disposal. Meanwhile, popular Mayan sites like Coba and Tulum are within easy reach and best suited for a day trip.
Try:
The five-star
Grand Palladium Riviera Resort and Spa
welcomes guests with a full roster of outdoor activities: volleyball, tennis, petanque, canoeing and Sunfish excursions are just a few amenities wrapped into the resort's all-inclusive package. Those who prefer to spend their vacation by the pool will have five to plunge into, as well as 13 bars, five restaurants, a state-of-the-art spa and late-night disco. Children's activities, including miniature golf and an engaging day camp program, entertain the little ones.
This cornerstone of Mayan history was once a fortified city, with the majority built between the 12th and 15th centuries. Today,
Tulum
is the most popular archaeological site on the Yucatan, where the ruins of a mighty palace, a towering temple and lush neighboring forests can be toured.
Tulum's archaeological and hotel zones stand shoulder-to-shoulder, allowing visitors easy access to a fascinating section of Mexican history. Spiritual pursuits, including yoga and meditation classes, are popular pastimes, with several resorts dedicated to these soul-searching activities.
Tulum is a quiet spot, where a short walk leads to deserted beaches and empty waves for the ultimate in relaxation. The region also is known for its cenotes, freshwater pools once used for Mayan rituals and now favorites for swimming and snorkeling. Skilled scuba enthusiasts are welcome here, too -- a host of submerged caverns await exploration, and local diving guides praise the clear water and easy visibility.
Try:
The five-star
Dreams Tulum Riviera Maya
, an all-inclusive property just a few minutes' walk from the ruins, offers a view of the site from its picturesque beach. The resort beckons those looking to relax after a long day of exploration -- poolside deck chairs, therapeutic massages and a muscle-loosening Turkish bath are just a few of the comforts. Dining options include a Mediterranean restaurant, generous buffets and a fully stocked snack bar.
The information in this story was accurate at the time it was published in May/June 2008. Please visit
Vacations To Go
or call (800) 998-6925 for current rates and details.
Send This Article to a Friend
Bookmark this Content
Digg it!
Reddit
Furl
del.icio.us
Spurl
Yahoo!