Amazing Grace Bay
Find tranquility in the unspoiled beauty of
the Turks and Caicos Islands
By Stacey Brandon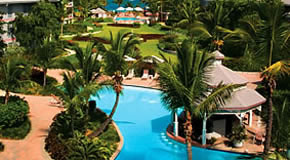 A
ccording to Mahatma Gandhi, "The object of one's life is not supposed to be to increase its speed."
These words were recited to me just minutes after I arrived in the
Turks and Caicos Islands
. During the quick trip from the Providenciales International Airport to our accommodations at
Ocean Club Resorts
, our group chatted about the busy schedules and impending deadlines that awaited us at home after our return from this much-needed getaway. Jody Diamond, publicist for the resorts and frequent traveler, shared this as her favorite quote and words to live by.
I thought about what she said as we drove past the breathtaking coastline, taking in the fresh air and sparkling turquoise water, and realized it was the perfect mantra to begin my stay on this beautiful island. I had come here to relax, to let my worries go and just enjoy myself. No agenda was needed. It was time to take off my watch, turn off my cell phone and let my world slow down.
Sometimes it is the simplest thought that suddenly makes everything clearer: The object of one's life is not supposed to be to increase its speed. This epiphany was a perfect way to start my vacation.
In fact, it seemed our resort catered to the same attitude. According to Ian McLeod, manager at
Ocean Club West
, the No. 1 answer on guest survey cards for "favorite thing to do" at the resort is: "Nothing!"
"People don't come here for the nightlife," he says. "It's the perfect spot to unwind."
And that it is. Ocean Club Resorts is comprised of two properties situated about a mile apart on beautiful Grace Bay Beach in
Providenciales
.
Ocean Club
and
Ocean Club West
offer intimate luxury and the comfort of a home away from home in spacious suites. Guests can enjoy the amenities at both resorts, including water sports, a fitness center and three restaurants, thanks to a complimentary shuttle that runs between the two properties.
Stylishly decorated with a Caribbean touch, my one-bedroom suite at Ocean Club West offered an open living room/dining room area, a full kitchen, large master bedroom and two bathrooms. The oversize screened-in balcony allowed me to keep the sliding glass doors open without worrying about hungry mosquitoes. In fact, the doors remained open during my entire five-night stay, and it was pure joy to fall asleep each night to a gentle breeze and the sound of the waves. It was a welcome change from the late-night train horns and sticky, humid air I left behind in Houston.
The resort caters to those who prefer a relaxing and low-key vacation. It does not offer room service, but suites have fully equipped kitchens. Amenities also include in-suite washer and dryer, and books and movies can be borrowed from the extensive library at any time. It is the type of place where you can hide away from the rest of the world, enjoying much-needed privacy and relaxation.
On my first morning there, I headed out for a dip in the pool and a stroll along the beach. I fully expected that I would have to place my bag down on one of the lounge chairs to "reserve" it for the day, as so often happens at many other hotels. I was shocked to see that this was not necessary. With less than 100 suites at each resort, the ambiance at Ocean Clubs is that of an undiscovered, uncrowded haven -- a perfect harmony of tranquility and intimacy.
When I made my way down to the beach, I quickly realized why Grace Bay is often listed among the top 10 beaches in the world. By definition, grace is "seemingly effortless elegance, beauty and smoothness of form or movement." What an appropriate depiction of this natural wonder. The sand was like silk, so soft that my feet just melted into it. There are 12 heavenly miles of this powdery white sand on amazing Grace Bay Beach for which to sing your praises, or sink your feet.
I took in the fresh breeze scented by the sea as I looked at the spectacular view. Surreal aquamarine and turquoise waves collided with brilliant white-sand beaches. The crystal waters extended as far as my eyes could see, to the ends of the earth. Unspoiled and flawless, Turks and Caicos is one of the few places where the natural tropic beauty can still be enjoyed the way it was meant to be.
As its name suggests,
Turks and Caicos
is comprised of the Turks islands and the Caicos islands, situated just southeast of the Bahamas. In total, there are 40 islands and cays, only eight of which are inhabited. Boat operators can take you island-hopping for the day, stopping for a seaside lunch at a deserted beach and snorkeling at one of the largest coral reefs in the world.
Anyone who has been to Turks and Caicos can tell you that it's the water that makes this place so incredible. Visiting these islands without spending time on the water would be like traveling to Paris and not seeing the Eiffel Tower. Big Blue Unlimited offers a variety of activities, from diving trips off a luxury catamaran to kayaking excursions among mangrove trees. The company provides unique and informative adventures that have minimal impact on the environment.
With the addition of a new cruise port on
Grand Turk
, and the development of several new resorts and villas along Grace Bay Beach, the Turks and Caicos Islands are quickly becoming a hot spot for those seeking a secluded getaway. While it won't remain a secret much longer, now it is still an unblemished haven worth discovering.
My time here showed me that I didn't have to speed through life. Some vacations are about doing and seeing as much as possible in a few short days. But in the Turks and Caicos, it seems as though time doesn't exist. I was perfectly content to gaze out at the open sea, get lost in a book, or doze off in a hammock for an afternoon nap.
After this idyllic stay at Ocean Club West, I could easily understand why 98 percent of its guests go there to "do nothing." It's a little slice of heaven, a place where you can utterly relax and feel fully refreshed, energized and ready to take on the world when you return to reality. What a reward it is to slow down and enjoy life's view, in this dreamlike paradise along Grace Bay Beach.
Information:
For information on booking a vacation at Ocean Club or Ocean Club West in the Turks and Caicos, visit
Vacations To Go
or call (800) 998-6925.
The information in this story was accurate at the time it was published in March/April 2006 . Please visit
Vacations To Go
or call (800) 998-6925 for current rates and details.
Send This Article to a Friend
Bookmark this Content
Digg it!
Reddit
Furl
del.icio.us
Spurl
Yahoo!