Treasures of Tuscany
Pastoral pleasures meet the jewels of the Renaissance
in this Italian tourist haven
By Jennifer Davoren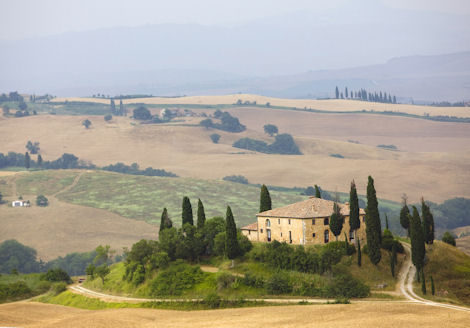 NikolNY/Fotolia
(Scroll down to see a slide show.)
I
t's a fairy-tale scene captured by countless artists: a narrow road lined with windswept cypress trees, rolling hills and green-and-gold patchwork fields. This is
Tuscany
, where lush landscapes inspire and -- in the case of the Italian hot spot's most popular cities, Florence and Pisa -- exhibit some of the world's finest art and architecture.
In Tuscany, culture meets the countryside. The start of the Renaissance can be traced to this region on the west-central coast of Italy. Many classic pieces are still displayed here, from Botticelli's "The Birth of Venus" to Michelangelo's 17-foot marble masterpiece, "David." But the larger cities that host Tuscany's awe-inspiring museum collections neighbor peaceful, pastoral villages known for rich olive oils, hearty red wines and rustic breads. In short, this spot nourishes both body and soul.
Escorted tours
offer an easy way to see Tuscany. These vacations use knowledgeable guides to breach language barriers as they introduce travelers to international wonders. They also include transportation between destinations, hotel accommodations, most meals and a handful of special excursions -- a private tour of a century-old vineyard, perhaps, or an authentic Italian meal prepared and hosted by a local family. And all this can be had at a steep discount when compared to the cost and hassle of securing the necessities on your own, as most escorted tour packages are booked at a low group rate.
Another benefit of escorted tour operators: They've already identified the top attractions of your chosen destination, relying on years of exploration and past guest input to plan their itineraries. Most tours of Tuscany visit some combination of the following five cities: Florence, Siena, Pisa, San Gimignano and Montecatini Terme. They're favorites among vacation guides and tourists alike.
If Tuscany is a treasure trove, then surely
Florence
is its crown jewel. Founded as an outpost of the Roman Empire, the city is known as the birthplace of the Renaissance and home to Europe's famed philosophers and artists between the 14th and 16th centuries. Florence's mark on world culture can be explored at Uffizi Gallery, which houses works by Leonardo da Vinci, Raphael and other masters; Galleria dell'Accademia, where "David" greets visitors; and Bargello Palace, whose National Museum includes a bronze version of David, another depiction of the Goliath story, completed by Donatello in the 15th century.
You can pick up a new skill during your time in Florence, which offers craft-making and cooking instruction through several schools. Some of the most popular culinary courses involve guided trips through the local farmers market. The shopping here also is outstanding, as Florence is the home of Gucci, Cavalli, Pucci and Ferragamo. You can even drop a few euros at one of the city's most noteworthy medieval sites, the Ponte Vecchio. The oldest of Florence's bridges over the Arno River, it's lined with fine jewelry stores.
Medieval accents also grace
Siena
, about 45 miles south. At the city's center is Piazza del Campo, or "Il Campo" as it's locally known. The pedestrian square is surrounded by red-bricked museums, marbled cathedrals and a bell tower boasting 360-degree views of the Tuscan hills -- for anyone willing to climb 505 steps to the top, that is.
This is an equestrian city, home of the twice-annual Palio. The bareback horse races pit 10 of Siena's 17 neighborhoods against each other in a battle for the drappellone, the intricately painted silk banner that's prominently displayed by the winning team.
You might not want to race through the city yourself, as Siena is built for strolling. Narrow, labyrinthine streets lead to hidden cafes, most with outdoor seating that takes advantage of Tuscany's summer sun. Chianti is the preferred drink here, and carnivores, rejoice: The Tuscan farmlands are known for producers of pork and beef, particularly the Chianina breed of cattle. End your day with a glass of hearty red wine and tagliata di manzo, sliced rare steak that's often paired with arugula and shavings of mellow pecorino romano to make the "local's salad."
There are few Italian landmarks as recognizable as the Tower of Pisa. Its trademark tilt, which started shortly after construction began on its third floor in 1178, has been captured in millions of vacation photos. But there's plenty of striking architecture in
Pisa
, such as the halls of the city university, home to Europe's oldest academic botanical garden; the Duomo, the largest Romanesque church in the region; and the Baptistery of St. John, a stately 12th-century structure that, being built on the same shifting sands as the neighboring tower, may soon be Pisa's second leaning feature.
For most visitors, Pisa is a place to slow down and enjoy the scenery. The most sought-after attractions are clustered around the Piazza dei Miracoli, a UNESCO World Heritage Site that offers plenty of enticing spots to rest, including a wide, manicured lawn perfect for picnic blankets. Pisa also offers a small museum that explores Tuscany's contributions to the Renaissance movement. The full collection of the Museo Nazionale di San Matteo, a former riverside convent, encompasses some 600 years of regional art.
If you're entranced by medieval spires, be sure to choose a travel itinerary that visits
San Gimignano
, near the heart of Tuscany. This hilltop town draws the eyes upward, due to its altitude as well as the 14 towers that dominate the skyline. They are all that's left of about 70 structures built by the region's wealthiest families. Other architectural wonders here include the Rocca, the remains of a 14th-century fortress that once protected the city from invaders; the Collegiata, a 12th-century church known for its intricate frescoes; and a central piazza and ninth-century fountain that was once a hub of village gossip but now serves as a serene resting place for tuckered tourists.
Though Italian vintners long ago set the bar for rich, red wines, San Gimignano has done its part to put Italian whites on the map. The local drink of choice is Vernaccia di San Gimignano, named for the crisp, clean grapes that grow here. This wine is another Renaissance creation that has survived the centuries to become an Italian cultural landmark.
Escorted tours of the Tuscan countryside are hardly taxing, but you still can treat yourself to a spa day after a long sightseeing excursion.
Montecatini Terme
, Italy's answer to the English resort town of Bath, became a literal hot spot for European royalty in the 18th century when its thermal spring was determined to have healing powers. Today, tourists still can "take the waters" or pamper themselves with a variety of spa treatments, many of which make use of the spring's mineral-rich mud.
Some escorted tour operators use Montecatini Terme as a base camp due to its proximity to Tuscany's favorite destinations. The city is perched on the railroad line that links Florence to the charming medieval town of Lucca. A short ride on the local funicular, a 19th-century cable car, will lift you up a steep hill to Montecatini Alto, built as a defensive center around 1015. Tour operators also make use of the elegant spa hotels found here, including the Grand Hotel Francia and Quirinale, a center for ayurvedic treatments and hot stone massages.
Montecatini Terme just might offer the ideal ending to a Tuscan vacation, allowing travelers to indulge further in an already enchanting region.
Tours of Tuscany
Houston-based travel discounter
Vacations To Go
can help you see Tuscany's treasures on a budget-friendly and hassle-free escorted tour. Options include "
Rome and Tuscan Highlights
" a 10-day adventure with
Brendan Vacations
, which visits all five cities featured here as well as Rome, the Italian capital. Highlights include an extended stay in Montecatini Terme (all the more time for spa treatments) and visits to St. Peter's Basilica, the Roman Forum and the Colosseum. Departures are offered from April 28 to Oct. 6, and prices start at $1,975 per person without airfare.
Another excursion, the 11-day "
Flavors of Italy
" from
Trafalgar Tours
, stops in Florence and Pisa and offers a "Tuscan lifestyle experience" -- a daylong jaunt that includes shopping for produce at a farmers market, expert advice on wine selection and an Italian cooking lesson. This tour highlights local culinary standouts like olive oil and Chianti and includes sightseeing in Rome and Venice. Prices start at $2,700 per person without airfare, and departure dates are from April 28 to Oct. 20.
Click
here
to learn more about vacations in Tuscany and elsewhere in Italy, or call (800) 680-2858.
The information in this story was accurate at the time it was published in January/February 2011.
Send This Article to a Friend
Bookmark this Content
Digg it!
Reddit
Furl
del.icio.us
Spurl
Yahoo!