May: Special Occasions
Take mom to a city named for a queen, play paparazzi in Cannes
or treat yourself to reserved seating at the Kentucky Derby
By the Vacations Staff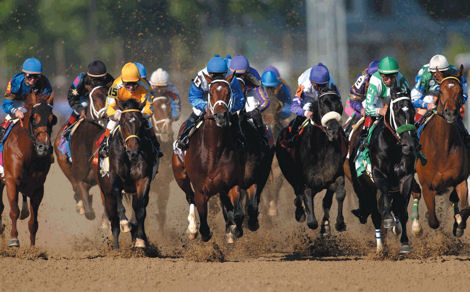 Dan Dry/Louisville CVB
(Scroll down to see a slide show.)
Tea for two
On Mother's Day, treat mom royally with a trip to
Victoria
, the charming capital of British Columbia. Located at the southern tip of Vancouver Island, this compact city with a picturesque, boat-lined harbor is a magical place. Here, many regal traditions remain honored, and none are so revered as English afternoon tea at the
Fairmont Empress
. For more than a century, this landmark hotel has hosted the daily white-glove service that starts with fresh seasonal berries, followed by a warming cup of Empress Blend, an aromatic melange of Ceylon, Kenya and China black teas, accompanied by finger sandwiches. As soft music plays, guests savor egg salad and smoked salmon. The best comes last -- pastries and warm scones served with homemade strawberry preserves and thick, rich Jersey cream. Afterward, explore The Butchart Gardens, a 55-acre oasis blanketed with blooms about 14 miles north of downtown.
Off to the races
Gallop into May on a "
Run for the Roses
" tour.
Tauck
offers two versions of this five-day trip, each leaving May 1. Guests will attend the Kentucky Derby for one day on both options but can choose between the "Bluegrass Country" itinerary, which tacks on heritage sights like Henry Clay's Ashland estate and the Kentucky Horse Park, or "Thoroughbred World," including admission to the 139th Running of the Kentucky Oaks. Horse lovers enjoy VIP status on their big day at the races: Tauck has arranged reserved seating in air-conditioned suites, along with all-day dining, open bar privileges and live pari-mutuel tellers. Travelers on both trips also partake of a private visit to a Lexington horse farm to learn more about the breeding, raising and training of the state's famous thoroughbreds; a bourbon tasting at 130-acre Buffalo Trace Distillery in Frankfort; and a dine-around at three select Lexington eateries.
Grand Cayman revelry
A swirl of music, dance and pageantry envelops
Grand Cayman
during Cayman Carnival Batabano, a Mardi Gras-like celebration that takes place in early May. The name honors the isle's hard-shelled inhabitants -- "batabano" refers to the tracks left in the sand by sea turtles as they climb onto the beach to lay their eggs. The Caribbean outpost midway between Cancun and Jamaica is a U.K. overseas territory, and most residents are of British and African descent. But the Caymans claim more than 120 nationalities in all, and organizers strive to celebrate this diversity at Batabano's costume contests, float parade, calypso band concerts and performances of island music called soca. This year's party falls on May 1-4 and is preceded by a family-friendly version on April 27; the Junior Batabano in Camana Bay features its own parade as well a singing contest, a teen jam, face painting and food booths.
Stargazing in Cannes
Considered a mecca for movie buffs,
Cannes
on the French Riviera welcomes acclaimed directors and award-winning stars to its prestigious Cannes International Film Festival on May 15-26 this year. Cinephiles aboard the
Seabourn Legend
or Windstar's
Wind Surf
can get in on the action when both ships call at Cannes during the festival (Legend on May 17, Wind Surf on May 24). Rub elbows with celebs as you take in the city's sweeping views of the Cote d'Azur and watch classic movies (or new ones not in the 2013 competition) during "Cinema on the Beach" screenings, which require invitations from the Cannes tourism office. Aboard the 208-passenger Seabourn Legend, choose the weeklong trip that departs Rome on
May 12
, or double up on Mediterranean glamour and take the 14-day sailing from Nice, which leaves
May 5
. The five-masted, motor-sail yacht Wind Surf gives 312 guests a tour of southern Europe on a seven-day
May 21 cruise
from Rome to France, with stops in Monaco, Portofino on Italy's Ligurian coast and St. Tropez near Cannes.
To the Battlefields of Europe
This Memorial Day, honor the lives lost in two of the 20th century's greatest conflicts during "
WWI and WWII Battlefields
" a 13-day tour from
Trafalgar
across England, France, Belgium and the Netherlands. Start the trip with two nights in London, where you'll have free time to cruise the Thames or visit one of its world-class museums. After an overnight ferry ride across the English Channel, explore the beaches of Normandy, where troops landed on D-Day, and see the famous Bayeux Tapestry, which details the 11th-century Norman conquest of England, before heading to the Memorial de Caen, 1916's Somme battlefields and then Paris. Crossing Belgium into the Netherlands, you'll stop at Groesbeek Canadian War Cemetery and Memorial -- the final resting place for nearly 2,600 World War II soldiers -- and visit the bridge at Arnhem that inspired the 1977 classic movie "A Bridge Too Far." Wrap up the historic trip in Amsterdam, where you can explore Museum Square or Anne Frank's house. Departures run from April through August, including a
May 18 departure
.
Celebrate Cinco de Mayo
Cinco de Mayo, the anniversary of the May 5, 1862, battle of Puebla where Mexican soldiers defeated invading French troops, is known worldwide as a celebration of Mexico's culture. Make for historic
San Antonio
, home to a vibrant Mexican-American community, for lively happenings all weekend long. Various restaurants and establishments around town take part in the festivities, like the Avenida Guadalupe Association's annual event at Plaza Guadalupe, where visitors can enjoy a hot breakfast, mariachi music and guest speakers who discuss the date's significance in history. But the place to be for nearly 50,000 visitors each year is downtown Market Square; its three-day festival includes live Tejano and norteno music, ballet folklorico performances, kids' games, arts and crafts and more. Wander amid brightly colored decorations and stalls, many offering refreshing aguas frescas and samples of the city's legendary Tex-Mex.
-- Elizabeth Armstrong, Kimberly Garza, Alexis Loyd and Van Sheridan
The information in this story was accurate at the time it was published in January/February 2013. Please visit
Vacations To Go
or call (800) 680-2858 for current rates and details.
Send This Article to a Friend
Bookmark this Content
Digg it!
Reddit
Furl
del.icio.us
Spurl
Yahoo!