London to St. Petersburg
May 17-June 14
By Michelle Chumbley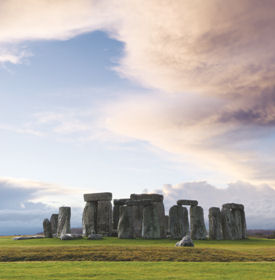 Stephen Spraggon/Visit Britain
MAY 17-24
"8 Day Classic Britain,"
Gate 1 Travel
London to Edinburgh
Escape to the captivating 400-mile stretch between London and Edinburgh, Scotland
, known for prehistoric stone monuments, royal landmarks and rolling hills.
Start with leisure time to take in the bustle of the British capital before an evening orientation and welcome drink with the group. A half-day excursion in the city the following morning visits Kensington and Chelsea, a fashionable neighborhood with royal residences and high-end shopping; Trafalgar Square, a landmark public plaza; and Westminster Abbey, the Gothic church where coronations take place. After seeing the Houses of Parliament and Big Ben, witness the changing of the guard at Buckingham Palace. An optional afternoon outing focuses on two city sites: the Tower of London, home to the Crown Jewels, and St. Paul's Cathedral, where Prince Charles married Lady Diana.
In the Salisbury Plain, travelers can explore Stonehenge, a prehistoric stone circle built between 3100 and 1100 B.C. and the subject of countless theories. Northwest of Stonehenge, early Romans built the city of Bath around hot mineral springs. Distinguished for its architecture, the town boasts crescent-shaped rows of limestone buildings and an elegant medieval abbey.
Spend Day 5 in the birthplaces of two British icons: William Shakespeare and the Beatles. In Stratford-upon-Avon, see sights significant to the famed playwright, including the home where he was born, the grammar school he likely attended and the cottage of his wife, Anne Hathaway. Tour the cathedral, Tudor buildings and arcaded Rows of Chester before spending the night in Liverpool, once home to John, Paul, George and Ringo.
A pleasant break from the tourist hubs, the Lake District provides panoramic views and tree-covered mounts. A stop at a rural farmhouse gives insight to life in the region, along with the staple snack of tea and scones. Cross into Scotland near Gretna Green, famed as an elopement village for English couples who wanted to avoid strict 18th-century marriage laws.
A final stop explores Edinburgh, the capital city of Scotland with a history dating to the Middle Ages. Highlights include the Scottish Parliament, the Royal Mile and the Museum of Scotland. Tartan-clad performers and bagpipers entertain
Gate 1
guests during an optional dinner show.
***Take a train or car to Glasgow, Scotland***
MAY 25-29
"Taste of Scotland" with CIE Tours
Glasgow to Edinburgh
The route:
Delve into the food, fables and folk culture of England's northern neighbor on a
five-day tour
. A
CIE
luxury motor coach takes travelers from Glasgow to Edinburgh on a loop through the Scottish Highlands with stops in Fort Augustus, Nairn, Pitlochry and St. Andrews.
Historic highlights:
In Glasgow, visit Provand's Lordship, one of the few surviving medieval buildings in the city and part of the historic cathedral precinct. Built in 1471 as a section of a hospital, the museum houses 17th-century furniture and royal portraits. Outside, a tranquil medicinal herb garden has been re-created in 15th-century fashion, complete with decorative stone masks along the walkway.
Taste of culture:
A highland evening in Nairn includes a traditional dish -- haggis, neeps (turnips) and tatties (potatoes) -- and learning about Scottish life through music, dance and storytelling.
Ghosts and monsters:
An evening walking tour explores haunted locations in Edinburgh while a guide tells classic ghost stories to send shivers up your spine. In Fort Augustus, take a scenic cruise on Loch Ness and look for Nessie, the elusive water monster.
Sporty stop:
Spend time in the town of St. Andrews, a renowned golfing spot since the 1500s and home to Scotland's oldest university.
Royal connections:
Visit Edinburgh Castle, the center of countless battles and locale of the Scottish Crown Jewels and Stone of Destiny, where kings of Scotland were enthroned for centuries. The castle on a rock is part of the Old Town, a UNESCO World Heritage Site.
***Fly to Copenhagen***
Stay at the Phoenix Copenhagen
This hotel is centrally located in the heart of
Denmark's capital
-- about 6 miles from the airport and near shops, restaurants, art galleries and museums. Popular sites like Amalienborg Palace, the Royal Danish Theatre and the Marble Church are in walking distance. Step into the on-site Brasserie Murdoch's Books and Ale to enjoy a cup of coffee or a selection of cheeses. The English-inspired cafe is decorated with rustic leather furniture and floor-to-ceiling bookshelves. With a history dating to the 1680s and elegant Louis XVI-style decor, the 213-room hotel balances luxury with modern comforts, providing Wi-Fi and a lobby computer to its guests. Green Key certified and eco-friendly,
Phoenix
aims to reduce waste and energy consumption and help patrons find healthy activities during their stay; water and maps are available for runners each morning in the lobby.
MAY 31-JUNE 12
"Northern Capitals" with Globus
Copenhagen to St. Petersburg
The route:
This popular
13-day tour of Northern Europe
from
Globus
visits four capital cities in Denmark, Norway, Sweden and Finland. A three-night stay in Russia's St. Petersburg completes the trek.
Capital palaces:
In Copenhagen, tour the reception rooms of Christiansborg Palace, where Denmark's royal family hosts official functions and banquets. Elaborate tapestries, historical ceiling paintings and grand chandeliers embellish the regal chambers. Nearby, the picturesque Amalienborg complex is comprised of four palaces with matching facades built in the 1750s. Take in views of Kronborg Castle as you depart Denmark on a ferry. The Renaissance fortress is a UNESCO World Heritage Site and the setting of Shakespeare's "Hamlet."
Stop and smell the roses:
Oslo's Frogner Park holds Norway's biggest collection of roses -- 14,000 plants of 150 different species -- and a collection of more than 200 bronze and granite sculptures by Gustav Vigeland including a fountain, mosaic labyrinth and stone forest.
Nobel Prize connection:
The main Nobel Prize ceremony takes place in Stockholm every December with a banquet following at City Hall. Tour the chambers where prizewinners have dined, in the brick-lined Blue Hall, and danced, in the Golden Hall with glass and mosaic walls.
Local cuisine:
Indulge in a smorgasbord dinner, a hot and cold buffet of regional dishes, while crossing the Baltic Sea from Stockholm to Helsinki. In St. Petersburg, a traditional Russian meal includes delicacies like blinis, pickled cucumber and caviar.
Souvenir shopping:
Explore the open-air markets of Helsinki during designated shopping time. Local vendors sell ceramics, glassware and traditional foods like cold-smoked herring and Finnish berries.
For Your Time in St. Petersburg
Summer nights in St. Petersburg are abnormally light. Because of the northerly latitude of the city, the sun does not descend far enough below the horizon for the sky to become dark. Special opera, ballet and musical performances are staged during the Stars of the White Nights Festival to celebrate the long summer days. This phenomenon also means that visitors can see the sites of the city in late hours. Take an evening walk in the vast green space of numerous parks, gardens and fields, or find the many outdoor monuments dedicated to prominent people -- like Catherine the Great, German-born empress of Russia from 1762 to 1796; Alfred Nobel, Swedish chemist and inventor of dynamite; and Fyodor Dostoyevsky, the author of "Crime and Punishment." During the day, visit the State Hermitage Museum, one of the world's largest museums with more than 3 million items, from prehistoric art and artifacts to collections of Picasso and Matisse.
The information in this story was accurate at the time it was published in January/February 2014. Please visit
Vacations To Go
or call (800) 680-2858 for current rates and details.
Send This Article to a Friend
Bookmark this Content
Digg it!
Reddit
Furl
del.icio.us
Spurl
Yahoo!