Hot Escapes & Winter Wonderlands
Cruise tropical Hawaii, see Quebec in its snow-dusted glory and more
By Alexis Hilts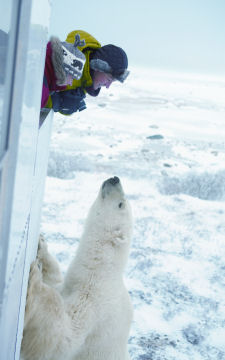 Canadian Tourism Commission
(Scroll down to see a slide show.)
T
he colder seasons divide us into two camps. There are those who revel in winter's approach, eagerly awaiting the first snowfall, hands cupped around a steaming mug of hot cocoa.
And then there are the escapees, ready to flee to warmer climes at the first hint of frost. For these travelers, the winter months are best spent stretched out under the sun on a tropical patch of sand or, at the very least, roaming a destination where folks sport T-shirts year-round.
Taking both ends of the spectrum into account, we've come up with six sojourns between now and next year's thaw, one hot and one cold option in each of three categories: heritage explorations, coastal culture breaks and wildlife adventures.
So the choice is yours: Escape the chill in one of these U.S. hot spots or embrace it in a Canadian wonderland. For more information on these trips, call travel discounter Vacations To Go at the numbers listed below, or visit the provided websites.
Heritage Holidays
Seek out a little joie de vivre this winter, like the Cajun food and rhythms of a Louisiana favorite or the French-flavored ambience of eastern Canada. These two vacation packages include hotels, some meals, transportation and sightseeing in one up-front price, as well as free time so that you can uncover more treasures on your own. Call Vacations To Go at (800) 680-2858 for more information about these tours, or follow the links below.
Crescent City charisma
. Delve into the local customs of the Big Easy with
Globus
on the five-day "
New Orleans Holiday
." Departures are once a month in October, November and December to this city known for its musical roots and blend of Caribbean, African and European influences.
Guests stay at the expansive Sheraton New Orleans on lively Canal Street. It's a short walk from the Mississippi River and the history-rich French Quarter, a focal point for explorations with a guide. Lures of the district, which is more than 200 years old, include the meticulously landscaped Jackson Square and cobblestoned Pirate's Alley. You'll also stop at an aboveground cemetery to learn about the region's uncommon burial practices.
In a city with such rich culinary traditions, vacationers would be remiss if they left without picking up a few cooking tips. Lessons on Cajun and Creole fare at the New Orleans School of Cooking take care of this and whet the appetite for more discoveries. Globus travelers take a cruise in the area's eerie bayous and swamps and a stroll at shady Oak Alley Plantation -- a stunning antebellum home called the Grand Dame of the Great River Road -- before a celebratory farewell dinner at The Court of Two Sisters, a well-loved Creole restaurant on Royal Street.
This New Orleans journey starts at $979 per person, without airfare.
Say "oui" to Quebec
.
Collette Vacations
introduces travelers to this French Canadian province on its weeklong "
Quebec Holiday
" with stays in Montreal, Charlevoix and Quebec City. In chic Montreal, the second largest French-speaking city in the world, travelers are swept up in sights such as copper-domed St. Joseph's Oratory, visited by millions yearly, and 19th-century Jacques-Cartier Square, named for the famed French explorer who claimed the region for his country in the 16th century. A sound-and-light show at Notre Dame Cathedral, embellished with 228-foot towers and thousands of 24-karat gold stars across its ceiling, is a highlight here.
After the sophistication of the city, Collette guests discover the area's rural charms with stopovers at Musee de l'Abeille and Laiterie Charlevoix, museums dedicated to honey and cheese-making, respectively. Here, secrets of the trade and tasty samples are doled out. A ferry ride takes travelers to another Charlevoix attraction, picturesque L'Isle-aux-Coudres in the St. Lawrence River, with an apple orchard and restored 19th-century windmill and watermill.
Two nights in Quebec City allow guests time to explore its delights, such as the St. Louis Arch, the Parliament and Place Royale, the original settlement. Then it's off to the countryside once again for breakfast at a local sugar shack and bites of maple taffy.
Dressed up for the holidays, three well-appointed hotels greet guests with cheery spirit on this Canadian tour: the Fairmont Queen Elizabeth in Montreal, the Fairmont Le Manoir Richelieu in Charlevoix and the Fairmont Chateau Frontenac in Quebec City. Two trips leave in December, with prices starting at $1,399 per person.
Coastal Character
Flourishing art scenes and intriguing neighborhoods beckon vacationers to these singular destinations on opposite shores. One is an island outpost that embraces its funky reputation; the other is a shimmering Pacific Northwest city surrounded by mountain peaks and water. We offer lodging suggestions for each; to book a stay, call (800) 680-2858 or check out the linked websites.
The end of the road
. Instead of packing on the extra layers, use the cold weather as an excuse to evacuate to sun-drenched
Key West, FL
, the southernmost city in the continental U.S. Palm trees, quirky shops and historic homes -- including Ernest Hemingway's former abode -- line the streets of this offbeat yet charming isle. Visitors check out local works at a string of art galleries and stroll lush landscapes at spots like the Audubon House and Tropical Gardens. They also dine on fresh seafood; favorites include Blue Heaven in Bahama Village for weekend brunch, Mangia Mangia for casual Italian and Azur for Mediterranean fare on a shady terrace alongside one of Key West's quieter avenues.
There's swimming, snorkeling and sunbathing here, and beach lovers who check into the
Pier House Resort and Caribbean Spa
will have their own private patch of sand. The 142-room hotel is within walking distance of evening entertainment at Mallory Square -- where a celebration of street performers accompanies each sunset -- and the festivities of Duval Street, the place to be for live music, margaritas and people-watching.
The Pier House's spacious Caribbean Spa rooms -- with bamboo floors, sitting areas and French doors that open to the breeze -- are romantic retreats. Rates for a three-night stay go for $942 in mid-December; visit Vacations To Go to compare rates at this hotel and others.
Between mountains and sea
. A vibrant atmosphere and array of outdoor-oriented sights, along with proximity to snowcapped ranges, make
Vancouver
an ideal wintry haven in the southwest corner of British Columbia, Canada. Nestled on the slopes of the Coast Mountains and edged by three waterways -- Burrard Inlet, Fraser River and the Strait of Georgia -- this striking metropolis boasts an eclectic mix of attractions. Japanese, Chinese, First Nations, Italian and Indian cultures are all big influences here. Travelers can take in totem poles, ethnic markets, aboriginal art, Asian gardens and a range of cuisines in the course of a day.
For avid skiers, opportunities for both downhill and cross-country are close by. Roughly 10 miles from downtown at Grouse Mountain, vacationers can glide down the peaks or marvel at the landscape from above on the Skyride, North America's largest aerial tram system.
Overlooking Coal Harbour and the North Shore Mountains, the
Westin Bayshore
provides rooms with a view and a comfortable home base from which to explore the sights. Situated on seven acres next to popular Stanley Park, a 1,000-acre green sanctuary within the city, this 511-room waterfront resort offers easy access to nature's serenity and urban amenities. Relaxation (and warmth) also can be found in Bayshore's Vida Spa, complete with a fireplace lounge and an array of pampering treatments.
In mid-December, a three-night stay starts at $528 per room. Click here for more on planning your Canadian getaway.
Go Wild
Dropping temperatures spur species migrations. This season, follow the pack (or pod, or sleuth, as the case may be) south to the lush Hawaiian Islands or north to unspoiled, snowy Manitoba for an animal lovers' vacation.
Whales and tigers and seahorses, oh my!
Sail away from the winter blahs on the 2,138-passenger
Pride of America
from
Norwegian Cruise Line
, cruising round trip from Honolulu on weeklong Hawaiian itineraries. Whale-watching is at its peak from December through early May, when humpbacks choose warmer waters for their breeding and birthing grounds. Traveling 3,000 miles from their feeding domain in Alaska, one-third of all North Pacific whales end up off the coast of these U.S. islands. Whale-watching shore excursions launch from Maui and allow passengers the chance to see these majestic mammals with the guidance of a marine naturalist.
Other animal encounters can be had on Hawaii's Big Island, like snorkeling the protected waters of Kealakekua Bay State Historical Park, a south Kona sanctuary where you also may spot spinner dolphins. Visit Pana'ewa Rainforest Zoo and Gardens to see Namaste, the white Bengal tiger, or view the unusual creatures of the Ocean Rider seahorse farm.
The Pride of America stops in Kahului, Maui; Hilo and Kona on the Big Island; and Nawiliwili, Kauai. Vacations To Go's discounted prices for the
seven-day sailings
start around $900 per person, based on double occupancy in an inside stateroom. You also can call for more information on Hawaii sailings at reduced rates, (800) 338-4962.
Extend your aloha escape with a pre- or post-cruise hotel stay in Honolulu.
Aston Hotels & Resorts
has hosted vacationers in Hawaii since 1948 and offers numerous options in the Waikiki district, including condominium-style lodging with one or two bedrooms and full kitchens. To price a stay, call Vacations To Go, (800) 680-2858, or visit the resort company's website. While there, make time to see more undersea inhabitants at the Waikiki Aquarium, where 3,500-plus marine animals dwell.
Bear-ly believeable
. Every fall, Canadian polar bears leave their inland domains and head for the shores of Hudson Bay, where they wait for the ice to freeze so they can start their winter hunting season.
Tauck
guests venture to Churchill for a glimpse of these pale beasts in their natural environs on the six-day "
Manitoba: Polar Bear Adventure
." The tour, which travels round trip from Winnipeg to this small-town "polar bear capital of the world," takes vacationers on two full-day wildlife outings in a specially designed tundra vehicle. Experts keep a lookout for the bears, which can weigh up to 1,500 pounds and stand 10 feet tall. Arctic foxes, falcons and snowy owls may be spotted, too.
Travelers also are treated to a dog-sledding demonstration and ride, a trip to the Eskimo Museum with its extensive collection of Inuit artifacts, storytelling from a First Nations member and dinner at the Manitoba Museum. Hotels include the luxury Inn at the Forks, located in Winnipeg's national historic site, and the cozy, log cabin-style Lazy Bear Lodge.
Tauck offers five departures from Oct. 27 to Nov. 14. Without airfare, per-person costs start at $5,990 for this rare opportunity. To book your polar bear encounter, call (800) 680-2858 or visit the Tauck page.
The information in this story was accurate at the time it was published in September/October 2011. Please visit
Vacations To Go
or call (800) 680-2858 for current rates and details.
Send This Article to a Friend
Bookmark this Content
Digg it!
Reddit
Furl
del.icio.us
Spurl
Yahoo!