See Greece by Sea
A warm welcome and lively culture
embraces visitors to Aegean shores
By Emily Coleman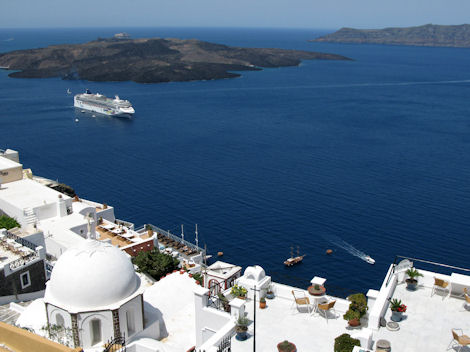 Fotolia
A
ncient Greece gets a lot of attention, and rightfully so. There's much to learn from the country's rich and illustrious history. But there's also plenty to be enjoyed right now in Greece. Local delicacies, interesting shopping and sun-kissed beaches are just the beginning of the country's modern-day appeal.
A cruise is a great way to see the diversity of the
Greek Islands
. Of the thousands that make up the archipelago, only a fraction -- 227 islands -- are
inhabited. There are plenty of options for seven-day cruises of the region, and those with more free time can choose itineraries from 10 days to three weeks. Many sailings incorporate stops in Turkey and Italy. Typical embarkation points are
Venice
,
Civitavecchia
(the port for Rome),
Istanbul
and
Piraeus
(the port for Athens).
The moderate climate allows for a long sailing season, from May to November. July and August bring high season to the islands, with crowds and temperatures on the rise. Those looking for less congestion should consider a trip in spring or early fall. Autumn entices travelers interested in Greek gastronomy -- grapes are pressed for wine in September, and olives are gathered in October.
Differences in language and lettering can pose a slight challenge, but it's hardly an impossible barrier. Just remember that the Greek words for "yes" and "no" are a bit contrary for English speakers: You say "neh" for yes and "oh-khee" for no. Keep that straight, and you'll avoid a lot of confusion.
In the tavernas of Greece you can sample traditional dishes such as moussaka, fried eggplant layered with tomatoes and minced meat and covered with a creamy bechamel sauce. Baklava is a rich, flaky pastry filled with nuts and drenched in syrup or honey. Often, Greek cuisine is inspired by fresh ingredients and spices. Recipes are simple and almost always include a healthy dash of olive oil.
Cans and jars of olive oil labeled as virgin or extra virgin are ubiquitous in shops. The honey produced here owes its flavor and aroma to the abundant flora of the Greek countryside; it's made from the nectar of wildflowers and fruit trees, like lemon and orange. The mild climate allows for an extended growing season, and tomatoes, grapes, cherries, apricots, lettuce and garlic mature outdoors under the sun.
Food brings people together in Greece, where meals are treated as social events. Restaurants have a relaxed and amiable atmosphere. Don't be surprised if you find yourself absorbed in the life story of the taverna owner, or receiving instructions from his wife on the proper way to remove bones from your grilled fish.
Greek wine and ouzo, an aperitif flavored with aniseed, complement meals. Viticulture lagged in Greece from the middle of the 19th century, due in part to natural disasters, but the ancient traditions were revived in the early 1960s and have since flourished. The Aegean island of
Samos
, not far from Turkey, has a long history of cultivating grapes and produces both sweet and dry wines, including many dessert varieties.
Look for locally made handicrafts during your Greek travels. For example, perfumes on
Zakynthos
capture the scent of wildflowers that grow on the Ionian isle. Shops on the small island of
Patmos
in the southern Aegean sell embroidered items renowned for their elegance and craftsmanship.
Throughout Greece you will hear the quiet clacking of komboloi beads knocking together. These strings of worry beads are reminiscent of a rosary but have no significant religious meaning and are used by locals to pass the time and relieve stress. You might notice them in the hands of your taxi driver as he waits at a stoplight. The colorful beads are found in a range of materials and sizes, and there's a museum dedicated to the history of komboloi in the coastal town of
Nauplion
.
Most cruises of Greece begin or end in
Athens
, and it's worthwhile to spend an extra day touring the Acropolis, taking in the full array of history at the National Archaeological Museum or enjoying the character of the city. Athens hosted the Summer Olympics in 2004, and the public transit system was revamped for the occasion.
Corfu
, one of the seven Ionian Islands, lies off the western coast of mainland Greece and features historical sites and dramatic cliffs. Vineyards and olive groves abound, and horse-drawn carriages are available for tours of the Liston, a collection of open-air cafes and shops.
Crete is Greece's largest island and lies far to the south. There are three ports for visiting cruise ships,
Aghios Nikolaos
,
Heraklion
and
Rethymnon
. In Heraklion, Venizelou Square features a number of souvenir shops, handicrafts and reproductions of archaeological finds from nearby Knossos, the capital of the Minoan civilization.
Mykonos
is a prime spot for those on holiday. Windmills dot the landscape of this leisurely location where beaches, nightlife and scenery are the main attractions.
Santorini
-- like Mykonos, part of the Cyclades islands -- is another picturesque locale. Stretches of whitewashed buildings crowd the coastline, set off by the deep azure waters below.
Olympia
on mainland Greece is accessed by the port of Katakolon. It's where the Olympic Games originated, and visitors can stroll through what remains of the ancient complex.
Volos
, also on the mainland, is said to be the birthplace of the warrior Achilles. Many cruise passengers opt for an excursion to Meteora and the "monasteries of the air." They were constructed atop rock pillars, 900 feet above the plains of Thessaly, to protect the monks from invaders.
Celebrity Cruises
,
Oceania Cruises
,
Princess Cruises
,
Star Clippers
and
Windstar Cruises
are among lines that schedule Greek Islands sailings. The ultra-luxurious vessels of
Regent Seven Seas Cruises
,
SeaDream Yacht Club
,
Silversea Cruises
and the
Yachts of Seabourn
also can be found here.
Discount cruise agency Vacations To Go offers an array of deeply reduced cruises in Greece. For example, the 2,600-passenger
Grand Princess
will embark on
three 12-day sailings
this fall, departing from either Rome or Venice. Santorini, Rhodes, Mykonos, Athens, Katakolon and Corfu are on the itinerary, as well as ports in Italy, Turkey and Croatia. Departures are Oct. 1, Oct. 25 and Nov. 6, and reduced starting prices range from $899 to $1,119 per person based on double occupancy in an inside cabin. This reflects savings as high as 70 percent off regular rates.
Costa Cruises
' 1,779-guest
Costa Romantica
sails to Mediterranean and Greek ports through early November on weeklong round trips from Rome. Ports of call are Rhodes, Patmos, Mykonos and Crete, as well as
Catania
, Sicily. Vacations To Go's rates start as low as $449 per person for the Nov. 2 departure -- a 75 percent savings -- and go up to $949 per person for the Aug. 10 departure.
The masted sailing ships of
Windstar Cruises
offer
seven-day voyages
in the region through mid-October. Passengers travel to Mykonos, Santorini and Rhodes in Greece, and to
Bodrum
and
Kusadasi
in Turkey. Even with discounts of 30 percent to 50 percent, rates start at $1,399 per person, which may seem on the high side when compared to other Greek Islands cruises.
But the experience is one-of-a-kind on the romantic
Wind Spirit
and
Wind Star
, motor-sail yachts that carry only 148 passengers. These intimate vessels make a striking sight as they glide through Aegean waters, their white sails billowing against cerulean skies.
Information:
For more information on cruises of Greece, visit
Vacations To Go
or call (800) 338-4962.
The information in this story was accurate at the time it was published in May/June 2009. Please visit
Vacations To Go
or call (800) 338-4962 for current rates and details.
Send This Article to a Friend
Bookmark this Content
Digg it!
Reddit
Furl
del.icio.us
Spurl
Yahoo!