Cruise Line Q&A
Meet the men and women behind seven major cruise companies
By Vacations Staff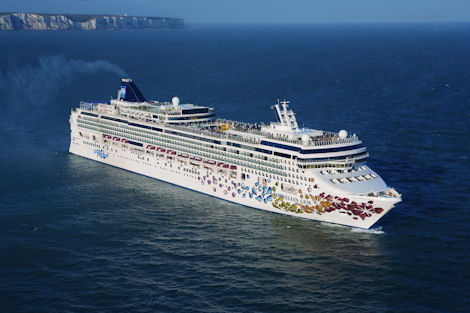 Norwegian Cruise Line
W
e're big fans of cruising at Vacations. It's one of the most affordable and convenient ways to see the world, and we like to keep our readers updated on the latest innovations and developments in the industry. For this story, we turned to top-ranking executives at seven of the world's most popular cruise lines and asked them to talk about their products.
We posed the same three questions to each: What makes your cruise experience special? How do you provide value to today's budget-savvy travelers? And, finally, what's new for 2009?
Below, you'll learn who is launching new vessels, and who is pouring millions into making existing ships even better. One common theme stands out: All of these industry executives are very proud of their ships' crews, crediting the at-sea employees for making the onboard experience special for passengers. "Exceptional," "extraordinary" and "above and beyond" were among words used to describe shipboard staffs.
For more information on the ships and itineraries of these cruise lines, call
Vacations To Go
, (800) 338-4962, or visit the Web sites listed after each section.
Lynn C. Torrent
Senior Vice President, Sales and Guest Services
Carnival Cruise Lines
What makes the Carnival experience special?
First and foremost, it's the fun and friendly onboard ambience that sets
Carnival
apart from other vacation alternatives. There is a distinct feeling of friendliness that permeates a Carnival ship, and it all begins with our crew, who go above and beyond in making guests feel special.
Carnival offers a great value, a very important consideration in today's economy. This goes beyond providing affordable prices on a quality product -- it's offering the widest variety of embarkation ports (14 in North America alone), as well as the most short cruise options in the industry.
Carnival's commitment to quality and innovation has certainly raised the bar within the contemporary vacation market. Examples include exciting new ship projects such as the 130,000-ton
Carnival Dream
, set to debut in September, and groundbreaking initiatives such as "Evolutions of Fun," a $250 million refurbishment for our eight Fantasy-class ships that includes expansive water parks, exclusive adults-only retreats and resort-style main pool areas.
How does Carnival offer great value to guests?
In today's uncertain economic climate, consumers are taking a much closer look at their discretionary purchases, particularly as they relate to vacations. The concept of value isn't just limited to offering affordable prices; it means providing guests with a fun, quality vacation that exceeds their expectations. In addition to a wide range of dining, entertainment and activities, Carnival offers the greatest variety of embarkation ports, itinerary choices and cruise lengths. For customers who might put off that one-week vacation, a three-, four- or five-day Carnival cruise is just perfect.
What exciting development will we see from Carnival in 2009?
This year will be highlighted by the
Carnival Dream
, our largest ship to date, set to debut in Europe this fall. With a capacity of 3,646 passengers and spanning 1,004 feet in length, Carnival Dream will usher in a new era in cruising and offer a host of innovations. These will include a new concept in dining and entertainment called the Piazza; the most elaborate children's facilities at sea, including a huge Carnival WaterWorks aqua park; scenic whirlpools that extend over the ship's beam; and a variety of new stateroom categories that should particularly appeal to families.
Other features include an expansive 23,750-square-foot Cloud 9 Spa -- Carnival's largest and most elaborate health and wellness center -- along with expansive open-deck areas that will house a tropical, resort-style main pool complete with Seaside Theatre LED screen, the Serenity adults-only retreat and numerous other features.
Information:
View itineraries aboard all of Carnival's 23 ships, including the new Carnival Dream, at
Vacations To Go
.
Dan Hanrahan
President and CEO
Celebrity Cruises
Describe what makes the Celebrity experience special.
I'd have to say cuisine, ambience and service, and I'll elaborate a bit about each. First, the cuisine: Celebrity has long been associated with a terrific dining experience, and that certainly holds true today under the leadership of our vice president of food and beverage, Jacques Van Staden, a highly accomplished chef and restaurateur. Our menus and venues now are more widely varied than ever before, pairing classic favorites with imaginative, new and trendsetting options, all presented with attention paid to the visual appeal, and all paired with an incredible wine selection, if guests desire.
Then, there's the ambience. Every Celebrity ship presents inviting, spacious, stylish surroundings. Whether it's our nightclubs, restaurants or staterooms, the design and atmosphere on every Celebrity ship consistently receives high marks.
Most of all, though, the extraordinary service provided by our incredible shipboard staff is what makes Celebrity so uniquely special. It's warm and engaging, as well as anticipatory, but never "in your face." I'm confident our lock on our position as the industry's top premium cruise line is due primarily to the service our guests enjoy every day across the Celebrity fleet.
How does Celebrity offer its guests great value?
Guests who sail with Celebrity experience all the attributes our brand is known for -- extraordinary service with style, outstanding cuisine, revitalizing spa experiences and great entertainment. A land-based resort with comparable accommodations easily runs $300 to $400 per night, minimum -- and that's just for the accommodations. Add to that the cost for meals, theater shows or other entertainment and you have a vivid illustration of the incredible value that a Celebrity cruise vacation represents.
Tell us about Celebrity's most exciting development for 2009.
It's virtually impossible to hone in on just one, but if I had to, I'd say the introduction of
Celebrity Equinox
, the second in our five-ship Solstice Class series, which joins the fleet in July.
Celebrity Solstice
entered service in November 2008 to extraordinary acclaim from press and trade, and we're confident Celebrity Equinox will generate similar high praises. Both ships will present enchanting European vacations, joining three other Celebrity ships, representing the first time our brand has deployed
five ships to the region
.
Information:
Visit
Vacations To Go
to learn more about Celebrity's new Solstice-class ships.
Richard D. Meadows
Executive Vice President, Marketing, Sales and Guest Programs
Holland America Line
Can you tell us what makes the Holland America Line experience unique?
We're well known both by cruisers and industry experts for our spacious, elegant ships; gracious, award-winning service; a remarkable collection of worldwide itineraries; an extensive array of activities and enrichment programs; and some of the most sophisticated five-star dining experiences at sea. Internally, we refer to these as the "five brand pillars" that support our product's quality, and we work hard at keeping those pillars strong.
How is HAL positioned to offer great value to its guests?
All travelers board a cruise ship expecting the very best, but
Holland America Line
makes it a practice to deliver even more than our guests expect, every day, on every cruise. We are proud of our reputation of offering an array of "little things" that add up to big satisfaction for guests. This tradition is one of the reasons Holland America Line has earned the "best overall cruise value" award from the World Ocean and Cruise Liner Society for the past 16 years.
Some of the elements that make Holland America Line a great value include our "Signature of Excellence" upgrades, from stateroom amenities and plush mattresses to the addition of new culinary and dining options, as well as the impeccable appearance of the ships, a friendly and well-trained crew and all the little extras such as canvas tote bags, hot hors d'oeuvres at cocktail time, chilled beer glasses, a no-charge ice cream bar and later lunch hours when in port. We offer port-intensive itineraries so guests have more time to explore ashore, and we have the largest staterooms of any major cruise line.
What really sends the value message home is that, with all the above and more, our fares are not in the luxury price range. If you want to enjoy a suite-level stateroom or a penthouse, we have those options with even more exclusive features. But we also have a broad range of price points, so that greater value is within the range of most travelers.
What is the most exciting new development we can expect from HAL this year?
We recently announced that Holland America Line is doubling the amount to be spent in upgrades, enhancements and new features on five of the line's most popular ships. Over the next two years, the
Statendam
,
Ryndam
,
Maasdam
,
Veendam
and
Rotterdam
will undergo extensive dry-dock renovations to create new venues, new staterooms, new decor and more. The 18-month, $200 million program will begin with the Veendam in spring 2009.
This series of enhancements will include a new resort pool concept, innovative lanai staterooms, new entertainment and enrichment options and all-new stateroom decor. Holland America Line's commitment to enhancing its premium fleet now exceeds $525 million.
In an era where cruise lines are building ships to carry more than 5,000 passengers, Holland America Line remains focused on midsized vessels. These enhancements will blend the latest innovations for premium travel into our ships for an experience that is truly unparalleled.
Information:
For more information on cruise vacations offered by Holland America, visit
Vacations To Go
.
Andy Stuart
Executive Vice President, Global Sales and Passenger Services
Norwegian Cruise Line
What makes the Norwegian Cruise Line experience special?
NCL's "Freestyle Cruising" experience is unlike any other at sea. We provide guests the opportunity to cruise on their own schedule, with freedom and flexibility -- quite a contrast to the traditional cruise vacation.
Our ships have been purpose-built for Freestyle Cruising, with up to 11 restaurants, 13 bars and lounges and many innovations, including the first bowling alleys at sea. When guests sail with
NCL
, they will experience a cruise that is very similar to a land-based resort vacation. For example, there are no assigned dinner seating times. We let guests decide when they want to eat and where they want to eat. They don't have to rush back from a shore excursion because they have an early dinner seating. They can take their time and explore the ports of call and, when they return, there are a number of restaurants to choose from. We don't ask our guests to sit with dinner companions that they don't know. Instead, they can dine with whomever they like.
In addition, we've launched "Freestyle 2.0," significant enhancements to our onboard experience. These include a major investment to upgrade the dining experience, featuring new menus in all of our restaurants, as well as stateroom upgrades across all categories and increased quality and variety of onboard activities for guests of all ages. We've also added two themed parties -- "Monte Carlo Night" and NCL's "White Hot Party," along with a relaxed pool deck experience and fun and exciting NCL U enrichment classes.
And we couldn't deliver all of this without an exceptional crew. On each ship, we have approximately 1,000 crew members who strive to go above and beyond for our guests every day. We've received many comments from guests who say our friendly crew really helps make the NCL experience special.
How does NCL provide a great value to guests?
NCL offers tremendous value given the all-inclusive nature of a cruise vacation. The accommodations, meals, entertainment and shipboard activities are included in the cruise fare. We also offer a wide range of stateroom accommodations to fit every preference and budget.
It's also important to note that we have the youngest fleet in the industry, with ships purpose-built for Freestyle Cruising. Therefore, we can deliver an outstanding experience for our guests.
What is the most exciting new development we'll see from NCL this year?
In 2009, NCL will sail the youngest fleet in the industry to all the major cruise destinations in the world, with ships in
Europe
,
Alaska
, the
Caribbean
,
Bermuda
,
Hawaii
,
Mexican Riviera
,
South America
and
Canada/New England
. We will offer Freestyle 2.0 across our fleet with the highest quality of dining, entertainment, staterooms -- including the new Bliss bed by NCL -- and more. With
Norwegian Jade
now year-round in Europe and the two most modern ships weekly in Bermuda, NCL has an offering to suit all tastes and budgets.
Information:
Find detailed descriptions of Norwegian's ships and itineraries at
Vacations To Go
.
Jan Swartz
Senior Vice President, Sales and Customer Service
Princess Cruises
What makes the Princess experience special?
The experience on board a
Princess
ship is familiar and comfortable. It's casually elegant, not fussy or pretentious, and our loyal past passengers will at once feel at home aboard any of our ships. A key reason for this is our welcoming crew -- the embodiment of our long-running customer service program called CRUISE -- and the excellent service they provide, which has become a signature Princess feature.
We have a young fleet of ships with a successful design philosophy, introduced 10 years ago with
Grand Princess
and still unique in the industry. The concepts of intimate, flexible, innovative, comfortable spaces are timeless, and they are a perfect example of what the Princess product stands for. The intimate spaces, large number of balconies and diverse array of dining and entertainment venues all add up to our passengers being able to customize their experience and, as we like to say, "escape completely." And all in an environment of "big-ship choice, with small-ship feel."
Princess' history has been one as a destination pioneer, and we're the market leader in
exotic sailings
. Our experiences have led us to develop some of the best itineraries in the industry. We now cruise to all seven continents with over 115 distinct itineraries visiting more than 350 ports of call.
Tell us how Princess offers its passengers great value.
Princess offers a great cost advantage vs. land vacations, based on what's included on board and what travelers would spend on a similar shore-based trip. On top of this is the full range of entertainment and activities at our passengers' fingertips every day and night. And a key point in the current economic environment is that our passengers enjoy the convenience, predictability and cost advantage of paying most expenses in U.S. dollars.
Plus, our past-passenger Captain's Circle benefits program, which has been recognized as the best in the industry, provides some great value-added amenities to our passengers' experience, such as complimentary Internet and laundry service.
What developments will we see from Princess in 2009?
Princess is an industry innovator, and we've pioneered many exciting features and programs that have become admired throughout the industry. The adults-only Sanctuary, the Movies Under the Stars giant movie screen, the Chef's Table dinner, affordable balconies, "silent disembarkation" and anytime dining are a few examples.
In 2009, we will be taking time off from launching a new ship and raising the bar with our passenger experience -- focusing on superior execution and delighting our passengers in virtually every area of our operation. We're on a quest for excellence in the fundamental areas of the cruise experience. And so over the next few years, we're going to continue to innovate in new ways to create the most loyal past passengers and passionate advocates in the cruise industry.
Information:
Find Princess cruises to exotic destinations around the world at
Vacations To Go
.
Vicki Freed
Senior Vice President, Sales
Royal Caribbean International
What makes the Royal Caribbean experience special?
Royal Caribbean
ships are some of the most innovative in the world, offering onboard amenities such as an ice-skating rink; the FlowRider surf simulator; an interior boulevard of restaurants, bars, lounges and shops that run nearly the length of the ships, known as the Royal Promenade; and cantilevered whirlpools suspended 112 feet above the ocean.
Our award-winning
Adventure Ocean
youth programming and teen-only onboard programs helps our younger guests make new friends while enjoying entertaining and educational activities throughout the day. Royal Caribbean is the only cruise line that offers separate teen programs and space aboard every ship in our fleet.
As the largest global cruise line, Royal Caribbean offers our special style of cruising in compelling destinations throughout the world. Vacationers can sail with Royal Caribbean in
Europe
,
Alaska
,
South America
,
Asia
and
Australia
.
Guests enjoy Royal Caribbean's Gold Anchor Service from every crew member. This includes engaging our guests with friendly and attentive service and consistently delivering the "wow" to create a memorable cruise vacation.
How is Royal Caribbean positioned to offer great value to guests?
In part due to the innovative onboard amenities mentioned earlier, there is more to do on a Royal Caribbean International ship for every member of the family. These are not just things to do while cruising, but opportunities for the family to share in an activity and create memories.
The award-winning Adventure Ocean youth programming and teen-only programs are included in the cruise fare. Younger kids are led by college graduates who specialized in education, while older kids can participate in enrichment classes like learning hip-hop dancing or music mixing like a DJ.
Furthermore, the wide selection of cruises to some of the most exciting destinations around the world gives vacationers a chance to save money in places where hotel accommodations, meals and activities could all add up to more than a cruise. Royal Caribbean's itineraries around the world offers guests familiar Gold Anchor Service while visiting faraway places like Europe, the Far East or South America.
What is the most exciting new development we'll see from Royal Caribbean in 2009?
Oasis of the Seas
, the next largest and most revolutionary cruise ship in the world, will be launched in November 2009. Guests will be able to enjoy the widest array of onboard amenities with the ship's unique "neighborhoods" concept -- seven themed locales that present guests with entertainment or enrichment experiences based on their personal style, preferences or mood. Oasis of the Seas will be homeported year-round in Fort Lauderdale, FL, and offer a seven-night
Eastern Caribbean
itinerary through May 2010, after which it will alternate between an Eastern Caribbean and a
Western Caribbean
seven-night itinerary.
Information:
For details on the new Oasis of the Seas and its itineraries, visit
Vacations To Go
.
Diane Moore
President
Windstar Cruises
What makes the Windstar experience special?
The
Windstar
experience is "180 degrees from ordinary." With just 148 guests on
Wind Star
and
Wind Spirit
and 312 guests on
Wind Surf
, guests are pampered by our staff. Our casual elegance and personalized, luxury small-ship cruise experience allows guests to connect, relax and explore, enjoying luxurious accommodations, alternative dining venues, a diversity of shore excursions, a complimentary water-sports program and deluxe spa facilities.
Due to the size of the Windstar ships, our guests are able to explore the hidden harbors and secluded coves of the world's most treasured destinations -- in
Europe
, the
Greek Isles
, the
Caribbean
and
Costa Rica
. Our ships cruise to nearly 50 nations, calling at 100 different ports.
How does Windstar give guests a great value?
Windstar continues to offer the best value in the small-ship, luxury cruise market. Especially in this current economic climate, Windstar Cruises is the smart choice for the sophisticated, discerning traveler who is looking for a personalized small-ship vacation. Luxury is choice, and choice is very important to our guests who prefer the flexibility of designing their own cruise vacation the way they want without conforming to an all-inclusive offering.
Tell us what we can expect from Windstar in 2009.
Windstar's Signature Collection Host Series returns, offering the opportunity to cruise with distinguished experts like top winemakers Greg Lill of DeLille Cellars and Gary Eberle of Eberle Winery; renowned Canadian artist Jody Hewgill; acclaimed chef and culinary expert David Shalleck; and gold medalist Rafer Johnson of the 1960 Rome Olympics.
Debuting in 2009 on
Wind Surf
itineraries is the port of L'Ile Rousse on the island of Corsica, with its charming seaside villages, towers and citadels, as well as Ischia, an Italian island with rugged natural beauty and thermal spas.
Two new exciting dining venues are debuting on Wind Surf. Guests will enjoy exquisite sunsets while dining outside on five-star cuisine at Le Marche and Candles. Each new venue accommodates approximately 30 guests per night and is subject to weather conditions. There's no additional charge, but reservations are recommended.
Information:
Learn more about the small ships of Windstar Cruises at
Vacations To Go
.
The information in this story was accurate at the time it was published in January/February 2009. Please visit
Vacations To Go
or call (800) 338-4962 for current rates and details.
Send This Article to a Friend
Bookmark this Content
Digg it!
Reddit
Furl
del.icio.us
Spurl
Yahoo!