Alaska's Wild and Wonderful Inside Passage
Holland America's 'Glacier Discovery' cruise takes passengers
to the heart of awe-inspiring beauty
By Andy Dimond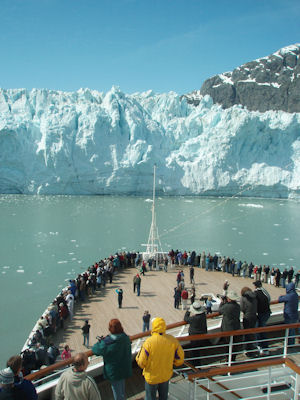 Andy Dimond
A
laska: from the Aleut word "alyeska," often translated as "great land." To us it may be the second-newest state, but millennia ago it was the original bridge to the New World.
And that paradox sums up its essence well. This wild land feels ancient, primeval ... yet somehow fresh. Its stately glaciers, majestic mountain peaks and summer midnight sun create an impression of a world built on a grander, more mythic scale.
To listen to an Alaska tour guide is to enjoy a constant stream of superlatives. Not only is Alaska the biggest state, but it has more miles of coastline than the lower 48 combined. It contains half of America's 130 tallest mountains. Souvenir shops hawk T-shirts picturing my home state, where supposedly "everything is bigger," comfortably nestled inside central Alaska. The caption: "Ain't Texas cute?"
The great bulk of Alaska is untouched by humans. Two-thirds of Alaska's area is managed by the federal government as public lands. It is a true wilderness of towering cliffs and clear streams, of brown bears and bald eagles. In summer the weather is surprisingly pleasant -- you'll definitely want to bring a sweater, but that's about it. The sun goes down for only a couple of hours each night, depending on how far north you are.
So, when I had an opportunity this summer to take an
Alaska cruise
with
Holland America Line
, did I jump at the chance to explore the "Last Frontier"? You betcha!
In June, I set sail on the seven-day "Glacier Discovery" itinerary aboard the 1,350-passenger
Veendam
. I took my mother, an energetic woman in her 50s and a hopeless travel addict. The ship sailed one-way routes between
Vancouver
, British Columbia, and
Seward
, about 125 miles south of Anchorage. We did the northbound leg from Vancouver, but guests with more time to spare can take the full 14-day round trip.
Vancouver is a sparkling harbor city with a laid-back and youthful spirit, awaiting a debutante ball in the form of the 2010 Winter Olympics. We spent a night at the Fairmont Waterfront directly across the street from the cruise terminal, which made it very easy to board the ship the next day. As the Veendam sailed through Burrard Inlet, pedestrians on Lions Gate Bridge waved down at us, wishing us goodbye on our voyage north.
We spent the first day cruising through the Inside Passage, a route whose waters remain calm thanks to the shelter of the archipelago that runs along the coast of British Columbia and the Alaskan panhandle. We had a beautiful view of these mountainous islands, but I mostly used the time at sea to get to know the ship and its many amenities.
Our first meal was at the Pinnacle Grill, the only restaurant on the Veendam with a surcharge, $20 per person for dinner and $10 for lunch. It was absolutely delicious, of course, and so were the other restaurants on board. We took most meals in the main Rotterdam Dining Room, but casual dining at the Lido was good, too, especially the late-night buffet that spotlighted a different cuisine each night. One of the Veendam's new features from a recent refurbishment is an Italian restaurant called Canaletto. Reservations are required, but there is no surcharge.
The fleetwide "Signatures of Excellence" overhaul, costing more than
$525 million, also left the Veendam with tastefully remodeled cabins. Mine was one of a new class of ocean-view accommodations called lanai staterooms, with sliding glass doors that open onto a common deck. The doors have a one-way mirrored coating on the outside, ensuring privacy for the occupants within. Up and down the deck are wooden recliners with little brass plaques announcing that the chairs are reserved for lanai room guests. I found it a perfect blend of public space and private comforts.
"We're not trying to compete with the megaships with rock-climbing walls and that kind of thing," said Erik Elvejord, our press escort and director of public relations for Seattle-based Holland America.
"We know our clientele and aim to provide them a relatively intimate experience and unique enrichment activities." The latter -- from wine tastings to digital photography workshops, courtesy of a partnership with Microsoft -- were spelled out in a daily program dropped off at our front door, along with information on the day's port of call.
I first set foot on Alaskan soil in
Ketchikan
. The fifth-largest city in Alaska at 7,368 people, Ketchikan is known for its totem poles, salmon and abundance of outdoor recreation, such as kayaking, hiking and ziplining. I opted for a floatplane excursion over Misty Fjords National Monument, where pristine inlets were chiseled from the rock by glaciers over eons.
The spruce forests, jagged cliffs and mirrorlike water were astounding from the air, and the weather was so nice that it wasn't misty in the least that day. The de Havilland Beaver we flew in has not been produced since 1967, but it is still one of the world's most popular bush planes, an important part of life in this spread-out and mountainous region. It has even been commemorated on a Canadian quarter dollar.
The first place we headed upon arriving in
Juneau
the next morning was the Mount Roberts Tramway, located right outside the cruise terminal. The 1,800-foot ride to the summit is perhaps a bit pricey at $27 per adult, but it's worth doing. The view of the town is stunning and put everything in perspective for our later wanderings.
At the top we met an injured bald eagle named Lady Baltimore and watched a well-produced film on the Tlingit culture, introduced with a language lesson and some drumming from a local Tlingit woman. To her I would like to say, "
Gunalcheesh ax xooni
!" Thank you, my friend!
Then it was time for the shore excursion I had booked through Holland America, a combination tour called "Best of Juneau." After a salmon bake at an island lodge, we headed out for some whale-watching. We were in luck. A pod of humpbacks and a pod of killer whales circled around the same cove, as if they were about to rumble. I wondered who got to be the Sharks and who were the Jets. I suppose the latter would make more sense for the humpbacks, whose spray of "blow" is the first thing one usually sees when spotting a whale.
But the fine weather had brought them up to play, not fight, and we saw dives, pectoral slaps and even full-grown whales breaching in tandem 100 yards from our ship. We also witnessed a behavior called bubble netting: One whale blows bubbles while circling a school of fish, corralling them into a stunned cylinder that the whole pod then swims up through with mouths agape. Our boat's young crew was all smiles on the way back to the dock -- it was the first time they had ever seen bubble netting or multiple adults breaching.
Finally the tour bus stopped at Mendenhall Glacier, which feeds a lake at the tip of the enormous Juneau Icefield. Glacial ice absorbs red wavelengths of light just the way liquid water does, giving it a distinctive and ethereal bright blue tint. Up the hill from the glacier was a visitors center, in a spot that would have been under the ice 70 years ago. There we watched an enjoyable educational film, and though it was fairly recent, the park ranger nevertheless had one correction to make: Mendenhall Glacier is receding even more quickly than they thought.
After the excursion, we rested our legs and had a beer at the popular Red Dog Saloon before giving ourselves a walking tour of Juneau. The city is surprisingly small for a state capital, with very steep streets. Many of the "streets" are actually wooden stairways. We saw a Russian Orthodox church, a reminder that Alaska was part of Russian America. Next stop was the governor's mansion, decked out with an impressive totem pole. The Alaska State Museum featured ethnographic treasures from all the state's peoples, from Russian to Inuit.
Next the Veendam called at
Skagway
. It was from here that prospectors began the long slog through White Pass toward the Klondike goldfields in the Yukon Territory. The rush of 1897-1898 was mostly a disaster in the end; by the time the seekers actually reached the Klondike, there were hardly any decent claims left. But meanwhile, a consortium of U.S., Canadian and British interests had gone to the trouble of building the White Pass & Yukon Route Railroad, so that the dangerous route would never have to be traveled on foot again. The railway was never much needed, but the trains cut through some of the grandest scenery in the world, so it has become Alaska's most popular tourist attraction, putting Skagway back on the map.
I was truly impressed with the level of care the National Park Service had put into restoring the town, as well as its taxpayer-friendly method: They refurbished the old storefronts, then rented them to the ubiquitous retailers of jewels, totems and other knickknacks that populate the port of call. I highly recommend taking advantage of a free guided tour with a park ranger. My one suggestion, if they really want to perfect the Wild West ambience, would be to bury the power lines.
In the gold rush days, Skagway was infamous for its lawlessness and vice. One of the premier attractions today is the Red Onion Saloon, once a dance hall and brothel. It now restricts its business to historical tours, sporting the slogan "Five dollars for 15 minutes, just like in 1898." Con man and gangster Soapy Smith ran the town during its heyday, until a vigilante named Frank Reid gunned him down.
Through HAL we booked a tour that included the "Days of '98 Show With Soapy Smith," a bit of corny, slightly risque fun that dates to the 1930s, when it played to locals rather than today's booming cruise trade. After the show we visited the town graveyard, where Smith and Reid are buried along with many a miner. The White Pass & Yukon Route Railroad runs past the spot, and behind the cemetery there is a picturesque waterfall.
We spent the next two days at sea, viewing Alaska's stunning natural sights from the ship. As we entered
Glacier Bay National Park and Preserve
, the Veendam's captain, Peter J. van Maurik, invited our group up to the bridge. He treated us to a traditional Dutch sailor's meal of pea soup and salt pork, and we watched the glaciers in action.
This is more exciting than it sounds. With fair frequency, chunks of a glacier break off and crash into the water, a process known as "calving." In addition, unseen underwater calving can cause "shooters," large pieces of ice that rush up to the surface with great speed, like a giant ice cube in a glass of water. Thus a safe viewing distance from the glaciers is enforced for all visiting ships.
Since we had the rest of the day at leisure, I decided to check out the onboard Greenhouse Spa and Salon. I am an absolute sucker for a good massage. Were I a millionaire I would get one daily. But I spotted something else on the spa menu, something so bizarre that I felt I would be shirking my journalistic duty if I did not try it: Ionithermie. According to the brochure, this "exclusive French body correction treatment" works when "galvanic stimuli propel rich marine elements into affected areas to drain fluid, smooth the skin and give the body more definition."
I was undressed and fitted with a gown, electrodes were stuck to me and I was buried in algae clay from chest to waist. Intermittent electrical pulses made my muscles spasm involuntarily. The machine could go up to 100; I think I made it to 59. Did I feel drained, smooth and defined afterward? I'm not so sure, but it was definitely interesting.
The highlight of our last day at sea was a visit to
College Fjord
, a cul-de-sac where the ship stopped for a breathtaking view of eight imposing glaciers all visible at once. The academics on the 1899 Harriman Expedition, financed and led by railroad magnate Edward Harriman, named each one after a prestigious East Coast college: Harvard Glacier, Bryn Mawr Glacier and so on.
We also used the time at sea to visit the ship's Culinary Arts Center, a combination auditorium and laboratory that offers cooking demonstrations and hands-on classes. We were lucky enough to have Holland America's master chef, Rudi Sodamin, aboard to share his expertise. He helped us cook three kinds of risotto and whip up a delicious Austrian dessert souffle called a
Salzburger Nockerl
. Mom was given dessert duty, while I was assigned the saffron risotto. Despite my involvement in the cooking, it all turned out so delicious that we were tempted to ruin our appetites.
But luckily we left some room, because on that last night the guests aboard the Veendam were treated to the Signature Master Chef's Dinner. I had the "Dialogue of Salmon Tartare With Avocado" followed by a lobster bisque and duck breast a l'orange. The meal was divided into acts like a musical, and for the finale the waiters came out in a choreographed dance, accompanied by a singing diva, bearing trays of our dessert -- baked Alaska, of course.
Departing the ship in Seward was a bittersweet experience. After all that fun, I hardly wanted to get back on land. We connected to Anchorage by bus and saw some of the city's attractions, such as the Anchorage Museum, an impressive facility that was recently expanded with a sleek, modern design by architect David Chipperfield. The museum's gift shop is worth a stop; I picked up a leather-bound notebook with a totem design. At long last it was time to leave Alaska and return to the lower 48.
For all my adventures there, it was that last glimpse of Alaska as we flew away that evening that left the fullest, most lasting impression. Anchorage contains 40 percent of Alaska's population, some 280,000 souls. But as we lifted off, this modest human settlement quickly shrank from view into a great field of ice, teeming pine forests and towering jagged rock, vast to the point of seeming endless.
It was a sobering view for an ordinary dude buzzing along in a tiny aluminum tube. A visit to Alaska is priceless because it reminds us that there is still a wild world out there, immense and impersonal, which we can explore and enjoy, but never tame.
Holland America in Alaska
Eight Holland America vessels will sail in Alaska next summer, from early May through late September. The
Ryndam
and
Statendam
will sail the weeklong "Glacier Discovery" itinerary described in this story, alternating one-way departures between Seward, a port for Anchorage, and Vancouver, British Columbia.
Rotterdam VI
,
Oosterdam
and
Zaandam
sail weeklong Inside Passage itineraries round trip from Seattle.
Volendam
and
Zuiderdam
depart round trip from Vancouver.
Amsterdam
makes two seven-day Inside Passage cruises in May, then embarks on a series of 14-day itineraries that travel along the Gulf of Alaska as far as Kodiak. All travel round trip from Seattle.
You can extend your Alaska vacation by booking one of Holland America's
cruise tours
, which combine a week of sailing with guided sightseeing and overnight stays on land -- primarily in Denali National Park and the Yukon Territory.
For more information on Holland America Line and its Alaska cruises and cruise tours, call (800) 338-4962 or visit
Vacations To Go
.
The information in this story was accurate at the time it was published in November/December 2009. Please visit
Vacations To Go
or call (800) 338-4962 for current rates and details.
Send This Article to a Friend
Bookmark this Content
Digg it!
Reddit
Furl
del.icio.us
Spurl
Yahoo!