Vacations

Subscriptions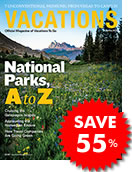 Order now and save up to 55% off the newsstand price!
Next Issue Highlights
Coming in May
Make the Most of a Megaship Cruise
We turn to industry experts for the inside scoop on the best events and amenities aboard these floating resorts.
Family-Friendly Tours
Escorted adventures make it easy to explore the world on a budget, even with the kids in tow.
The Music of the Yucatan
Add celebrity-level guest service to sun, sand and other perks offered at Mexico's Hard Rock Hotel Riviera Maya.