Vacations

Subscriptions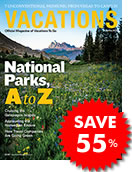 Order now and save up to 55% off the newsstand price!
Next Issue Highlights
Coming in November 2015
Exploring Alaska
Get back to nature while trekking the national parks of the Last Frontier.
Pools with Fabulous Views
Take a dip while enjoying the sights in Greece, Tanzania or New York City.
Better Wi-Fi on the Waves
Stay connected at sea with these offerings from Royal Caribbean, Carnival and other cruise lines.