Vacations

Subscriptions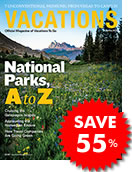 Order now and save up to 55% off the newsstand price!
Next Issue Highlights
Coming in May 2014
New Ships on the Horizon
Take a first look at the Regal Princess, Quantum of the Seas, Costa Diadema and Viking Star.
Uncommon Activities on Escorted Tours
Today's tours include unique elements -- blend your own wine in California's Sonoma Valley, soar over the Tanzanian savannas in a hot air balloon, learn about gaucho life during a stay at a Uruguay ranch or learn about dogsledding in Wyoming.
Old World Capitals of Eastern Europe
Discover the fabulous "Four B's" -- Budapest, Bratislava, Bucharest and Belgrade.