Vacations

Subscriptions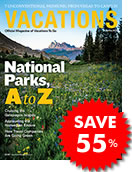 Order now and save up to 55% off the newsstand price!
Next Issue Highlights
Coming in March 2018
10 Cruise Ship Features We Can't Wait to Try
Get ready to book your cabin after checking this list of the latest innovations on the ocean.
All-Inclusive Resorts, A to Z
There are at least 26 reasons to sample this type of property, which bundles lodgings, meals, drinks and other beachfront essentials in a simplified vacation package.
Spotlight on New York City
A special event itinerary from escorted tour provider Tauck delves into Big Apple history with the help of award-winning filmmaker Ken Burns.