Vacations

Subscriptions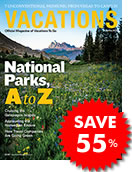 Order now and save up to 55% off the newsstand price!
Next Issue Highlights
Coming in September 2014
Sail the World's Great Rivers
Peruse popular voyages around the globe, from the Mississipi to the Mekong.
MoBay Escapes
Montego Bay -- MoBay for short -- is Jamaica's premier resort destination. We highlight eight of its most popular all-inclusive properties.
Cruise News
Renovated staterooms, added amenities, debuting destinations and more! This roundup reviews the latest and greatest from top oceangoing companies.
5 Fabulous Fall Events
Celebrate the season with these suggestions for autumn fun, including harvest season in California wine country.