Vacations

Subscriptions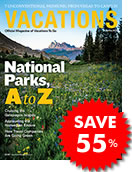 Order now and save up to 55% off the newsstand price!
Next Issue Highlights
Coming in January 2015
What's Your Travel Type?
Are you honeymooners looking for the perfect trip for two? Do you have three generations to entertain, and need activities for kids ages 2 to 72? Maybe you're hoping to indulge in a hobby on your next escape -- scuba diving, gardening, perhaps art appreciation? Our roundup of 30 "travel types" will offer vacation options for just about everyone as we kick off a new year on the road.