Vacations

Subscriptions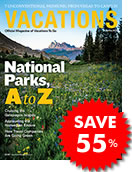 Order now and save up to 55% off the newsstand price!
Next Issue Highlights
Coming in January 2014
A Journey Around the World
Go globe-trotting with this special issue. Starting in the South Pacific, we circumnavigate the planet to hit the highlights -- on an African safari, a European river cruise and an escorted tour of North America, plus pit stops at Caribbean island resorts -- before circling back to explore Antarctica and South America.