Vacations

Subscriptions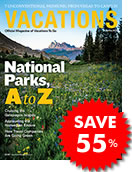 Order now and save up to 55% off the newsstand price!
Next Issue Highlights
Coming in March 2015
Savor Switzerland
An escorted tour can help you dip into fondue in the shade of the Matterhorn, test the wares of Lake Geneva's waterfront vineyards and stock up on artisanal chocolates.
Caribbean Cruising, A to Z
Our alphabetical to-do list covers the best of sun-splashed sailing, from new ships tackling the waves to popular ports of call.
Getting the Best Shots of Iconic Sights
Professional photographers and experienced tour guides offer their advice for capturing top landmarks, from China's Great Wall to Arizona's Grand Canyon.
Top-Selling Tropical Resorts
Spring break is a great excuse for exploring a new beachfront property.