Vacations

Subscriptions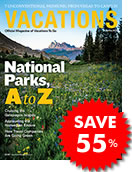 Order now and save up to 55% off the newsstand price!
Next Issue Highlights
Coming in May 2015
Family-Friendly Festivals
From a celebration of science in New York to a sensational Fourth of July planned for Lake Tahoe, NV, these fetes are sure to please the whole crew.
Cruising: Budget Versus Luxury
Will you save a bit on your next escape, or go for broke aboard an indulgent ocean liner? Check our competing itineraries before you set sail.
Mediterranean Tours
Delve into this historic, culturally diverse region with the knowledgeable guides -- and pricing perks -- of an escorted group vacation.